Why JPMorgan Severed Ties With Ye—And No, It Wasn't Over His Antisemitism
JPMorgan Chase severing its ties with Kanye West's Yeezy apparel brand has sparked an outcry among free speech advocates, amid the widespread belief the financial divorce was a reaction to his recent antisemitic comments.
On Wednesday, Candace Owens, who appeared alongside West at his Yeezy show in Paris, tweeted that she had learned of the "Jesus Walks" rapper being "kicked out" by the bank with "no official reason given."
Owens shared a screenshot of what was reportedly an undated letter from the bank, informing West that he would need to move Yeezy's business to another financial institution before November 21. The conservative commentator went on to express concerns about the implications of the decision.
"We have reached extremely frightening times in this country," Owens wrote. "Who [or] what has landed us into these times is an ongoing discussion which I would like to open up."
However, a source close to the matter told Newsweek that the letter was dated September 20—more than two weeks before his antisemitism scandal, and was written in response to disparaging comments he had made on Instagram in early September about the bank and its executives in since-deleted posts.
The latest controversy surrounding West, who has legally changed his name to Ye, began at his October 3 Yeezy fashion show in Paris. He appeared wearing a shirt emblazoned with the words "White Lives Matter," a slogan commonly used by white supremacists as well as general opponents of the Black Lives Matter movement.
After the backlash, West shared a screenshot of what appeared to be a text message exchange with Sean "Diddy" Combs, in which he responded to the rap mogul's objection to his stunt by stating that he would "show the Jewish people that told you to call me that no one can threaten or influence me."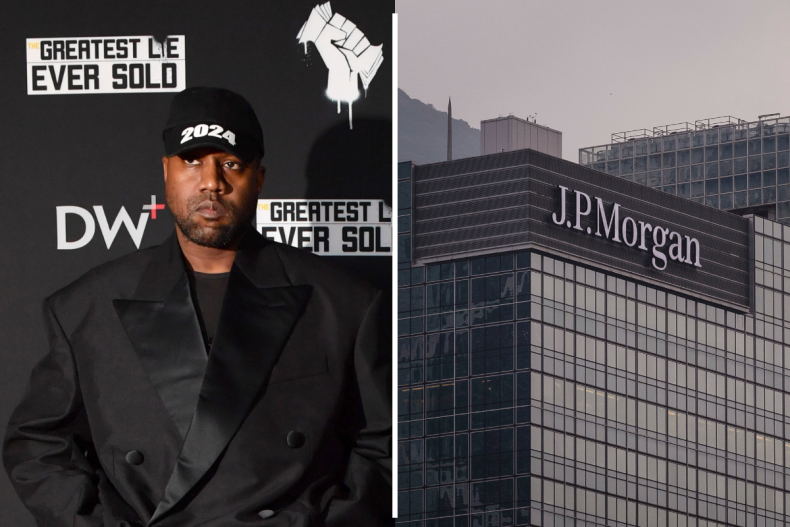 After West's since-removed post led to his Instagram account being restricted last week, the musician made his way to Twitter to continue sharing his thoughts.
"I'm a bit sleepy tonight but when I wake up I'm going death con 3 On JEWISH PEOPLE," West posted in a tweet that is no longer available. "The funny thing is I actually can't be Anti Semitic because black people are actually Jew also You guys have toyed with me and tried to black ball anyone whoever opposes your agenda."
West appeared to use "death con 3" in reference to the U.S. military defense alert state known as DEFCON. West was subsequently locked out of his Twitter account for violating the platform's policies.
After going on to make more comments about Jewish people during an appearance on Tucker Carlson's Fox News show, West faced relentless backlash across social media—as well as criticism from fellow celebrities.
Amid his stream of social media posts, West has been critical of a number of his business partners, including JPMorgan CEO Jamie Dimon, as well as senior executives Jing Ulrich and Bill Grous.
At the time, West had also been targeting Adidas and Gap, accusing both companies, with which he had deals, of stealing his designs and attempting to shut him out of business meetings.
According to High Snobiety, West took to Instagram to share screengrabs of JPMorgan Chase's and Adidas' executive board, as some executives at the bank are also on the sportswear giant's supervisory board.
He also briefly changed his Instagram profile image to an upside-down photo of JPMorgan Managing Director and Vice Chairman Jing Ulrich, before changing it to a snapshot of Adidas creative director Alasdhair Willis, son-in-law of Paul McCartney.
A screenshot shared on the Twitter account of financial meme account Litquidity last month showed West complaining about not being able to get one-on-one time with the bank's top executives.
"I MOVED 140 MILLION DOLLARS TO CHASE AND BILL [GROUS] STILL NEVER PUT JAMIE [DIMON] ON CALL OR IN A MEETING WITH ME," read the post.
On September 7, AllHipHop reported that West had further spoken out against JPMorgan and its executives in another Instagram post as he discussed wanting more control of his Yeezy footwear brand.
"I need a shoe company like how Jamie Salter bought Reebok or I'll take over some shoe factories," he is quoted as writing, in reference to the recent acquisition of Reebok from Adidas. "I've went to JP Morgan but of course they won't give me no deal flow cause [Jing] Ulrich is on the board of both Adidas and JP Morgan. What shoe company will give me control. I need to be the head of the board and chief decision maker."
West further voiced his frustration in an interview with Bloomberg last month.
"I feel like there's a lot of controlling and handling to suppress my ability to affect the American economy and industry," he said of his experience with the bank.
When contacted by Newsweek, representatives for JPMorgan Chase declined to comment. Newsweek also reached out to a representative of West for comment.
Update 10/13/22, 1:05 p.m. ET: This article was updated to add extra information.