Athletes Protest Hate: Kareem Abdul-Jabbar, Billie Jean King Team Up for ADL's New Sports Council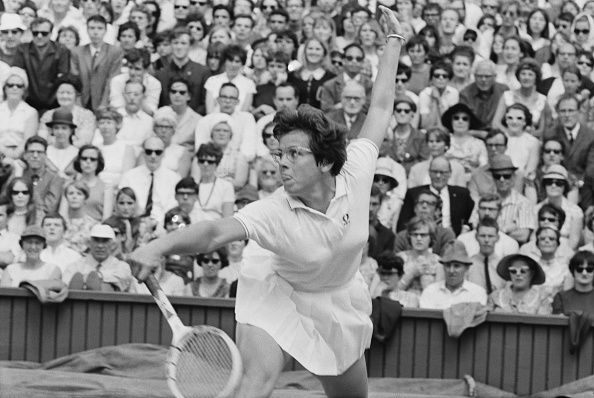 Moviegoers can step into theaters and watch Hollywood recount Billie Jean King's fight for gender equality on the tennis court and her struggle to keep her sexuality private. When they walk out of Battle of the Sexes, they'll find a nation embroiled in a debate that began on football fields and has reached the White House. Athletes are taking a knee during the national anthem in protest of racism and police violence, and President Donald Trump is viciously attacking them for it.
Sports have always bumped up against political and social issues, from Muhammad Ali to Colin Kaepernick. Now, a new initiative aims to help professional athletes, team owners and others in the industry leverage their influence for good. The Anti-Defamation League (ADL) announced a new Sports Leadership Council on Thursday "to promote positive social change and combat hate, bullying and discrimination in our society."
"We're clearly at a time of increased division. Despite challenges, sports really have a unique ability to unite us," Jonathan Greenblatt, CEO of ADL, tells Newsweek. Whether at school or in amateur or professional leagues, he says, "athletics has a unique ability to bring people together."
The real-life Billie Jean King will help the ADL create the council, along with basketball legend Kareem Abdul-Jabbar, NFL Hall of Famer Ronnie Lott and Pac-12 Commissioner Larry Scott, who is also a member of ADL's National Commission and will serve as chair of the council. It also will include Robert Epstein, co-owner and managing partner of the Boston Celtics, and Mark Wilf, owner and president of the Minnesota Vikings. Ultimately, the council will likely boast more than two dozen members, the rest of whom will be named at the ADL's annual meeting in San Francisco in mid-November.
"All of us involved in sports have a tremendous opportunity to positively impact the world, far beyond the playing fields and courts," King said in a statement. "Sports has been the great equalizer for me, and I welcome the opportunity to join ADL and fellow leaders in the sports world to confront society's issues head on, just as we did as athletes."
This isn't the first time the ADL has engaged with sports communities at various levels. Greenblatt says the ADL partnered with the NBA in 2007 and has worked with the Atlanta Braves on a "No Place for Hate" campaign. The organization has engaged in an ad hoc manner, nationally and through its 26 regional offices. But the new council aims to be a more organized place to turn when issues of bullying, discrimination, equity and respect come up on the field, in the locker room, in the bleachers and in the media. It will address bullying in schools as well as discrimination based on race, gender, religion, sexual orientation and other issues through forums, educational campaigns, public service announcements and other projects.
"Athletes have an increasing power to impact their communities and social conscience with their voices," Abdul-Jabbar said in a statement. "It's important that athletes be familiar with the issues before choosing sides and making pronouncements, and this type of partnership with ADL will help them be the most effective when they step up and take a stand."
Abdul-Jabbar recently penned an op-ed in support of the current "Take a Knee" protests. "I have never been prouder to be a part of the athletic community than I was this weekend as players and owners in football, basketball and baseball displayed public unity in their resistance to the racist, anti-veteran and anti-American statements by President Donald Trump," he wrote in The Hollywood Reporter. "This marks a decided shift in the sports and entertainment industries' role in political resistance to the Trump administration's assault on American values and constitutional civil liberties."
Though the council was in the works independent from the current debate over what it means to "take a knee," if it were already fully formed, it could help players, coaches and fans sort through the complex issues at hand, Greenblatt says. It could also work with professional and college teams on "ways to think about expressing feelings on the issues effectively."
What the council is really about is propelling "sports to serve as a catalyst for social change," Greenblatt says. "It's so much more than throwing the ball or scoring a goal." It's about "people involved in athletics finding a way to tap the positive power, the potential that exists within the game."