Why Has Kim Garam's Contract Been Terminated? LE SSERAFIM Star Exits Group
It has been announced that LE SSERAFIM member Kim Garam has exited the group and her exclusive contract with HYBE and Source Music has been terminated.
The record labels shared a joint statement on Wednesday, July 20 to confirm Kim's exit from the group and their plans for the K-pop girl band moving forward.
The 16-year-old singer was introduced as a member of the group in April this year, shortly after Source Music was purchased by HYBE, and LE SSERAFIM made their debut with the release of their first mini-album, "Fearless," in May.
Kim was in the group alongside former IZ*ONE members Miyawaki Sakura and Kim Chaewon, Produce 48 contestant Huh Yunjin, Hong Eunchae, and Kazuha.
Why Has Kim Garam's Contract Been Terminated? LE SSERAFIM Star Exits Group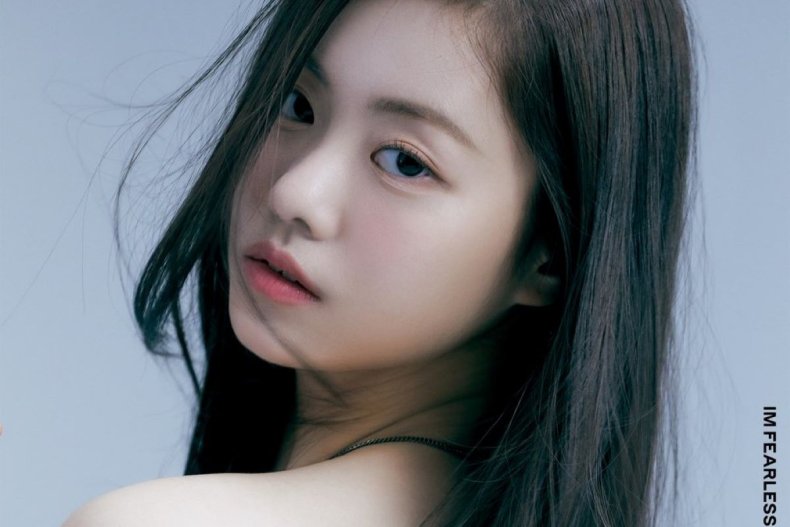 Shortly after she was announced to be making her debut with LE SSERAFIM in April, Kim was accused of bullying students while at middle school.
According to a report from Koreaboo, one student who claimed to be a classmate of the singer alleged that Kim had regularly harassed younger students, while another claimed she would drink and smoke as a minor.
A second report from KBIZoom saw one accuser share messages allegedly from Kim which showed her swearing at a fellow student and threatening them for not picking up their phone.
At the time, HYBE and Source Music released a statement denying the allegations and they came out in defense of Kim, saying they would be seeking action against those making the claims.
In a statement which was translated from Korean to English by Soompi at the time, the record labels claimed the allegations were "cunningly edited" as a way to "maliciously slander" Kim before she'd made her debut with the group.
Per Soompi, the labels added in their statement: "Contrary to the claims, it was confirmed through a third-party statement that Kim Garam was a victim of school bullying, including malicious rumors and cyberbullying, when she was in middle school."
The two companies added: "We believe that the allegations are maliciously intended to harm the artist who is about to debut, and we inform you that Source Music has taken legal action against the spread of unilateral and distorted allegations and false information related to this case."
On July 20, the record labels then issued a joint statement sharing that Kim's contract had been terminated.
In their statement, which was released on Twitter in English, Korean and Japanese, HYBE and Source Music said of Kim's exit: "We would like to provide you with information on the decision made in regards to LE SSERAFIM member Kim Garam and plans for the future activities of LE SSERAFIM.
"Our company has decided to terminate the exclusive contact with Kim Garam. We extend our sincerest apologies to our fans and to those who have shown love and support to the group for causing you concern over the controversy involving the member.
"LE SSERAFIM will continue their activities as a five-member group, and we will spare no effort to support the group to grow further as artists through their music and performance. Thank you."
Garam's profile has since been removed from Source Music's website