Prince Harry's reported decision to cut ties with a controversial tycoon over "cash for access" fears has heaped fresh pressure on his father Prince Charles.
The Duke of Sussex was reportedly being courted by Mahfouz Marei Mubarak bin Mahfouz with offers of a £1 million ($1.36 million) donation in 2014 when it apparently started to appear as though the tycoon wanted an in-person visit in Saudi Arabia in return for the money.
Harry's staffer Mark Dyer swiftly applied the brakes warning of "cash for access" concerns only to be told Prince Charles had suggested the trip, The Sunday Times reported, citing leaked emails. However, a palace source said Prince Charles did not encourage Harry to visit Saudi Arabia.
The report is significant because Prince Harry went on to sever links with Mahfouz while Prince Charles pursued the relationship.
Police are now investigating whether the chief executive of Charles' charity, The Prince's Foundation, may have broken the law by offering help securing a knighthood and U.K. citizenship to the tycoon in return for donations.
According to The Sunday Times, Mark Dyer, a former royal equerry and trustee at charity Sentebale, wrote to a representative of Mahfouz expressing his concerns on May 31, 2014.
The letter, published by The Sunday Times, read: "Are we really saying that if PH [Prince Harry] commits to a trip to Saudi, Sentebale will receive the donation?
"If that is the case I need to now brief the board as the accounts have all been revised and signed off on the back of receiving £1m donation.
"I am seeing PH today at Windsor; I will brief him on the situation and see if he now wants to commit to a trip, but this certainly was not our understanding . . . it is starting to bring into question 'cash-for-access'."
Still according to The Sunday Times, a later letter Dyer sent in June 2014, after discussions with Prince Harry's private secretary, read: "There is a concern and we have to be very careful going forward. At no stage have we committed to a visit, we discussed maybe in the future meeting privately for a weekend on a boat.
"The POW [Prince of Wales] obviously mentioned it in passing conversation; that does not mean PH comes next week. He is keen for his son to see that part of the world, but not next week.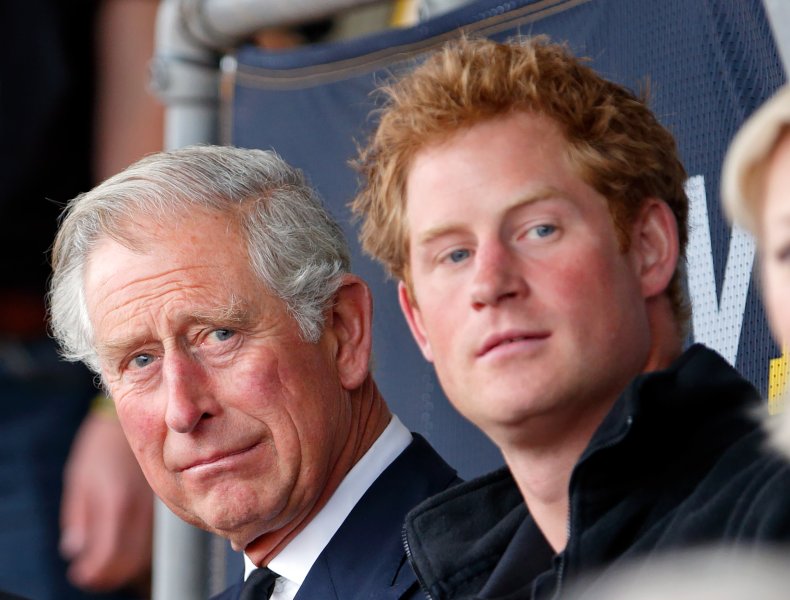 "What has now happened is a promise of a £1m donation but it now comes with a commitment to a visit ... that was not my understanding."
The letter added: "There is a possibility of a visit to Saudi and if this happens PH will visit M [Mahfouz], but to be held over a barrel, I think is wrong."
However, according to his spokesperson, no visit was made by Harry to meet Mahfouz in Saudi Arabia and just £50,000 of the £1 million was paid to Sentebale.
By contrast, Charles hosted Mahfouz in Scotland in October 2014, met him at the British embassy in Riyadh in 2015 and gave him a CBE (Commander of the Most Excellent Order of the British Empire) honor at Buckingham Palace in 2016.
However, the bombshell document that gave rise to the complaint to police came in August 2017 in the form of a letter from Michael Fawcett, who resigned in November 2021 from his post as CEO of The Prince's Foundation, to an aide to Mahfouz.
It read: "In light of the ongoing and most recent generosity of His Excellency, Sheikh Marei Mubarak Mahfouz bin Mahfouz I am happy to confirm to you, in confidence, that we are willing and happy to support and contribute to the application for Citizenship.
"I can further confirm that we are willing to make [an] application to increase His Excellency's honor from Honorary CBE to that of KBE [knighthood] in accordance with Her Majesty's Honors Committee.
"Both of these applications will be made in response to the most recent and anticipated support of the Trust and in connection with his ongoing commitment generally within the United Kingdom. I hope this confirmation is sufficient in allowing us to go forward."
The new documents from Dyer will place further scrutiny on whether Prince Harry's office passed on its concerns to Prince Charles' team and what, if anything, was done about it.
It is possible Prince Charles and his private secretary at the time Clive Alderton could be interviewed by police.
A Clarence House spokesperson said: "The Prince of Wales had no knowledge of the alleged offer of honours on the basis of donation to his charities."
No arrests have been made and the police investigation is ongoing.