Why Literary Website LitHub Is Grading Books and What Gets an A-Plus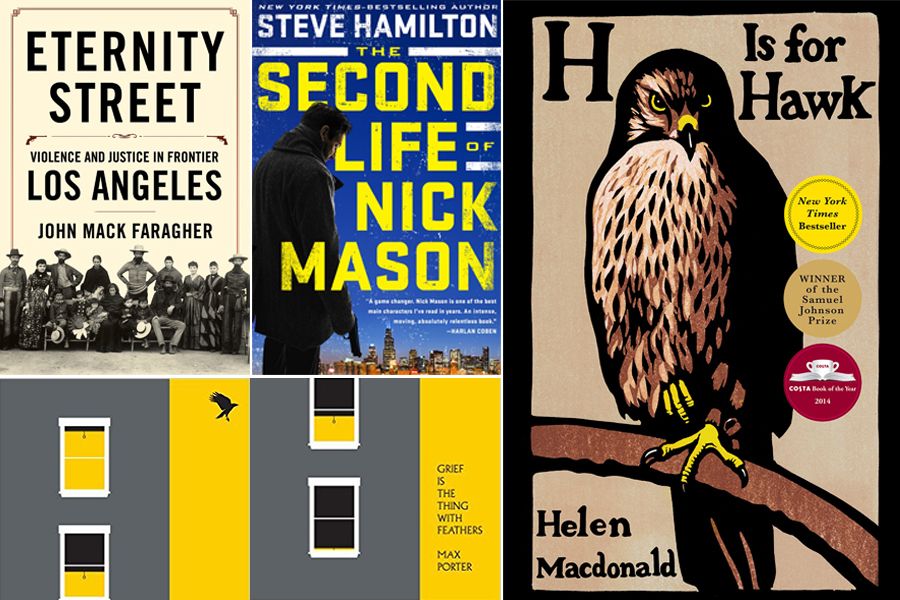 A quick scroll through the Rotten Tomatoes website can help viewers pick a movie or a show to watch—a "certified fresh" option over a "rotten" one according to its score on the "Tomatometer." Now the literary-inclined can do the same as they ponder their next reading selections. LitHub announced on Tuesday the launch of Book Marks, a project that aims to be the "Rotten Tomatoes" for books, minus the virtual produce.
"The whole mission behind LitHub is to agitate for literary writing and to support the ecosystem that supports literary books," LitHub publisher Andy Hunter tells Newsweek. The goals for its new sub-site, he says, are to amplify the voices of professional critics and to "bring more attention to books gaining critical praise" that might otherwise go unnoticed.
Book Marks launched Tuesday with an initial library of roughly 500 titles and will continue adding at a pace of up to 50 per week, Hunter estimates. The site only includes books that have been reviewed at least three times by outlets on a growing list of dozens of sources—from The New York Times to The Stranger, Harper's and the Los Angeles Review of Books. A small staff finds and reads reviews closely before assigning a letter grade to each one based on how positive or negative it is (though professional critics are invited to submit their own grades for books based on reviews they've written). The individual marks are used to calculate an average, which appears as the book's grade on the site.
The homepage has sections for new books, the most reviewed, the best reviewed and the Hottest Books of the Season—which takes into account awards, nominations and buzz, both generally and in the media—as well as fiction and nonfiction and links to genres like fantasy, mystery and crime, young adult, biography, history, memoir, sports, poetry and more. Each book page indicates how many reviews the average grade takes into account and includes what the staff has selected as representative snippets from each critic's review. It also links readers to the full reviews and allows them to post their own comments in a "What did you think of…?" section at the end.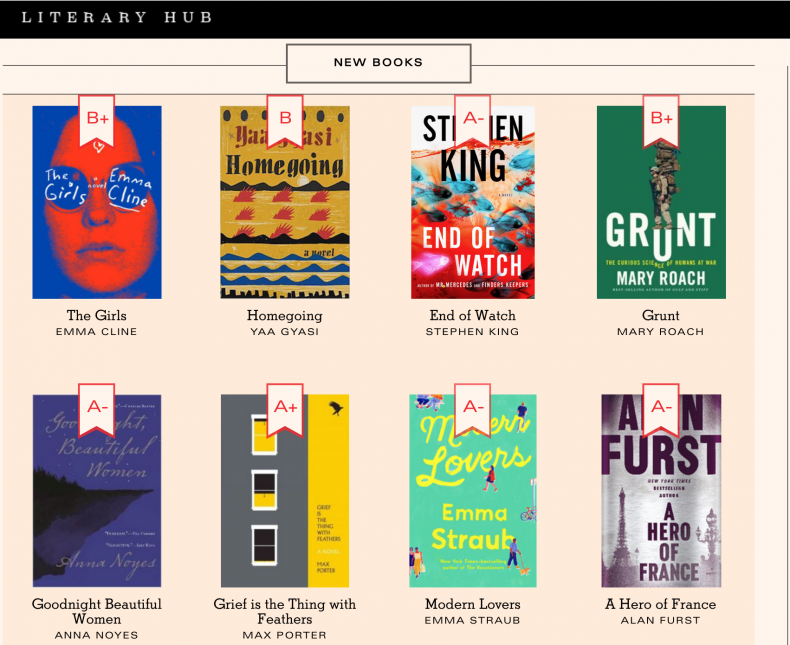 "With the exception of a few major outlets," Hunter says, "book reviews don't have the kind of exposure and reach that they used to." He and his colleagues recognize that there are plenty of sites where customers can share their own impressions, but they believe professional reviewers "still deserve a place of importance. We value the knowledge and depth of experience reviewers bring." The site turns to legacy media as well as newer web-based outlets in order "to accurately reflect current literary discourse."
For readers expecting the equivalent of zero-percent ratings on "Rotten Tomatoes," LitHub won't likely deliver. "The book review community has a light touch," Hunter says, since "mostly people just want to write about the books they're inspired by or excited by." The grades on Book Marks will tend to be higher than those on its movie and TV counterpart, he says. With so many books coming out, it wouldn't make much sense to publish a takedown of a little-known title.
Plus, says Hunter, "I don't think the niceness is necessarily the worst thing." And for those who've given Book Marks flack for so many good grades in the short time since it launched, he says, "If you shine a light on something and that reveals that it has some flaws, the answer isn't to turn the light off." Book Marks, he believes, can help "improve the state of literary criticism in the long run."
In keeping with the positivity, here are the four books that have garnered A-plus grades on Book Marks thus far (with excerpts from the reviews that got them there):
Grief Is the Thing With Feathers
By Max Porter
Fiction/Literary
This book's A-plus grade is based on six reviews—in The Guardian, NPR, The Los Angeles Times, The Wall Street Journal, The Rumpus and Electric Literature. Kirsty Gunn wrote in The Guardian:
Grief Is the Thing With Feathers is the most exquisite little flight of a story captured between hardback covers, and its appearance has been crafted to show us that we are in for something unusual. This deeply moving book about death and its grief-stricken consolations—love and art—appears to be no more than a scattering of text, dialogue and poetry that lifts and settles on the page, the frailest sort of thing. Yet as we read on, we become aware that the way it has been put together is robust indeed.… Risking the rigours of its intellectual and aesthetic endeavour through extreme compression, Porter's story becomes a profound meditation on the difficulty of writing about love and loss.
Eternity Street: Violence and Justice in Frontier Los Angeles
By John Mack Faragher
Nonfiction/History
Three reviews helped Eternity Street earn its A-plus. Jill Levoy called it "a magnificent book, written with verve and care" in the Los Angeles Review of Books, while Allen Barra called Faragher "one of the great living American historians" in the Chicago Tribune and wrote that the book is "destined to become" a "modern classic."
The Second Life of Nick Mason
By Steve Hamilton
Fiction/Mystery and Crime
"The novel is so good it legitimately stands shoulder to padded, paranoid shoulder with the classics of the crime noir genre," wrote Maureen Corrigan for NPR, one of four reviews Book Marks evaluated for The Second Life of Nick Mason. Janet Maslin wrote in The New York Times:
Mr. Hamilton gives this book a superb set of road maps, one for the Chicago Nick knows so well, another for the inner workings of Nick's mind. Because Nick is a first-time character faced with a terrible moral dilemma, his thoughts need to be grippingly complex, and they are.… Though he flirts with some obvious clichés here, Mr. Hamilton uses them to his advantage. After all, chases and club scenes and daughter-loving dads wouldn't be so popular if they didn't work. And The Second Life of Nick Mason kicks off this new phase of Mr. Hamilton's career at full gallop. It's a tight, gripping book about a man hellbent on reinventing himself against long odds. By a writer who knows whereof he speaks.
H is for Hawk
By Helen Macdonald
Nonfiction/Biography/Memoir/Nature
Helen Macdonald's H is for Hawk, published in March 2015, has a whopping 23 reviews included in its Book Marks grade, in outlets from Newsday to Entertainment Weekly and from The Millions to The Boston Globe. Kathryn Schulz wrote in The New Yorker:
Had there been an award for the best new book that defies every genre, I imagine it would have won that, too. H Is for Hawk is an improbable and hybrid creature. It is one part grief memoir, one part guide to raptors, and one part biography of T.H. White, who chronicled his maiden effort at falconry in The Goshawk, written just before he began work on The Once and Future King. I am describing Macdonald's book by its parts for the same reason we describe a griffin by its parts—because how else would we do so? But it is coherent, complete, and riveting, perhaps the finest nonfiction I read in the past year.
This post has been updated with the US publisher for Grief Is the Thing With Feathers.