Why LSU Hiring Kim Mulkey From Baylor is Transcendent in the Sports Realm
Kim Mulkey on Sunday was officially announced as the next women's basketball coach at LSU, leaving a Baylor program she took from scratch and turned into a three-time national champion.
If there were a Mount Rushmore of people who highlighted and elevated the women's game, she would likely be a part of it. She's the only person in women's college basketball history to have won a national championship as a player, an assistant coach an then as a head coach. She also in the Naismith Memorial Basketball Hall of Fame.
Mulkey, who was born and raised in the Pelican State, returns to her home state where it all began. The Tickfaw native was a champion in both high school and college. She won four state championships with Hammond High School and then two as a player at Louisiana Tech in the early 1980s.
At Hammond, she guided her school to a 136-5 record over four years, winning the state crown each season. She set a national record of 4,075 career points, which has since been broken. She was the school's valedictorian and now has a street named after her in Tickfaw.
As a point guard at Louisiana Tech, she became known for her long French-braided pigtails, dazzling passes and great leadership while helping the Lady Techsters win their first two national championships in 1981 and 1982. The first one (1981) was the AIAW national title and the second was the first-ever NCAA women's championship. Her teams went 34-0 and 35-1 over those two seasons, collectively.
You can add the 1984 Olympic gold medal and 1983 Pan Am gold medal to her playing resume as well.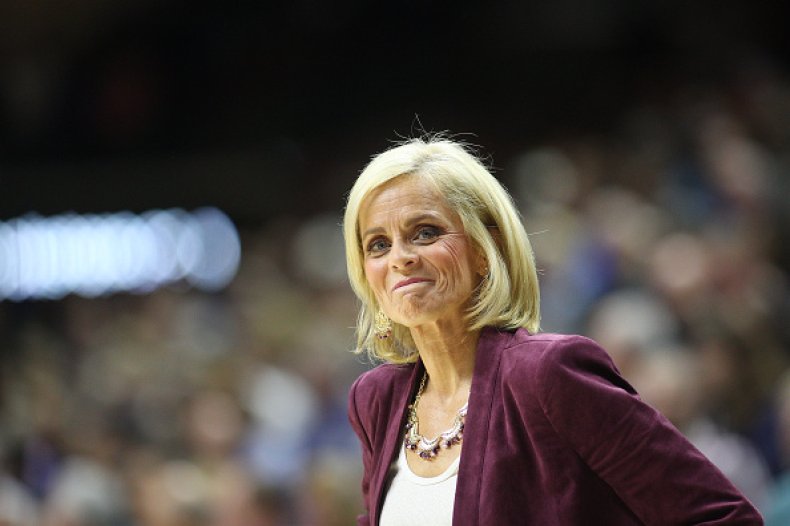 Mulkey eventually became an assistant coach at Louisiana Tech under legendary coach Leon Barmore. She spent 15 seasons on the Tech staff as an assistant, winning the national championship in 1988 and making it to the Final Four six other times. They made it to the Elite Eight four other times.
Mulkey went to Baylor in 2000, taking over a program that had never made it to the NCAA tournament. Not only did she build the program from scratch, she turned the Lady Bears into a national powerhouse. During 21 seasons in Waco, she guided Baylor to the Sweet 16 on 15 occasions. Aside from her three national championships in 2005, 2012 and 2019, she took her team to the Elite Eight six other times, including a Final Four appearance in 2009.
Some regard her as one of the best coaches to ever work at Baylor, regardless of the sport or gender.
Now, the school is building a brand new arena that likely wasn't going to have her name on it anywhere, even the floor. Furthermore, the Baylor men just won their first national championship, setting off a celebration 10 times greater than what the women ever received in their championships this century.
Mulkey has clout as a women's head coach that's seldom seen in sports. Very few women's basketball coaches have reached her prowess, with only Pat Summitt (Tennessee), Geno Auriemma (UConn), Jody Conradt (Texas), Tara VanDerveer (Stanford), Muffet McGraw (Notre Dame), Leon Barmore (Louisiana Tech), Vivian Stringer (Rutgers), Sue Gunter (LSU) and Kay Yow (N.C. State) up there with her.
Mulkey leaving for LSU—where her son, Kramer Robertson, played shortstop—is big news for women's collegiate sports, especially in a time when women's sports playing in the shadow of men's athletics sports was magnified during the recent basketball tournaments.
"Kim Mulkey is a champion and a Hall of Famer, and we are thrilled to welcome her home," LSU athletics director Scott Woodward said in a statement. "Her accomplishments are unprecedented, her passion is unrivaled, and her commitment to winning in all aspects of life—in the classroom, on the court, and in the community—is unparalleled. We look forward to working with her as she instills that championship culture at LSU."
Mulkey is returning home to coach in her native state, hoping to turn around another program. This time, she could once again help transcend her sport into another level.