Why Maritza Ramos Is Absent From 'Orange Is the New Black' Season 6
Netflix dropped Season 6 of Orange Is the New Black on Friday, and fans quickly noticed that beloved Litchfield inmate Maritza Ramos was nowhere in sight.
Actress Diane Guerrero portrays Maritza on the popular series but does not appear in any of the new season's 13 episodes. Her absence could be due to her busy schedule outside the show.
Guerrero, 32, has a recurring role on the CW's Jane the Virgin as Lina, one of the titular character's friends. She had a starring role as Sofia on Superior Donuts before CBS canceled the series after Season 2 concluded in May. Guerrero is also slated to serve as the star, writer and executive producer for In the Country We Love, a TV series based on her memoir of the same name. On Tuesday, it was announced that she joined the upcoming DC Universe show Doom Patrol.
Aside from television, she's scheduled to star in more movies. She's attached to appear alongside John Leguizamo in The Godmother and Liam Hemsworth in Killerman.
Newsweek subscription offers >
In Season 5 of Orange Is the New Black, Maritza was gaining momentum on social media with her fellow inmate and best friend Marisol "Flaca" Gonzales (Jackie Cruz). The pair rose to fame through posting beauty tutorial videos during the prison riots.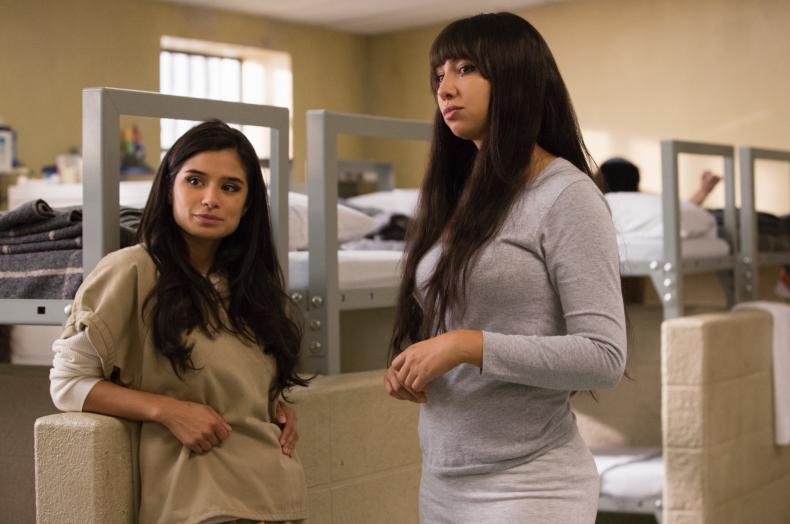 Maritza and Flaca were captured during the finale by guards who invaded Litchfield to halt the riots. As the duo lined up outside the penitentiary to board a bus that would transport them to a new facility, they were separated. The teary-eyed friends didn't get the chance to give each other a proper goodbye.
Maritza isn't the only character missing from Orange Is the New Black Season 6. Fans didn't get to see sendoffs for Brook Soso (Kimiko Glenn), Janae Watson (Vicky Jeudy), Alison Abdullah (Amanda Stephen) and Erica "Yoga" Jones (Constance Shulman), among many others.
Newsweek subscription offers >
The show indicated that former Litchfield inmates absent from the new main facility were sent to other prisons across the United States. Clues regarding Maritza's location aren't made apparent, but Flaca mentions how much she misses her friend.
Netflix gave an early renewal to Orange Is the New Black. Details regarding its premise and premiere aren't known. Since the show typically returns in the summer, it is expected that fans may see Season 7 premiere in the summer of 2019. Guerrero's return is uncertain, but viewers shouldn't rule out a Maritza and Flaca reunion, as the show is known to bring characters back from time to time.
Why Maritza Ramos Is Absent From 'Orange Is the New Black' Season 6 | Culture