Why Mark Cuban Is 'Dipping His Toes' Into Buying Live Nation Stock as Prices Plummet
Amid the stock market turmoil that has wiped out essentially all of the gains made during Donald Trump's presidency, billionaire investor Mark Cuban says he's a buyer — and one of his stock picks is especially unusual.
The star of Shark Tank appeared on CNBC by phone Wednesday to say he's investing up to 1.5 percent of his available cash into stocks on each day markets go lower, which has been the case most days in the past month due to the coronavirus emergency.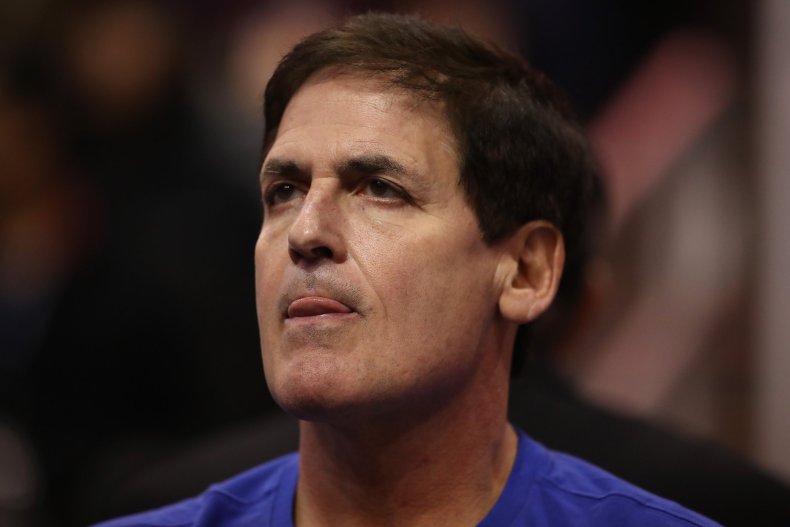 While Cuban has mostly been plowing money into an exchange-traded fund that tracks the S&P 500 — an index of 500 of the largest companies listed in the U.S. — he's also scooping up shares of Live Nation Entertainment, a curious choice considering the business it's in.
As its name implies, Live Nation produces, promotes, provides ticketing for and owns live shows and venues across the globe, including Ticketmaster and The House of Blues. In its latest fiscal year its revenue grew 7 percent to $11 billion, though it is expected to take a major hit this year with concerts, sporting events and other shows canceled or postponed worldwide.
Shares of Live Nation are off a whopping 68 percent so far this year, and on Wednesday alone they were dropping 32 percent. Apparently, that might be an overreaction, hence Cuban is buying — or, as he put it, "dipping his toes" into stocks.
Cuban, who also owns the Dallas Mavericks, which is on hiatus along with the rest of the NBA, said he's taking profits on his put and call options because "the premiums are just incredible." Puts and calls allow investors to lock in future buy and sell prices for stocks.
"It looks like we're starting to get into a trading range — up 5 percent, down 5 percent, up 5 percent, down 5 percent, and I'm not quite sure why," Cuban said Wednesday. "I'll dip my toe in the water hoping that two years from now this will all be a nightmare that we put behind us and the market will be much higher."
Cuban, 61, famously co-created Audionet in 1995 to webcast Indiana Hoosier basketball games and renamed the firm Broadcast.com, which he later sold for $5.7 billion to Yahoo for stock, which he cashed out at a very fortuitous time. His investment advice has been highly sought ever since, especially after growing his profile for nine years as the star of Shark Tank, a reality TV show where entrepreneurs seek investment capital from billionaires.
Cuban also said during his 13-minute CNBC interview that he's paying his employees who aren't allowed to work during the shutdown of the NBA, and, in the wake of coronavirus, he encouraged companies in every industry to issue stock to their workers, just as they do for top managers.