Why 'The Masked Singer' Won't Reveal Any Identities Tonight
The Masked Singer is giving viewers the gift of the holiday spirit. Instead of identity-revealing performances from the final mysterious contestants, a special Masked Singer holiday singalong, full of musical festivities, will air on Wednesday night.
That means there will be no unmasking of the remaining players, including The Sun, Crocodile and Mushroom. However, each of them will still hit the stage during the show, along with a number of former contestants, as they all belt out some of the most beloved Christmas carols and holiday songs of all time.
Brain Austin Green, who was Season 4's Giraffe, is set to take the stage, as well as fellow Season 4 eliminated-celebs like Tori Kelly, aka Seahorse; the artist formerly known as Popcorn, Taylor Dane; Bob Saget, who posed as Squiggly Monster; and the country-singing couple, Clint Black and Lisa Hartman Black, who performed as the Snow Owls.
Even The Masked Singer panelist Ken Jeong is decking the stage with boughs of holly. He'll make his musical debut on the show with a cover of "Little Drummer Boy," and yes, he'll be rocking a classic Nutcracker look, including a bright red jacket and matching drummer hat.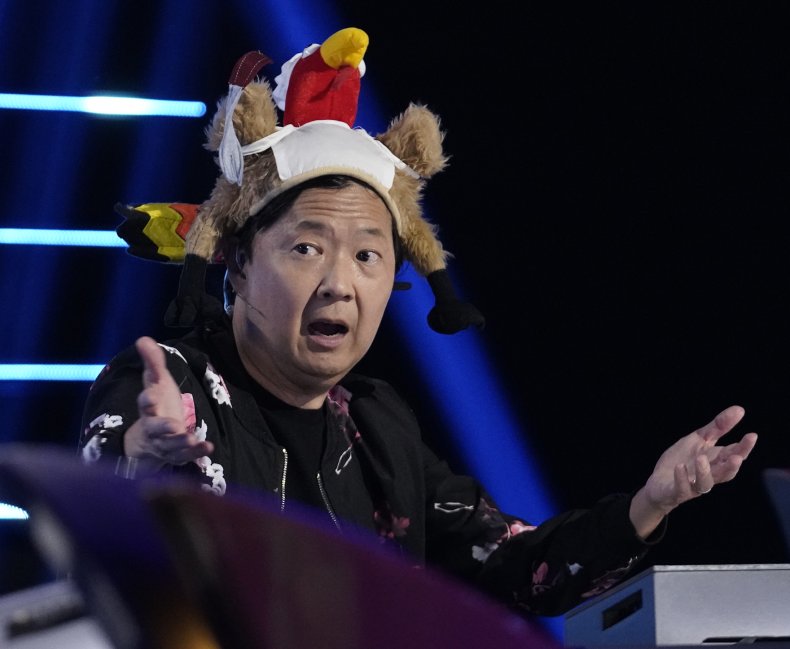 "Watch me channel "Little Drummer Boy" in my first (and probably last) Masked Singer performance," Jeong tweeted on Tuesday.
Panelists Robin Thicke, Nicole Scherzinger and Jenny McCarthy will surely get a kick out of judging that performance.
Expect to see some fun holiday covers from a few surprise guests, too, including performers from past seasons of The Masked Singer.
The Masked Singer will return on December 16 with the season finale reveal that viewers have been waiting for. Mushroom, Crocodile and The Sun will give their final performances of the season, after which a champion will be crowned and all three identities will be revealed.
So far, Season 4 has had a range of public figures show up. There was Olympic medalist and professional snowboarder Chole Kim, who appeared on The Masked Singer as Jellyfish, and rap sensation Busta Rhymes, who posed as Dragon. Others that have been unmasked this season include Mark Sanchez as Baby Alien, Wendy Williams as Lips, Lonzo Ball as Whatchamacallit, Dr. Elvis Francois as Serpent, Paul Anka as Broccoli and Mickey Rourke as Gremlin, who famously unmasked himself before even being eliminated.
The Masked Singer holiday singalong airs on Fox on Wednesday at 8 p.m. ET.