U.S. Defense Secretary James Mattis has arrived in Afghanistan on a surprise visit as Washington examines its role in the war-ravaged country.
With the security situation in the country deteriorating, Mattis arrived in Kabul on Friday accompanied by the chairman of the Joint Chiefs of Staff, Marine General Joseph Dunford.
It is Mattis's fourth visit to the country as defense secretary and is part of a larger trip, including stops in San Diego and India, Reuters reported.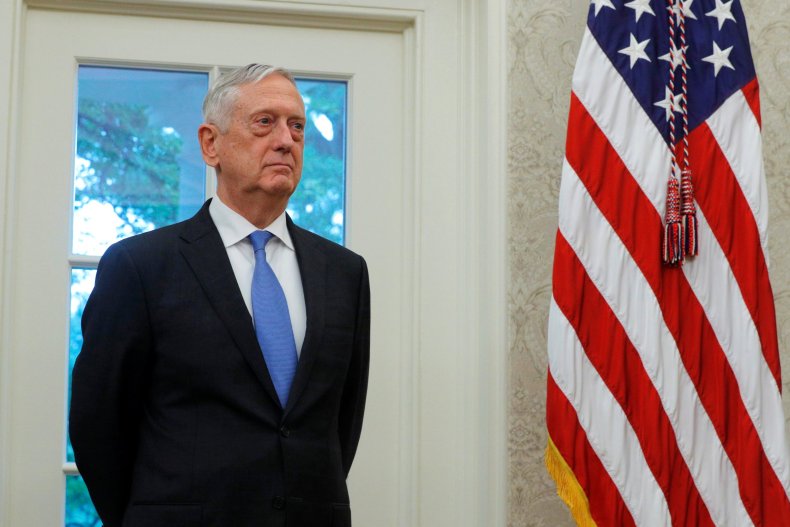 He is expected to meet with American, NATO and Afghan military commanders, as well as the country's president, Ashraf Ghani, CBS News reported.
U.S. Army General Scott Miller took over command of NATO forces in the country on Sunday.
The U.S. command in Afghanistan provided no other details about the visit, which came as the Trump administration looks to push for a negotiated end to the conflict that has raged for 17 years. There are around 14,000 American troops in Afghanistan.
This week, Secretary of State Mike Pompeo announced the appointment of Zalmay Khalilzad as Washington's envoy to Afghanistan, whose goal, Pompeo said, would be to "get the Afghans and the Taliban to come to a reconciliation."
In a joint statement on Thursday, Pompeo, Mattis and their Indian counterparts "reaffirmed their shared commitment to a united, sovereign, democratic, inclusive, stable, prosperous, and peaceful Afghanistan," CNN reported.
In June, a U.S. State Department official met Taliban officials in Qatar to set the mood music for peace talks with the Taliban, which accepted a temporary truce.
But there has been a spate of attacks, including one earlier this week that killed a U.S. service member and eight others. Only days ago, a suicide bomber killed 21 people in an attack that ISIS claimed responsibility for.
Two insurgent commanders told Reuters how the Taliban had rejected a second cease-fire offered by President Ashraf Ghani. Mattis, however, told reporters he was still optimistic.
"Right now, we have more indications that reconciliation is no longer just a shimmer out there, no longer just a mirage. It now has some framework, there's some open lines of communication," Mattis said, according to Reuters.