Why Miami Matters | Opinion
We are a nation of miracles, from the exceptional blessings of our land to the endurance of our institutions. My pastor described a miracle as the point where God's grace meets human hope. Some are skeptical that miracles, even small ones, happen these days. But as the mayor of one of America's fastest-growing cities, I see miracles happen every day. I see it in the hard work and creativity of our workers and companies. I see it in the professionalism of our police. I see it in the dreams of our children and in the ambition of our newcomers.
In Miami, we've experienced our own miracle based on the values of keeping everyone safe, keeping everyone's taxes low, and welcoming innovation. It has created a true "Miami Miracle"—a nationally scalable model—that has created and now drives our shared prosperity in Florida, well before and well beyond any blueprint or branding. More importantly, the Miami Miracle can be the beginning of a true American Miracle for all Americans in the next century, beginning with three simple principles.
First, everyone has a right to be safe in public and secure in their home. While other cities defunded their police, we fully funded them and supported them. The result has been our lowest per capita homicide rate since the 1960s, when Miami was only a fraction of its current size. We've pioneered next-generation technology like ShotSpotter and body cams. We've attracted talent and invested in future technology that deters criminals and stops crime. This has made our streets safer, our police better, and our citizens more empowered to live their lives free from fear, intimidation, theft, or assault. This freedom has created a true safe space where every citizen can contribute and enrich society through civic engagement and interaction. For working people, this is critically important. The costs of increased crime have been unfairly paid by working people, poor people, and people of color for far too long. They deserve the full protection of our police just as anyone else—and in Miami, they receive it. By publicly embracing and fully funding our police, Miami has exposed the fallacy of the "defund the police" movement in both word and deed.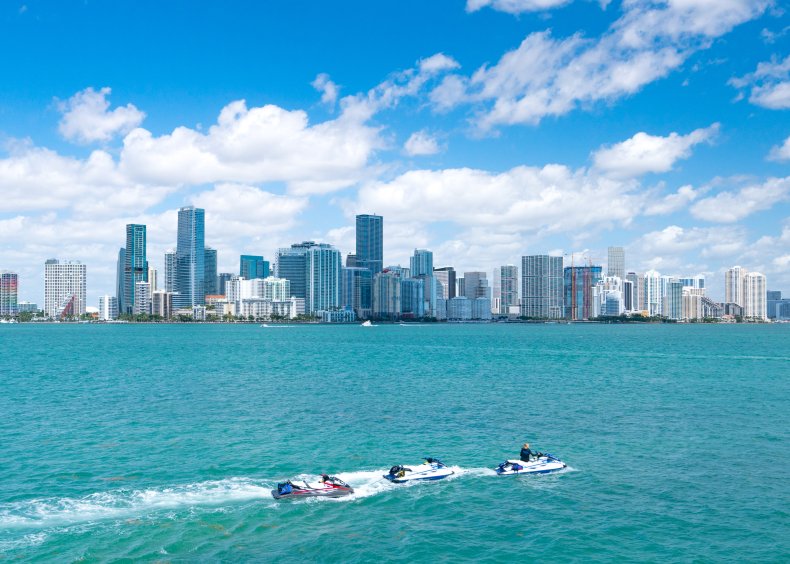 Second, when you cut taxes and regulations, you increase prosperity. In Miami, we've cut taxes to their lowest rate in history, triggering a sustained economic growth rate exceeding 6% since 2018 with an unemployment rate at 1.5%. This has allowed us to modernize public services and invest in infrastructure. We've seen that more economic freedom generates more productivity, and more productivity delivers more choices for consumers and companies alike. This virtuous cycle has driven the diversification of a strong, stable economic base with jobs that pay well. As a city, we've balanced our budget, which has led to our highest bond rating and ample reserves. Taken together, this has delivered more services at a lower cost in taxes for our residents, making us a more welcoming place for both businesses and consumers. Right now, we see federal and state government regulations act increasingly like stealth taxes on companies, as well as protectionist measures that favor special interests over consumers. In fact, these regulations simply reduce consumer choice. In Miami, we've countered this trend by eliminating past regulations, digitizing our public services, and partnering with the market to build more, offer more, deliver more, and pay more to employees. We welcome, instead of attacking, those who want to create more jobs and more goods for everyone.
Third, we need to welcome innovation and innovators, not cancel or censor them. America is a nation that always seeks new frontiers. We are inventors and innovators, mavericks and migrants. We believe in miracles because we have lived them. We Americans create, build, innovate, and expand the frontiers of freedom. But we are also in a real global competition with those who seek to divide and destroy us. We need to adapt and to deliver answers. In Miami, we've bypassed the politics of false choices to ask: How can I help you, your family, and your business? Because we believe school choice is a civil right, we launched the Miami Charter School Network to incentivize the creation of more charter schools and educational options that meet the needs of our parents and create paths to the jobs of the new economy. Because we know our time is our highest value, we've digitized our public services to offer more for less. All of us are elected to deliver answers, not anger; to offer substance, not stunts. The Miami Miracle's success rests on a brand of politics that works for everyone because it delivers for everyone. And in an era of toxic politics, that alone is a miracle.
For far too long, too many politicians have fed us on fear and anger with declarations of decline. They look, but they do not see; they hear, but they do not listen. Now is the time for an American Miracle, where hope aligns with hard work and God's grace with good ideas. In Miami, we've seen the future and embraced an approach to politics that delivers it. And even now, across America, miracles can still happen. We just need the type of leaders who believe in them, believe in us, and believe in a better future.
Francis X. Suarez is the mayor of Miami.
The views expressed in this article are the writer's own.