Mueller Probe: Why Is Michael Flynn Back in Court?
Former White House national security adviser Michael Flynn will be in court again Tuesday, for a procedural hearing about his sentencing.
The only former Trump administration official to have been found guilty so far in special counsel Robert Mueller's investigation into alleged collusion with Russia during the 2016 presidential election, Flynn accepted a plea deal in December after he admitted to lying to the FBI about conversations he had with then-Russian Ambassador Sergey Kislyak.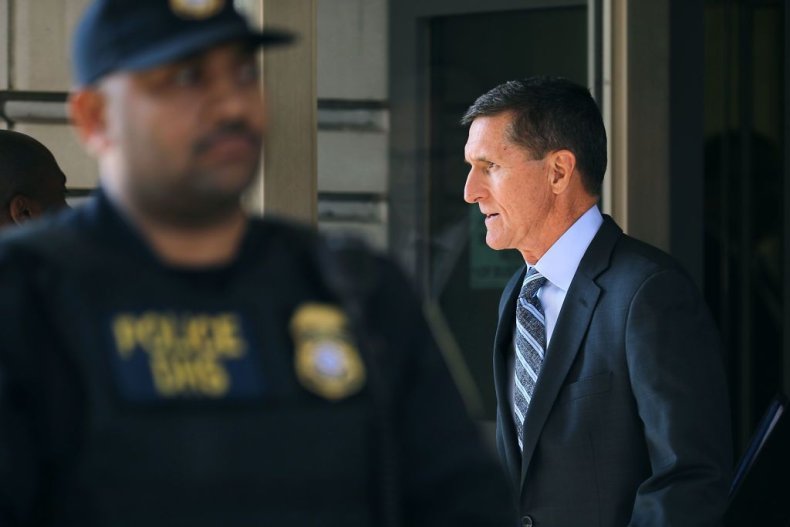 The former three-star general's sentencing has been delayed three times, as his cooperation in other cases could still be needed.
Newsweek subscription offers >
The special counsel's office and Flynn's lawyers recently requested that probation lawyers prepare a pre-sentencing report. U.S. District Judge Emmet Sullivan has called the hearing to determine why a sentencing hearing has not been set at the same time, as is standard procedure, reported CNN.
Flynn, a retired army lieutenant general, served as Trump's national security adviser for only 24 days. He was forced to resign after he was found to have misled Vice President Mike Pence regarding his discussions with Russian Ambassador Kislyak before Trump took office.
But Flynn had been an enthusiastic supporter of Trump's campaign and the president continued to praise him even after he left the administration, saying Flynn had been treated "very, very unfairly" by the news media.
Prosecutors said Flynn and Kislyak met in December 2016 to discuss the economic sanctions that the Obama administration had imposed on Moscow for allegedly interfering in the presidential election.
Newsweek subscription offers >
Flynn asked Kislyak to refrain from escalating a diplomatic dispute with Washington over the sanctions, and later falsely told FBI agents that he did not make that request, court documents showed.
Prosecutors said Flynn had previously consulted with a senior member of Trump's presidential transition team about what to communicate to the Russian ambassador.
Flynn is one of several Trump campaign officials investigated by the Mueller probe. Paul Manafort, a former Trump election campaign chairman, faces charges that include conspiring to launder money and failing to register as a foreign agent in connection with his lobbying for the previously pro-Russia Ukrainian government, bank fraud and filing false tax returns. He has pleaded not guilty.
Mueller Probe: Why Is Michael Flynn Back in Court? | U.S.