Why Michael Gove Wants to be Prime Minister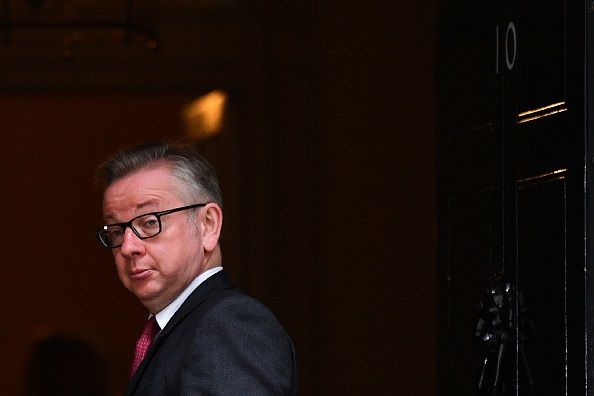 Michael Gove was 15-years-old when he switched from canvassing for the Labour party and joined the Conservatives instead. "The Falklands conflict was a revelatory moment," he has since admitted. "I had grown up in a country that had become used to decline" and "could not help but admire what I knew Britain had lacked for generations—a leader who believed that Britain's best days still lay before her."
While recent Prime Ministers—notably Tony Blair, Margaret Thatcher, David Cameron, went into office with little interest in foreign affairs, Gove has long cultivated a hawkish and binary worldview in which foreign policy chiefs are either Chamberlain-esque or Churchillian.
Though Gove is commonly known in the U.K. for his education and justice reforms, it is foreign policy which has been his most consistent interest in nearly 30 years as a journalist and politician. In 2000, Gove published a critique of the Northern Ireland peace negotiations. It was a deal he predictably viewed as unforgivable appeasement—more Chamberlain than Churchill. As a Times columnist, he began by damning Tony Blair as a "people pleaser" but when the premier decided to assert himself against Saddam Hussein, Gove declared " I can't fight my feelings any more...I love Tony." He bizarrely declared George W. Bush to be America's Churchill. Other notable writings included calling for regime change in Saudi Arabia, Pakistan and Zimbabwe. Gove is considered a hero in Washington's small but powerful neoconservative movement, and was one of just three Britons to contribute to a landmark 2005 essay collection entitled The Neocon Reader alongside William Kristol, Condoleeza Rice, and only two other Britons—Margaret Thatcher, and Tony Blair. His essay dealt with a decision by Churchill to sink the French navy before it could be handed over to the Nazis during the Second World War.
In over a decade of parliamentary and ministerial experience, and despite his close friendship with key figures in the Conservative party including Cameron, the opportunity for Gove to take a leading role in Britain's foreign policy decisions has not yet come. Despite no ministerial brief he did his best to get involved while in cabinet—in angry clashes Gove made it clear he viewed former Foreign Secretary William Hague as a weakling on issues such as intervention in Libya and Syria, and in his dealings with Israel's enemies Hamas and Hezbollah. When Hague's successor Philip Hammond closed the Iran nuclear deal in 2015, Gove viewed it as Chamberlain-like appeasement. He also fought fiercely with former Defense Secretary Liam Fox over whether the U.K. should intervene in Libya in 2011, and lost his temper when Cameron was defeated the vote on intervention in Syria in 2013—comparing a Labour MP in a hotly worded exchange outside the chamber with, once again, Nazi Germans.
Now, having announced he is running for prime minister, perhaps he can be that great Churchill-esque figure, imperfect, but right for the moment. This is almost certainly what his friends and family have been telling him in recent days. Gove will have taken some convincing— he has repeatedly ruled himself out of the leadership since 2012. Privately, he found the public criticism he received while serving as Education Secretary in the coalition government absolutely brutal. His confidence and ambition soon faltered.
Now, with the U.K. leaving the European Union; cometh the hour, cometh the man, his friends have implored. The country needs a strong figure in the crucial Brussels negotiations, they say, a leader who can stand up to European federalists.
Key to this persuasion in recent days, which appears to have been sudden, may have been his friend Steve Hilton—the former Number 10 policy guru, Tory "moderniser" and ardent Euroskeptic. It was Hilton who eventually persuaded him to run as an MP in early 2005—Gove needed some convincing then too. Chancellor George Osborne, now ruled out of the leadership role himself, shares Gove's tough foreign policy stances and is undoubtedly a crypto-Euroskeptic —despite campaigning to Remain in recent weeks.
It is however Gove's wife, the widely known right-wing newspaper columnist Sarah Vine, who will have played the greatest part. One friend cattily put it to me earlier this year "Sarah rather fancies being a First Lady," while others close to Gove have made similar jibes. Her latest column in the Daily Mail remarkably declared that she already thought of the upcoming EU negotiations as a husband-wife joint project.
Whether Gove is a Churchill or a pseudo-Churchill remains to be seen. As a diligent but divisive Education Secretary, even the most sympathetic teacher trade unionists have told me of petulant outbursts when he doesn't get his own way, standing at odds with his reputation as "the politest man in Westminster." Likewise his confrontational stance with Number 10 infuriated Cameron, who eventually found him a liability, describing him privately as "nutty." These tantrums under duress may not be helpful in the upcoming delicate Brussels negotiations—although famously Churchill was prone to do the same, and it worked out well for him.
Alastair Sloan tweets and writes on international affairs, terrorism and Westminster politics @AlastairSloan and is author of the upcoming book, "What Does Michael Gove Really Think?"