House Democrats narrowly passed their own $2.2 trillion stimulus measure on Thursday evening by a 214-207 vote. While Republicans were unanimous in opposing it, 18 Democrats crossed party lines to vote against the bill.
At least 17 of those that broke with their party's position were moderate Democrats who represent red-leaning districts. They joined their Republican colleagues in opposing the bill—that has virtually no chance of becoming law—because they believed that the House should have waited for a bipartisan deal to be reached before pushing through the vote.
Congressman Dean Phillips of Minnesota gathered with Pelosi and fellow Democratic moderates Josh Gottheimer of New Jersey and Jason Crow of Colorado on the floor before he voted against the measure. The other two congressmen both voted in favor following their lengthy conversation.
Democrat Cindy Axne of Iowa, who also voted against the bill, said "we are closer than we have been in months, but the only thing that will deliver the help my constituents need is a bill that will actually become law."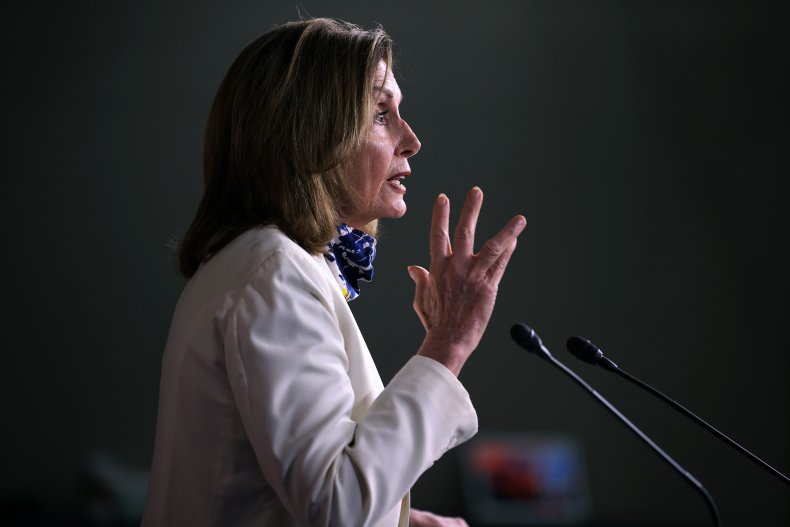 Newsweek reached out to Pelosi's representatives for comment.
The legislation, so-called the HEROES Act 2.0, is a skinny version of the roughly $3 trillion HEROES Act passed in May. At the time, only one member of the GOP—Representative Peter King—supported the bill, which was later blocked by Senate Republicans due to its high price tag.
The new version includes a second round of $1,200 stimulus checks, extended $600 weekly unemployment supplements, $225 billion for education, $436 billion in emergency aid for state and local governments and assistance for airlines and the restaurant industry.
After months of stimulus deadlock, negotiations between Democrats, Republicans and the Trump administration have still not yielded a bipartisan deal. Senate Majority Leader Mitch McConnell has already indicated that the new package would fail in the Senate.
Republicans want a smaller bill. Recently, the party proposed a roughly $500 billion package that Democrats called "dead on arrival." It was about half the figure of their previously proposed $1 trillion HEALS Act. "We're very, very far apart," McConnell said. "The thought that Senate Republicans would jump up to $2.2 trillion is outlandish."
Both parties blame each other for their failure to pass another much-needed package amid the pandemic. Democrats have criticized the GOP for allegedly declining to provide sufficient funds and Republicans have accused the Democrats of using COVID to advance their political agenda.
Hours before the House vote, the Speaker and Treasury Secretary Steve Mnuchin held negotiations for 50 minutes, according to Pelosi spokesperson Drew Hamill. They reportedly discussed the Trump administration's latest offer of $1.6 trillion. Pelosi resisted the compromise, insisting that the amount was too low to adequately provide for Americans.
While Pelosi has recently said she's "optimistic" that an agreement will be struck, the Democrat has also admitted that both sides of the aisle still "have a dollars debate" and "values debate" to overcome.
When asked by reporters on Thursday about the chance of a deal, she said, "I don't know. It just depends. We'll see."