A towering steel mill overlooking a 2022 Beijing Olympic venue became the subject of debate online after many viewers mistook it for a nuclear power plant.
The mill looms over the Big Air Shougang venue, where Olympians compete in snowboarding and freestyle Big Air events.
During the Big Air event Monday, some Olympic observers turned to social media to show their confusion—and sometimes outrage—about the structure after NBC correctly identified it as a closed steel mill. Many mistook it for a nuclear power plant due to its similar appearance, with its smokestacks resembling cooling towers.
The venue was built ahead of the 2022 Olympics for the relatively new Big Air event, which features athletes riding a vehicle down a slope while performing tricks in the air.
The site of the venue was home to the former Shougang Group steel mill, which was the first state-owned steel plant in China. It helped propel the nation into being one of the world's leaders in steel production, according to the Associated Press.
Still, some viewers said the scene looks like a "dystopian hellscape."
"Feels pretty dystopian to have some kind of nuclear facility as the backdrop for this Big Air skiing event," tweeted @LindsayMpls.
"Wow. The American NBC commentator just described the site "it used to be a steel mill." wtf has happened to our American news media? If it looks like a nuclear reactor, smells like a nuclear reactor... It's a NUCLEAR REACTOR," wrote @DebBro6.
"The only thing about this that doesn't slap is that these cooling towers tricked me into thinking this was a nuclear plant instead of an old steel steel mill," wrote @katimcf.
Is that a Nuclear Power cooling tower (with an Olympic logo!) next to the 'big air' jump? Can NBC film some dystopian [movie] for yucks?" wrote @JimCor317.
China closed the factory ahead of the 2008 Summer Olympics. Since then, the site has been converted into a city oasis featuring greenery and ponds between old factories and machinery, according to the Associated Press.
One of the factory's old blast furnaces was turned into a steampunk-style event space with shops, offices and a museum, the Associated Press reported. Architects intend to turn one of the towers into a wedding venue. The Beijing Organizing Committee office is also located in the park.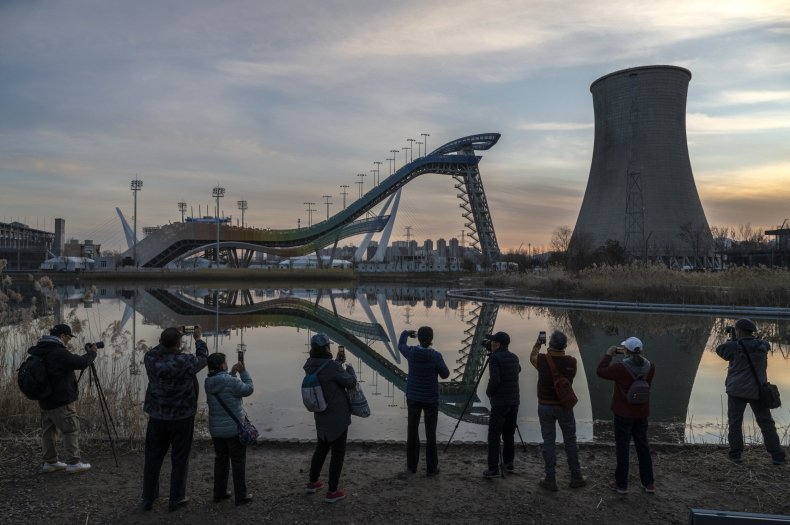 Olympians have reacted to the venue with mixed feelings.
American freeskiier Nick Goepper told the AP that the venue "feels like it was created in a virtual world, in a video game."
French freestyle skier Antoine Adelisse told Reuters: "The first time I was on the top I was a bit disappointed, because when we're at the top we usually see lots of mountains. But when the lights get on, it's really amazing."
Newsweek reached out to the International Olympic Committee for comment Tuesday morning. This story will be updated with any comment.
Uncommon Knowledge
Newsweek is committed to challenging conventional wisdom and finding connections in the search for common ground.
Newsweek is committed to challenging conventional wisdom and finding connections in the search for common ground.
About the writer
Andrew Stanton is a Newsweek weekend reporter based in Maine. His role is reporting on U.S. politics and social issues. Andrew joined Newsweek in 2021 from The Boston Globe. He is a graduate of Emerson College. You can get in touch with Andrew by emailing a.stanton@newsweek.com. Languages: English.