Why Is the New York Times Running a Column to Say Nice Things About Trump?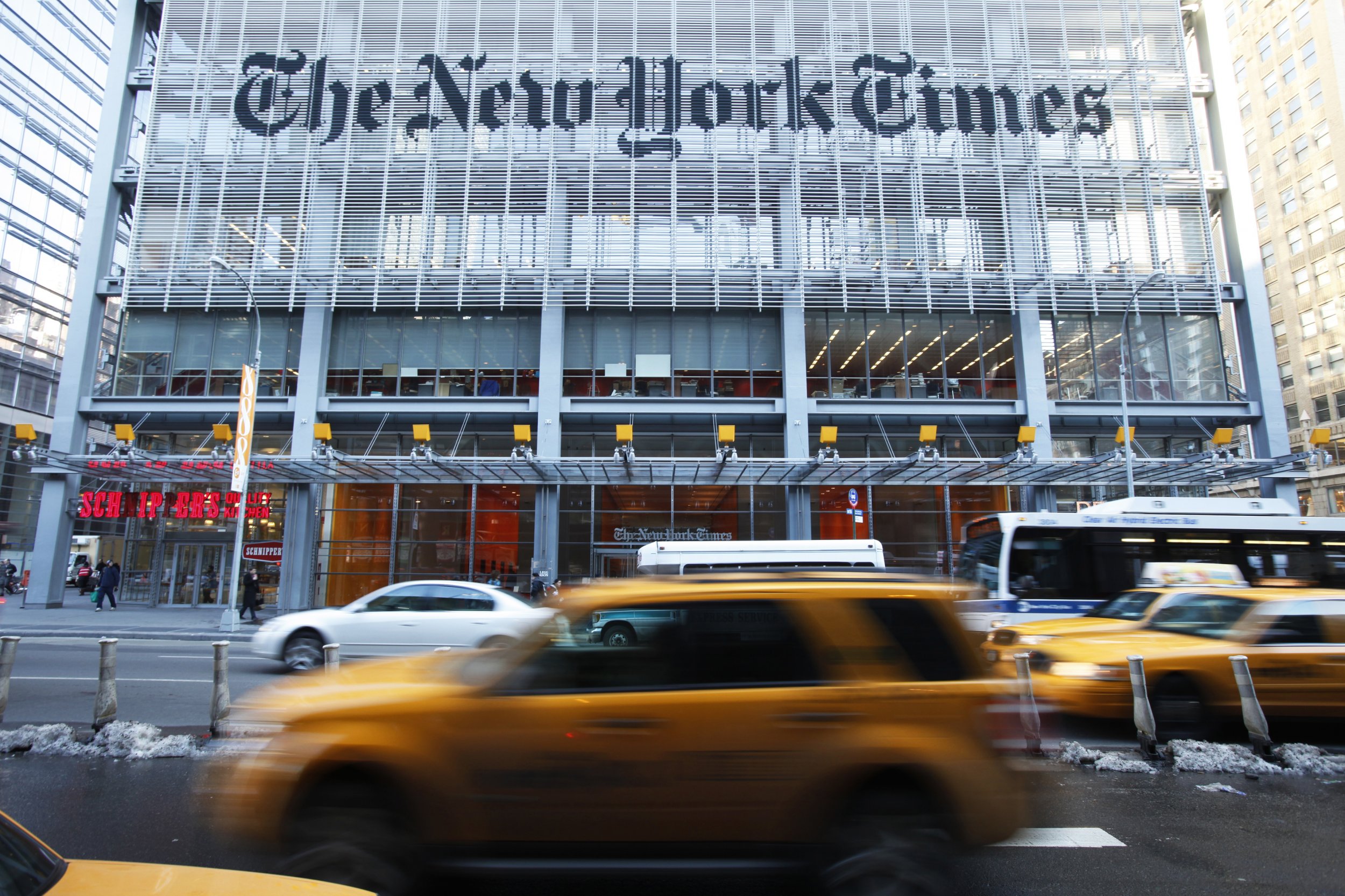 Quick: Say something you like about Donald Trump.
Anything. Don't think too hard. Just spit something out.
That was the subject of a sneaky question during the second presidential debate: Name "one positive thing that you respect" in your opponent. Hillary Clinton answered diplomatically, saying that she admired Trump's children (a cleverly backhanded compliment—she wasn't praising Trump so much as praising the younger people who share some of his genetic material), while Trump said that Clinton "doesn't quit and she doesn't give up."
Now it's the prompt for a recurring feature in the New York Times. The bewildering column will appear (indeed, has already started appearing) in the weekly Sunday Review. It is not clear whether it will run every week. But the focus will be "to present things the president has said or done that are praiseworthy."
In fact, the Times is inviting readers to write in with suggestions of Trump's "praiseworthy" behavior. The column seems to be called "Say Something Nice About Donald Trump." Here's the pitch.
Is this weird? It's a little weird. But, as the first appearance of the column shows, this is not really an opportunity to heap sincere praise on Trump. (For that, we have Fox News, which routinely trumpets the president's bar-lowering accomplishments, like "spending weekend working at the White House.") Rather, it's a venue for political commentator/ex-New Republic editor Michael Kinsley to muse about the relationship between Trump and the press—and maybe direct some milquetoast or tongue-in-cheek praise toward Trump's quirks.
The first column, for instance, is about "the upside" of Trump's anxiety-provoking Twitter feed. "Thanks to @realDonaldtrump, the average citizen now has a view straight into the president's id," Kinsley notes. "You may not like what you see, but you can see it." It's true: Trump does tweet. But his tweets typically serve to obfuscate or mislead, not provide some generous window into the 45th president's unguarded soul. (This essay in praise of Trump's Twitter has already angered some Times readers.)
Kinsley's second column discusses Trump's decision not to attend the White House Correspondents Dinner, which the author deems "one of the most repulsive social events in Washington."
Related: The biggest media trend of 2016? Abject humiliation of the media
What is the purpose of the column, beyond the novelty of a left-leaning paper stumbling over itself to deliver tepid praise to a Republican president? (Not just any Republican president, but one who has declared the media "the enemy of the American People!" and who openly mused about changing libel laws so he can more easily sue the Times.)
It's not full-throated praise intended to get on the president's good side. According to a Times spokeperson, it's an attempt at satire.
"This feature is media criticism and satire by the veteran journalist and commentator Michael Kinsley," Danielle Rhoades Ha, VP of corporate communications, explained in an email to Newsweek. "He is assessing the president and the mainstream media's coverage of the administration for the Times Opinion pages. If you haven't seen it, please look at the first installment of the column, which outlines the media criticism aspect of the column more fully."
Rhoades Ha assured me that the column will not undermine the newspaper's adversarial reporting on Trump: "It is entirely separate from our newsroom coverage." As for the author, Kinsley "is the columnist writing it and every installment will be by him." (And that email address? "Kinsley is soliciting ideas and feedback and will incorporate suggestions down the road." Rhoades Ha pointed out that the correct email address is somethingnice@nytimes.com, not saysomethingnice@nytimes.com, as was erroneously published.)
It's strange timing for the Times to solicit readers for "praiseworthy" aspects of Trump. The newspaper has recently made awkward attempts to appease a more conservative readership. In April, it hired as a columnist Bret Stephens, a neoconservative who thinks Black Lives Matters is too "thuggish" and whose embarrassing debut column flirts with climate change denialism. Today, we got an op-ed from a pro-life advocate arguing that it's "dehumanizing" to link abortion with economic circumstances.
Curious to know more about the impetus behind the "praise Trump" column, I sent an email to somethingnice@nytimes.com asking about it. I even followed the instructions and included a compliment for Trump: He used an em dash correctly in a tweet last week! (This is a rarity. Trump usually uses em dashes and hyphens interchangeably.)
But I didn't get a reply.
So I'll have to start my own column. It's called "Say Something Nice About Michael Kinsley." Please email praise about Michael Kinsley to somethingnice@newsweek.com.