Why Nicki Minaj Says It's 'Not Embarrass Black Women Season'
Rapper Nicki Minaj blasted people who think it's appropriate to share their ratings of women's bodies.
Speaking with rapper and podcaster Joe Budden in a Instagram Live, Minaj slammed "men that feel the need" to comment on women's bodies in a discussion about an Instagram Live video she made with image consultant and influencer Kevin Samuels last month. In that video, Samuels asked Minaj to rate herself between 1 and 10. She gave herself a 7, but Samuels gave her a 9.
"I saw somebody put on their blog that ... Kevin Samuels rates Nicki Minaj. Um, first of all, Kevin Samuels rated me, Joe, a 9, right. And they put on the blog that, they tried to put the little part where me and Kevin was talking about the 7.5 and tried to say Kevin rated me 7.5. Kevin rated me a 9, but guess what? That 7.5 or that 9—and this is not about Kevin because he actually was very respectful on the show when I spoke to him. All you [n-words] that do that? Y'all can take those ratings and shove it up your f***ing a**holes. Shove it good and hard and deep in your a**holes," Minaj said.
"You shouldn't tell women what you think their rating is," Budden replied, laughing.
"Y'all feel like you can constantly disrespect Black women? Get the f*** out of here. Instead of men that get on and laugh about Black women because you mad for some Black girl broke your f***ing ugly-ass heart," she continued. "I wish the f*** you try that with me, bitch. I wish the f*** you would."
"This is not embarrass Black women season. That's not what this is. Who the f*** you all think you're talking to or about? Eat a d***," Minaj concluded.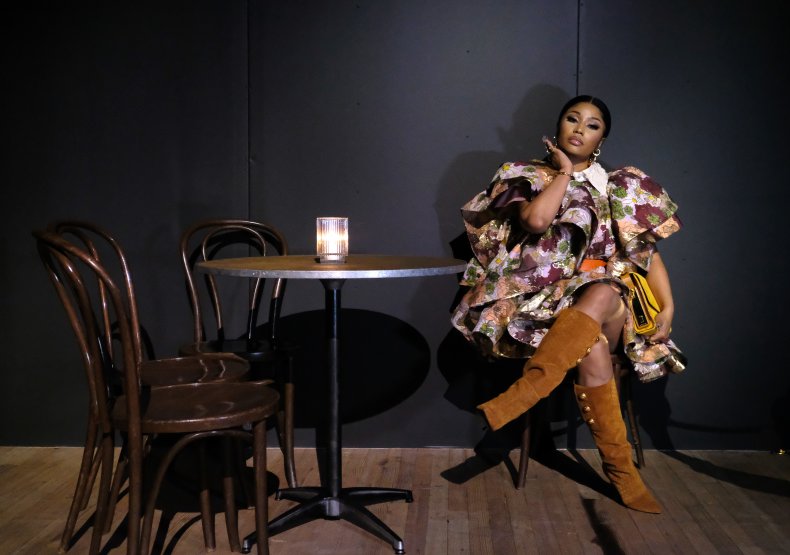 Minaj made the comments on an Instagram Live on Tuesday, where she promoted that her Queen Radio show was moving to the new app AMP, as well as an appearance on Joe Budden's show, due to be released Wednesday afternoon. In addition to the radio program, she released a new single last month, a collaboration with Lil' Baby called "Do We Have a Problem."
Though no announcement has been made of a new album, rumors swirl that Minaj is working on one due out sometime this year. In 2020, she hinted that the new album could be a followup to her 2010 LP Pink Friday, with a cryptic tweet merely reading "PF2." This hint was seemingly followed up on by including the name of the 2010 album in the Instagram tease for "Do We Have a Problem."
Earlier this year, Minaj told Zane Lowe of Apple Music that the album was "coming very soon," and told James Corden it would be out before summer. She is due to headline the Wireless Festival in London in July 2022—which could coincide with the album's release.
Her last album was released four years ago, 2018's Queen. Since releasing Queen, she's made appearances in The Angry Birds Movie 2 and as a judge on RuPaul's Drag Race. She's also released a handful of singles since 2020, including "Trollz" with 6ix9ine, and a reissue of her 2019 mixtape Beam Me Up Scotty.