Why No Amount of Reporting Can Hurt Sarah Palin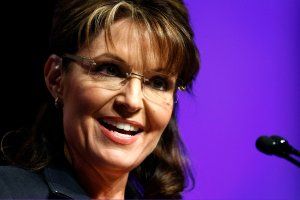 Vanity Fair has released not one, but two damning articles investigating the woman and the brand that is Sarah Palin. But even the magazine admits that the reporting will not damage a woman whose credibility seems "incidental," it says, to fact.
Michael Joseph Gross's stories, headlined "Sarah Palin: the Sound and the Fury" and "Sarah Palin's Shopping Spree: Yes, There's More ..." are filled with the kind of detail that sets the political press frothing (with outrage or glee, depending on the outlet). She's a bad tipper, he reports; she abuses staff and throws things; she is vengeful, perhaps "unhinged"; her aides are amateurish and vindictive; she displays signs of paranoia. Gross found, he says, a "sad and moldering strangeness" as soon as he looked under the surface of her world.
But he adds that despite the fact that she openly says things that aren't true, "falsehoods never damage Palin's credibility with her admirers, because information and ideology are incidental to this relationship. Palin owes her power to identity politics, pitched with moralistic topspin."
Indeed, it is hard to imagine a more conventional politician surviving the claims that Gross makes. He systematically undermines the very aspects of her life that her image is built on: family, God, empowering women, children, and affinity for everyday folks.
He interviews bellhops who claim that she tips terribly. He reports that she and Todd have fights so vicious that they throw canned goods at each other, and that their marriage is often miserable. She supposedly uses her looks to get past what is described as "a horrible temper," and Gross even describes push-up bras as a way for her to get what she wants. Her finances are opaque, he says. She doesn't really hunt or fish—when she made Fox News' Greta Van Susteren moose chili for a TV special, Gross reports, Todd had to phone friends to get the meat. Her children were not consulted on her decision to take the vice presidential nomination in 2008—McCain campaign manager Steve Schmidt broke the news to them.
Another scandal from the 2008 election, in which she was reported to have bought hundreds of thousands of dollars' worth of clothes on the Republican National Committee's dime is brought up again, too—she even bought underwear, Gross says, and tried to keep many items when she was asked to return them.
Palin, who, Gross reports, has adopted the North Star as an unofficial emblem, inspires secrecy on the level of the Mafia. People fear that if they reveal information about her, she will air what he calls her favorite threat: "I have the power to ruin you."
It is hard to know whether what Gross reports is true—many of his assertions are based on opinions, and anonymous ones at that. But more baseless accusations have hampered politicians—just ask Barack Obama about his religion.
Palin is insulated in ways that other public figures can only dream of. Her supporters defend her like so many lionesses surrounding a cub. When we made an initial error in this post—we erroneously claimed that Conservatives4Palin, a blog dedicated to her, hadn't even mentioned the Vanity Fair article—C4P posted an immediate riposte pointing out that it had addressed the piece as soon as it had gone up, and calling me "a far-left radical" and "a total extremist." It continues a campaign against what it calls the Vanity Fair "hit piece."
Palin herself avoids rigorous journalistic interviews, and will probably use Fox News to claim further attacks by the "lamestream media." Her chances for a rumored run for the White House in 2012, it seems, remain unchanged.
Editors' note: This story intitially stated incorrectly that Conservatives4Palin had not commented on the Vanity Fair piece. We regret the error.