Why North Korean Soldiers Risk Their Lives Fleeing Kim Jong Un's Rule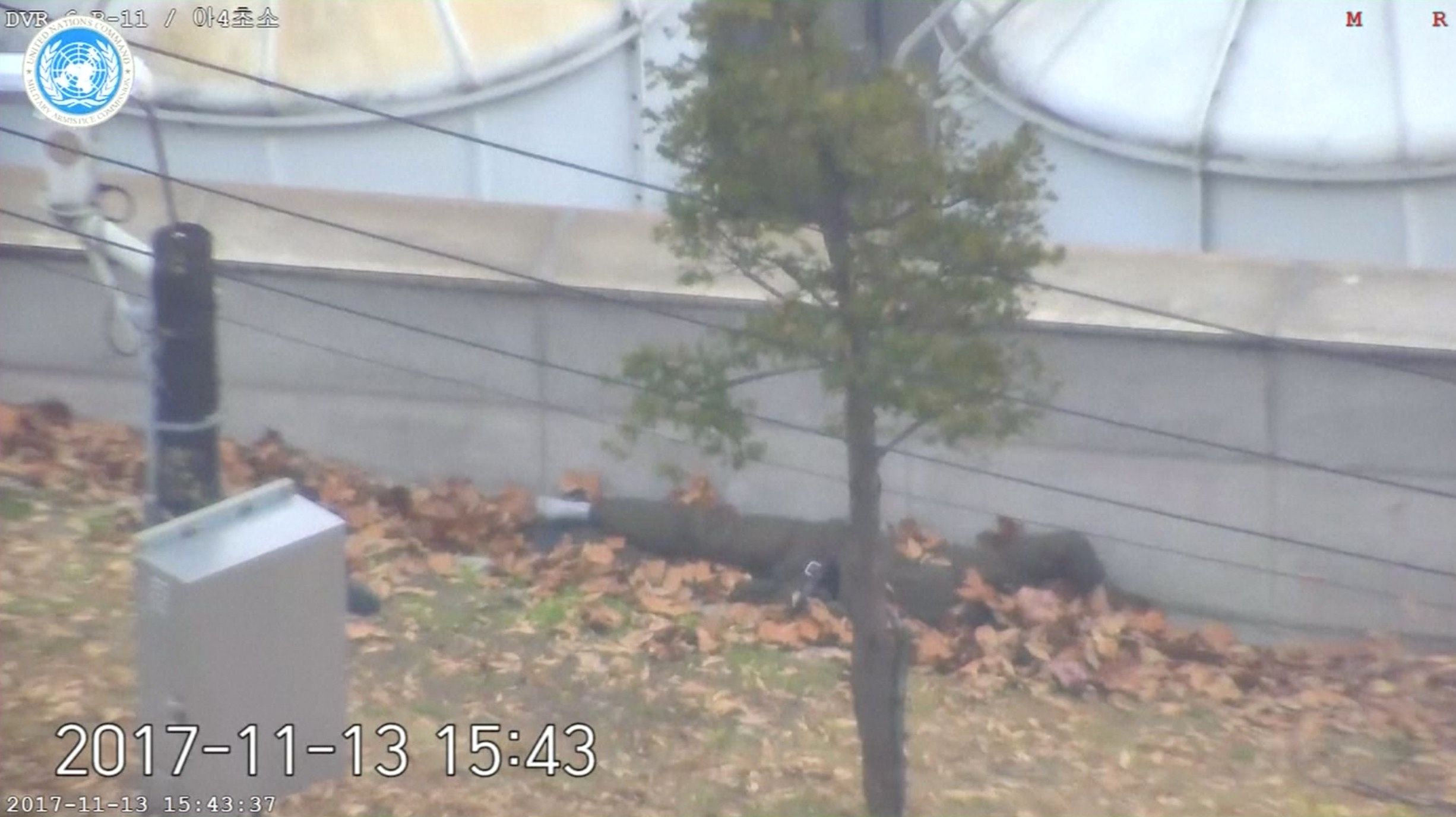 On a cloudy November afternoon, a North Korean soldier jumped in a truck and sped across the border into South Korea in a dramatic bid to flee his homeland.
When the jeep appeared to hit a ditch just few feet away from the military demarcation line, the soldier was left with no choice but to quite literally run for his life, as his former colleagues followed, firing as many as 40 bullets. He collapsed on a pile of dead leaves, bleeding profusely, but held on long enough to survive the transfer to the Ajou University Hospital and the many surgical operations that followed.
The 24-year-old's dramatic defection across the Joint Security Area, the only part of the 160-mile-long Demilitarized Zone (DMZ) in which soldiers from the two countries face each other, was the third of its kind since the end of the Cold War, the first in a decade. But it was also a sign of how desperate many in North Korea appear to be to escape their harsh existence in the country dubbed the hermit kingdom.
Oh, as the defector has so far been identified, was not the first North Korean soldier this year to stage a daring escape. In June, two others—both, like Oh, in their early 20s—fled North Korea through the DMZ.
One walked across the border—taking the calculated risk that land mines were disabled after a fire at the border in April—and the other swam across the river Han, the estuary of which is on the border between North and South, attaching pieces of plastic foam and tree branches to his shoulders.
A third soldier, a member of North Korean leader Kim Jong Un's guard who was being trained at his villa near the border with China, also crossed the Amnok River to defect in June, South Korean news agency Yonhap reported in July, citing a North Korean human rights civic group.
According to local media reports, the defections are linked to increasing food shortages and the prospect of a better life in the South.
"For all the regime's spending on sophisticated weapons, monuments to the Kim family and bribes for elites in Pyongyang, even trusted soldiers suffer terrible malnourishment," Brian Hook, senior policy adviser to the Secretary of State, wrote in the The New York Times last week.
The number of North Koreans defecting to the South actually decreased in the first eight months of 2017 compared to the previous year, with a total of 780 people defecting in the January to August period, according to government data reported in local media.
Of these, 3.5 percent were soldiers and government agents. "Most people escape due to poverty, but we have to pay attention that [recently] those who have stable life in North Korea also escape, [and] some defect for their children's education," lawmaker Park Byeong-seug told the Yonhap news agency.
One of the most high-profile defections was that of Thae Yong Ho, North Korea's deputy ambassador to the U.K. who defected to South Korea in August 2016. "When Kim Jong Un first came to power, I was hopeful that he would make reasonable and rational decisions to save North Korea from poverty, but I soon fell into despair watching him purging officials for no proper reasons," he said in January.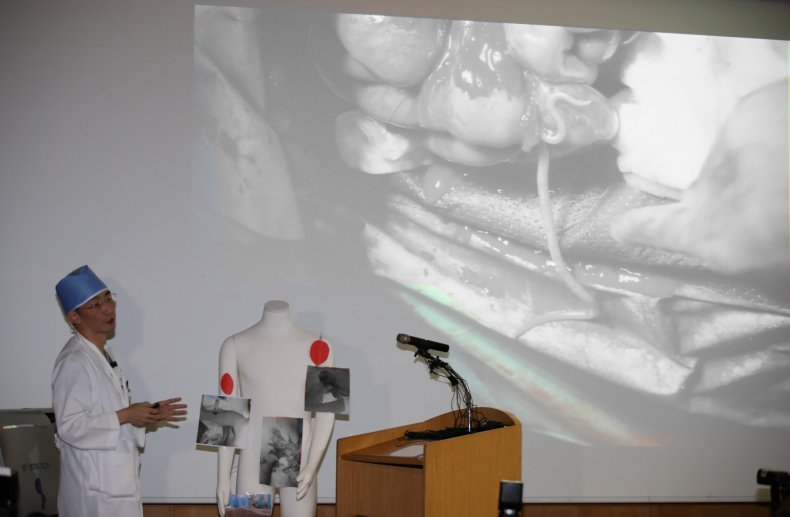 Oh, the 24-year-old defector, remains too weak to be questioned by South Korean authorities as to why he defected, but his body has already offered plenty of information about a North Korean soldier's life and struggles. His stomach was infested with parasites and contained raw corn kernels, suggesting the soldier was suffering from malnourishment.
Oh's health conditions confirmed long-standing reports of malnutrition among the ranks of the 1.2 million–strong army. Military service is mandatory for 10 years for men and seven years for women, beginning when they are 17 or 18 years old.
According to the Daily NK, a Seoul-based publication that works with a network of anonymous defectors and inside sources in North Korea, military officials were actively encouraging soldiers to steal corn from the fields, taking advantage of the autumn harvest season.
But this year's harvest was expected to be particularly poor, according to a United Nations Food and Agriculture Organization (FAO) report released in July, showing that rainfall between the April and June was lower than for the same period in 2001, when cereal production reached an unprecedented low.
Hundreds of thousands of North Koreans perished in the 1990s after a combination of bad weather, mismanagement and the end of the Soviet Union's food subsidies to Pyongyang caused widespread famine and the collapse of the state's Public Distribution System (PDS) of rationing, in what the country refers to as the "Arduous March."
The PDS never fully recovered its ability to feed the population. According the U.N. World Food Programme, 18 million of North Korea's 25 million people are dependent on the state's rationing, and an equal amount is estimated to suffer from food insecurity, with 41 percent of the population considered to be undernourished.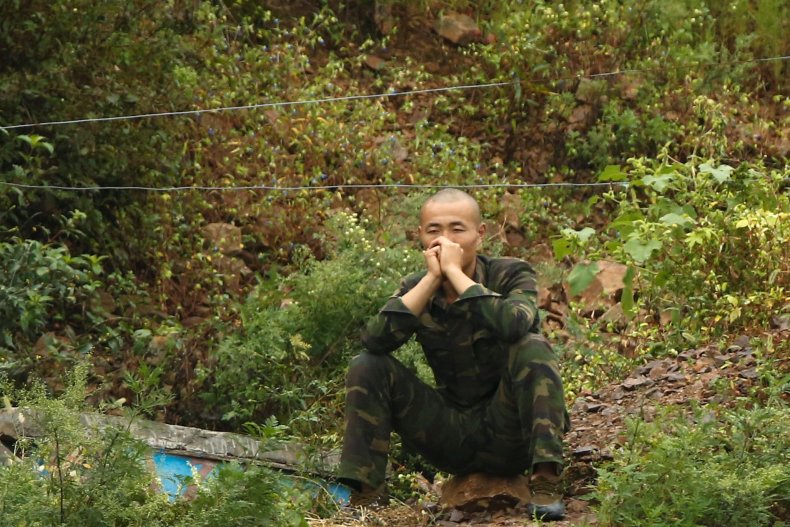 A defector and former military official, Kim Hun, told Daily NK earlier this year that soldiers' rations should be equivalent to 200 grams, but in fact they receive about 140 grams per meal. These are dependent on the harvest season, so potatoes would be served three times a day in June and corn three times a day in August, Hun said. He added that North Korean soldiers are finding it harder to eat than civilians, as they are barred from trading or bartering at informal markets that, as a recent Reuters report suggested, supplement the state's rations.
Former soldier and defector Lee So Yeon, who has spoken repeatedly about the sexual abuse she saw and experienced in the army, told the BBC in a recent interview that female soldiers would stop having their periods because of the hunger and the harsh training. "After six months to a year of service, we wouldn't menstruate anymore because of malnutrition and the stressful environment," she said.
So Yeon said the ideological training soldiers received meant she never blamed the regime for their conditions. "We were trained all our lives to worship the Kim regime. Even when people were dying all around me, I never thought the leaders were the problem. I just wondered if I was going to die," she told The Guardian in 2016.
North Korean defector Kim Yoo-sung said that in his high school class, 20 of 25 boys went to the military and half of them had to return home suffering from the effects of malnutrition.
"The lucky ones serve in the special unit, or serve under good officers who take care of them. The unlucky ones die of hunger before their parents have a chance to help them," he said in a piece published in The Guardian in 2015. "Many become very thin and hungry, and desperate to escape."