Why Not to Expect Another Stimulus Check, Coronavirus Aid Package Anytime Soon
Americans shouldn't hold their breath for Congress to strike another deal on a stimulus package.
Negotiations on more relief were virtually non-existent prior to Thursday, a deadlock that's been ongoing since August 7. But with Senate Republicans preparing to push their skinniest aid proposal to-date, and Democrats digging into their demands for a broad and expensive comprehensive measure, the prospects of an agreement have become their bleakest since talks broke down a month ago.
Senate Minority Leader Chuck Schumer sent a letter to his colleagues Thursday, offering his first response to news that GOP senators will return from recess next week and try to pass legislation that is expected to total around $500 billion—half of the $1 trillion that Republicans and the White House have been proposing, and which Democrats have already labeled inadequate.
"Republicans may call their proposal 'skinny,' but it would be more appropriate to call it 'emaciated,'" Schumer wrote, describing the negotiating process as "arduous."
In an attempt to strengthen unity within its own Republican Conference over how to respond to the struggling economy, the trimmed-down $500 billion GOP proposal is expected to exclude another round of $1,200 individual checks—one of the few things both parties previously agreed on—and include money for the hamstrung U.S. Postal Service, a federal unemployment boost (reducing the lapsed $600 weekly payments to $300), money for schools to safely reopen and more funds for small-business loans under the Paycheck Protection Program.
However, the details remain in flux until Republicans release more details. Democrats are expected to block the legislation from even advancing to a final vote.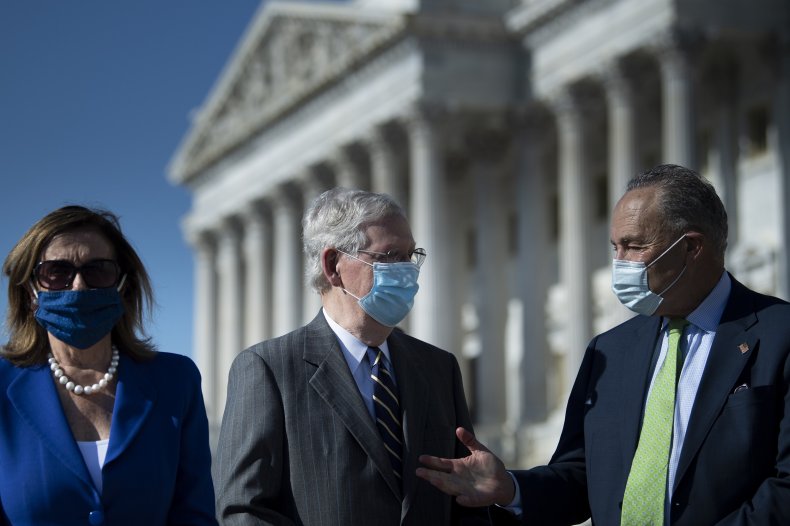 Attempts by Democrats to meet halfway between the parties' dueling proposals have proved fruitless. Originally pushing for a bill around $3.5 trillion, Democrats have since lowered their price to $2.2 trillion and have asked Republicans and the White House to meet them there by increasing their legislation by $1 trillion. Democrats have wanted to either continue the $600 weekly unemployment boost or lower it slightly, and want more state and local money—two major sticking points that Republicans have rebuffed.
But with the Republicans' anticipated $500 billion measure, the two sides are only moving farther apart, even as a key negotiator from the Trump administration warns lawmakers that additional significant relief is urgently needed to right the economic ship.
Plus, lawmakers must turn their attention after recess to funding the government beyond September 30. A stopgap spending measure will need to be approved to keep operations flowing, an agreement that could be exacerbated by tense stimulus talks.
"What is most important is that we deliver some relief quickly to the American workers impacted by this," Treasury Secretary Steve Mnuchin said during congressional testimony on Tuesday.
A 36-minute phone call between Mnuchin and House Speaker Nancy Pelosi (D-Calif.), who along with Schumer have been the Democratic negotiators, after the hearing once again yielded no progress, according to Pelosi.
"Sadly, this phone call made clear that Democrats and the White House continue to have serious differences understanding the gravity of the situation that America's working families are facing," she later said in a statement.
The Department of Labor revealed Thursday that last week's jobless claims were below 1 million—881,000—for the second time since March, when seasonally adjusted. And the nonpartisan Congressional Budget Office projected Wednesday that the deficit will be a staggering $3.3 trillion this fiscal year—more than three times that of last year's shortfall.
Both of those statistics bode poorly for any Republicans opposed to doling out another hefty spending package. And with the looming election, any deal becomes more politicized and increasingly difficult to pass.
"We haven't reached an agreement," Senate Majority Leader Mitch McConnell (R-Ky.) said in his home state on Wednesday, "and I don't know if that's going to be possible with all of the partisan juices flowing like they are some two months from the election."