Why the Obamas and Prince Harry Are 'Feuding' on Twitter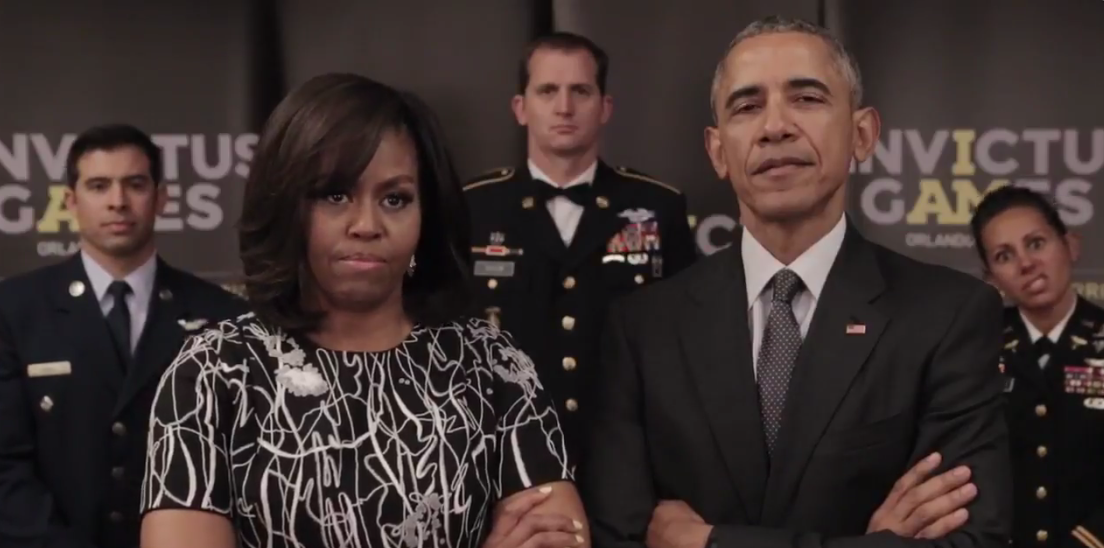 FLOTUS and POTUS mean business—arms crossed, game faces on, voices exuding no nonsense.
"Hey, Prince Harry," first lady Michelle Obama says with a menacing tone in a video posted to her Twitter account Friday. "Remember when you told us to bring it at the Invictus Games?"
President Barack Obama, standing beside her, points toward the camera and says, "Careful what you wish for" as Michelle nods. Peeking out behind them, a man in uniform adds, "Boom!" while two others, a man and a woman, make funny faces.
What's a British royal to do when America's first family sends such trash talk from across the pond? Prince Harry decided to respond in kind, it seems, with a one-two punch involving the recruitment of a queen. Conveniently, his grandmother fits the criteria.
One:
Two:
Punch :
As the back-and-forth suggests, the goal behind this very public "feud" lies in raising awareness for the upcoming Invictus Games, to be held May 8-12 in Orlando, Florida. The competition is "an international sporting event for wounded, injured and sick Service personnel," according to the Invictus Games website.
"Most of us will never know the full horrors of combat. Many Servicemen and women suffer life-changing injuries, visible or otherwise, whilst serving their country," the site explains, adding that the games' goal is to help "these men and women find the motivation to move on and not be defined by their injuries."
Prince Harry launched the Invictus Games in 2014 after attending a similar event, the Warrior Games, held in Colorado the previous year. The first competition took place in London in September 2014, and Harry has already announced another round after Orlando, due to take place in Toronto in September 2017.
"These games have shone a spotlight on the 'unconquerable' character of service men and women and their families and their 'Invictus' spirit," Prince Harry, who serves as patron of the Invictus Games Foundation, is quoted as saying. "These games have been about seeing guys sprinting for the finish line and then turning round to clap the last man in. They have been about teammates choosing to cross the line together, not wanting to come second but not wanting the other guys to either. These games have shown the very best of the human spirit."
They've also inspired POTUS, FLOTUS and the British royal family to flex their pregame trash talk muscles. Game on.