Why is Part of Australia Experiencing a Fourth Lockdown? | Opinion
As the Australian state of Victoria, and capital city Melbourne, headed into lockdown 4.0 on the evening of May 27, it felt like a collective exhausted sigh released from the city itself. While wearing masks indoors and out isn't the worst demand, the fact that many businesses that had only just found their footing again were having to close with only hours of notice meant a huge emotional and financial cost to owners and staff. For those, like me, who work in casual roles in the service industry (I'm both a journalist and a Pilates instructor), a week of work and income vanished the moment the government announced a lockdown. No gyms.
There are many questions I have as a Victorian, and these same questions are being asked by many in this state, such as if the state and federal governments had better prepared for rolling out vaccinations, would more people be vaccinated and thus strict lockdown not necessary in the case of a breakout? And why have so many people been able to bypass the tracing system when attending clubs, pubs, bars, shops and gyms?
It is also disturbing and tragic that many residents and workers of nursing homes have not been vaccinated when this was stated as the first priority.
How could a returned traveler have left quarantine and not been immediately tested upon returning to Melbourne? Is there a breakdown in communication between states that the federal government should be facilitating?
For the Australian government, the astonishing number of eligible Victorians suddenly wanting to be vaccinated must be a huge relief. There had been a collective skepticism around the quality and efficacy of vaccines on offer, and the lack of community cases had enabled a sense of complacency in Victorians.
Since lockdown was announced, the hotline for those over 40 to book vaccination has crashed twice due to an overload of calls. While the lockdown has effectively been the vaccination marketing campaign that the government was too inept to invest in themselves, the cost is high for business and individuals. According to Tim Piper, Victorian Head of national employer association the Australian Industry Group, Victorian businesses will experience an immediate loss of AU$1 billion and an additional AU$1.5 billion in indirect costs, not including the lost wages of workers, like me, who have been stood down.
As of May 29, there were 45 active cases in this state. The Victorian Department of Health reported that of 56,624 test results received, five new local cases had been identified and two new cases acquired overseas. The two overseas-acquired cases were identified in hotel quarantine. While I believe that a lockdown was the best response in this situation, and it has proven effective over the past three occasions in preventing community spread, it is almost impossible to deny that the Victorian government has fallen short of protecting state residents.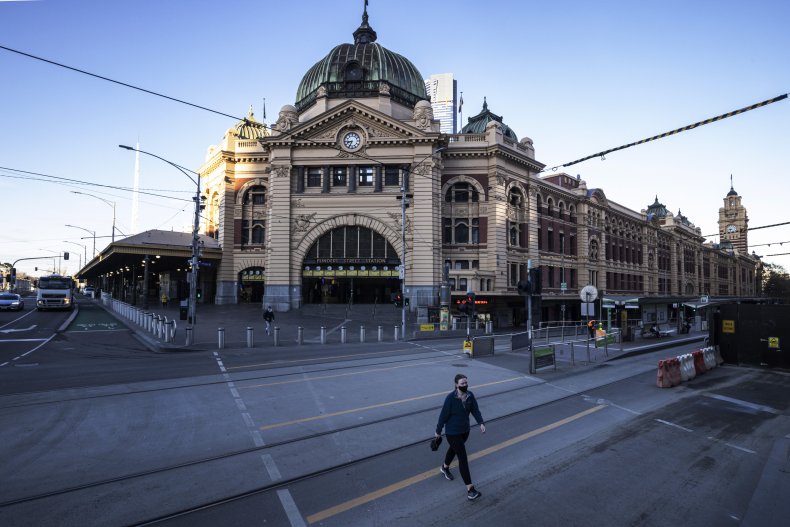 Victoria's hotel quarantine management had been controversial from the beginning, with hired security guards being employed with little to no preparation for managing a major virus quarantine program, and breaches in June last year by security guards, hotel staff and quarantine guests in hotels. A National Review of Hotel Quarantine, released in November, indicated a number of major changes to the quarantine program, though subsequent infections have occurred as a result of suspected airborne infection. Hotel ventilation systems were updated after recommendations by health experts, but no system can be entirely airtight (pun intended). Despite all signs of infection in hotel quarantine resulting from airborne disease, the Federal Government Department of Health website negates actually mentioning this.
"Victoria is currently in lockdown mainly because one person has failed: the prime minister," said Adam Bandt, Member for Melbourne and Leader of the Australian Greens. "State contact tracers are working overtime to track down the virus as it spreads, but their efforts are frustrated by a hotel quarantine system that is currently not fit for purpose, and a population in which only one in 50 people have been vaccinated."
The program was overhauled and relaunched in its third iteration in April this year after no international flights were allowed since a snap lockdown from February 14, resulting from a hotel quarantine breach. The state's revived program was open to accept 800 returned travelers per week before increasing capacity to 1,120 arrivals on April 15. Guests, tested numerous times daily, were able to exit quarantine if they tested negative. The problem, evidently, is that the man who tested negative while in hotel quarantine in South Australia after arriving in Australia from India, tested positive upon returning to Melbourne.
The rules are to stay within 5 km of our homes, only approved workers can attend their worksites. We can undertake two hours of exercise daily, and we must wear masks indoors and out. Beyond the financial impact on businesses and individuals, the psychological distress of being locked in, having just adjusted to socializing, working and feeling safe again, is immense and will have long-term repercussions for the economy and mental health concerns.
Bandt is clear that it is the Australian government that should be stepping up to support Victorians during lockdown 4.0.
"There is $10 billion in discretionary money set aside to deal with the challenges of COVID, and some of that should be used to support people and businesses doing it tough this week," he said. "The Federal government must urgently make wage subsidies and increased unemployment benefits widely available in Victoria again."
Cat Woods is a freelance writer based in Australia. She writes on art, culture and travel for international publications, and regularly writes on music for both U.S. and Australian publications. When not writing, Cat teaches yoga, Pilates and barre, listens to podcasts, binge watches anything with subtitles, and walks her two highly intelligent, very bossy dogs around her beachside home in the inner south of Melbourne.
The views expressed in this article are the writer's own.
At the time of publication, Victoria has been notified of an extended seven days of lockdown conditions.