Why Patrick Mahomes Casually Handed Super Bowl Trophy to a Fan
Patrick Mahomes delighted Kansas City Chiefs fans by handing the Vince Lombardi Trophy over to a lucky fan... or did he?
Footage of Mahomes displaying the Super Bowl trophy to excited fans went viral, when he went to pose with a fan, before casually handing the trophy over and walking away. Social media users delighted in Mahomes' continued celebrations as the moment spawned several jokes and memes.
However, all was not as it seemed in the clip, as it turned out the trophy Mahomes handed over was actually a replica that belonged to the fan.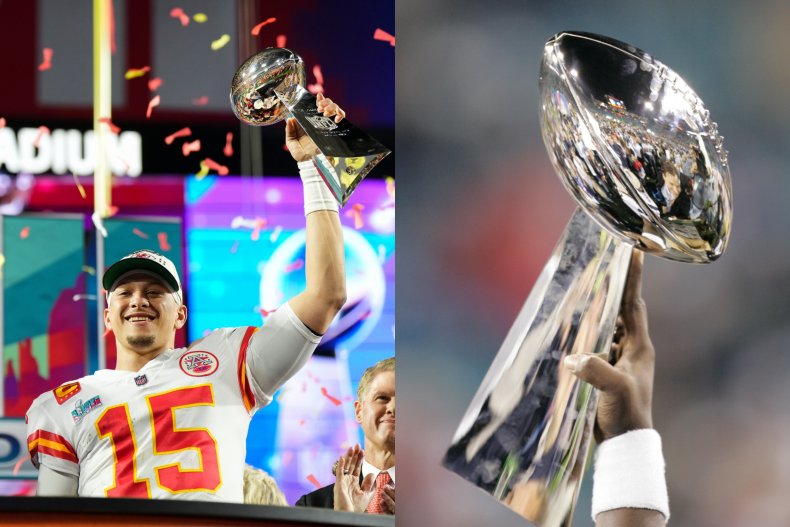 Mahomes was first caught on camera parading what looked like the genuine Super Bowl trophy around an event earlier this week.
"This man Patrick Mahomes was so wasted bro gave the fan the Super Bowl trophy," wrote the self proclaimed parody account @SharonSharpeee on Twitter. The video got 3.4 million views on Twitter alone with more spotting the clip on YouTube and TikTok. When @Baseballtalk247 shared the clip on TikTok, it got another 7.6 million views.
In the comment section, NFL fans used it as ammunition to mock rival fans.
"Bills fans watching a random [...] dude get a hold of more Super Bowls than their entire organization," wrote @otorov_. A similar joke was made as people called out specific players who've yet to lift the Vince Lombardi Trophy too.
Others loved how casual Mahomes was when handing over the most iconic trophy in American sports. "I love seeing them celebrate their hard work," wrote @Livinrentfree_ while @vinnyshot23 speculated that Mahomes is "turnt to the max."
However, the moment was misinterpreted by thousands online, as it turns out Mahomes was actually returning the trophy to its rightful owner.
The trophy was an incredibly convincing replica brought and owned by a "Chiefs super fan" Vinnie Garofalo, as revealed by DailyMail.com.
"I own a Chiefs backer bar in Buffalo - Casey's Black Rock - and am a Chiefs super fan for 30+ years. I decided to go to my second parade in four years and to bring my replica Lombardi trophy along for the ride," Garofalo said.
He said he and some other fans secured a good spot for the parade, and once they showed the players his fake trophy, "it was mayhem after that."
"Most of them came up and celebrated with the trophy. Mahomes then joined in, took the trophy, walked around with it for a bit, handed it to Kadarius Toney and then walked it back over and took a selfie with me and then left," Garofolo said.
So while the moment of Mahomes handling the trophy has gone viral, the way it has been edited has misled many.