Why Prince William's World Cup Support of Wales Won't Satisfy Michael Sheen
Prince William has moved to fend off criticism of his support for the England soccer team in his new role as Prince of Wales, with a good-luck message written in Welsh ahead of the country's World Cup opener against the U.S.A.
On Wednesday, Michael Sheen blasted the Prince of Wales for attending a private event where he gave England soccer players their FIFA World Cup Qatar 2022 shirts at their training base.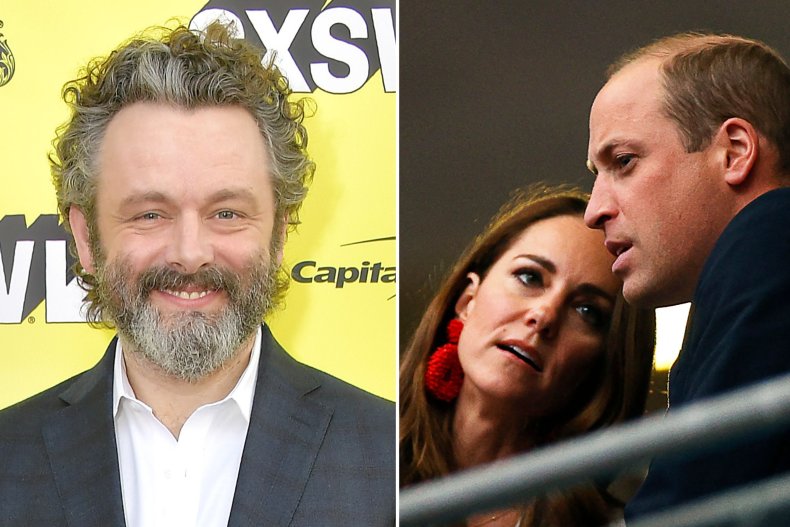 William is a longstanding supporter of the England team, but after Queen Elizabeth II died, he gained a new title as Prince of Wales.
Sheen tweeted: "He can, of course, support whoever he likes and as Pres of FA his role makes visit understandable—but surely he sees holding the title Prince of Wales at same time is entirely inappropriate? Not a shred of embarrassment? Or sensitivity to the problem here? #PrinceofWales."
On Monday, England played their first World Cup match against Iran, winning 6-2, and Wales were set to take on the U.S.A. in their opening game at 2pm ET.
William showed his support for the Wales World Cup squad ahead of the match with Twitter messages posted in both English and Welsh.
The English language version read: "Wishing the very best of luck to @Cymru and @England as they kick off in the #FifaWorldCup today. Looking forward to watching! W."
However, the move will be unlikely to satisfy Sheen's concerns as he had clarified days earlier in a follow-up message that he objects to William holding the Prince of Wales title at all as an Englishman.
In a Twitter thread on November 17, Sheen wrote: "I didn't say it's insensitive to leave out the Welsh team. For those who care the issue is that the title Prince of Wales (PoW) seems inappropriate to be held by anyone not Welsh and this is just an instance of the absurdity. It's not about supporting England or Wales or both.
"The title PoW was first given to the heir to the English throne by his father the King as a sign of dominance over a defeated Welsh people. The 'tradition' can be continued or not on the whim of whoever inherits the throne. Many Welsh people feel it should be ended.
"It's entwined with so much of our history and how many of our present day challenges have evolved since then that it can be for many an issue that holds much more than just it's surface meaning," he tweeted.
William has been visible in the stands supporting England with Kate Middleton and son Prince George in recent years, including during the European Championship soccer final in 2021.
However, that was before he was given the title Prince of Wales when Queen Elizabeth II died on September 8 and King Charles III, the previous prince, became the new monarch.
Prince William defended his support of the England team during a visit to Welsh Parliament, the Senedd, in Cardiff, Wales, on November 16.
The prince said: "I'm telling everyone I'm supporting both, definitely. I can't lose, but I've supported England (soccer) since I've been quite small. But I support Welsh rugby, and that's my kind of way of doing it.
"I happily support Wales over England in the rugby so I've got to be able to play carefully with my affiliations. I worry otherwise if I suddenly drop England to support Wales, then that doesn't look right for the sport either. So I can't do that."