Why the Pro-Life Movement Keeps Losing Elections | Opinion
November 8 was a gut punch to the pro-life movement. From California to Vermont, voters rejected every pro-life measure on the ballot.
Voters agreed to enshrine the so-called right to abortion in Michigan, California, and Vermont. But the biggest shocks came in Kentucky and Montana—historically considered to be conservative and champions for life—who rejected bills that would have further protected life.
These losses followed a similarly shocking blow to the pro-life cause. In August, voters in Kansas were the first since Roe v. Wade's reversal to have a say on whether abortion should be a state right, and an overwhelming number of Kansans rejected the pro-life position.
Six straight losses on ballot measures have left many in the pro-life movement scratching their heads and asking what went wrong. There are three reasons the pro-life movement keeps losing elections.
The first and most significant issue is the massive funding gap. The pro-life movement will not see electoral wins on ballot initiatives until their efforts are competitively funded.
According to the latest reports from Ballotpedia for this election cycle, the abortion lobby raised vastly more than pro-life groups to secure the five ballot measure wins. In Michigan alone, supporters of the pro-abortion measure raised nearly $46 million. By contrast, pro-life efforts in the state raised a little more than $17 million.
Short of a David-and-Goliath miracle, there's no way for the pro-life movement to win ballot measures without full funding.
It's common sense that whoever has the deepest pockets in an election controls the narrative. And those who control the narrative win votes.
There seems to be a disconnect in the pro-life movement. We have such a strong desire to see hearts and minds changed, but often go without the financial backing needed.
For the abortion industry, it's a no-brainer—a financial commitment to support abortion-friendly ballot measures is literally a business investment. They sell abortions for a living, and political campaigning doubles as advertisement.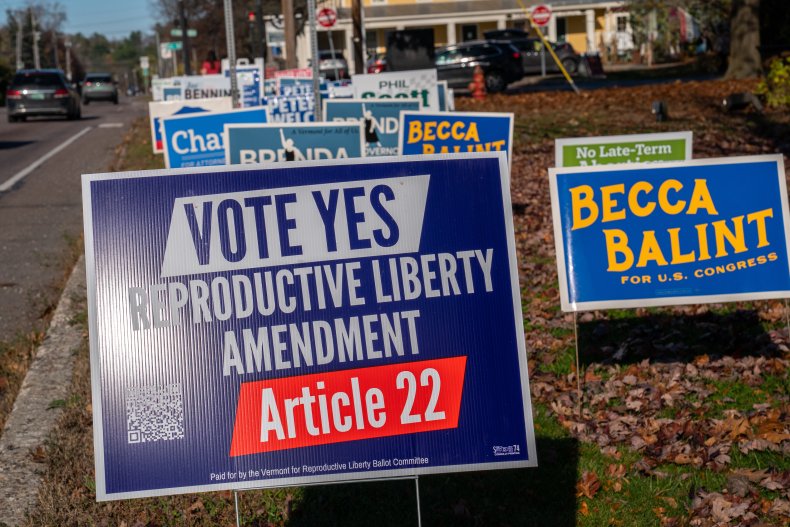 The pro-life movement needs to take a long, hard look in the mirror and ask itself if it is truly ready and willing to step up and make a serious and significant financial commitment to fund initiatives that reflect pro-life values.
Second, the pro-life movement needs to rethink its strategy on ballot initiatives. Running underfunded ballot initiatives is a losing strategy that hurts the pro-life movement in the long run.
Consider the state of Kentucky, where preborn life is already protected by state statute. The underfunded pro-life effort to amend the constitution created significant unintended consequences.
First, it motivated pro-abortion electors to vote. Second, it allowed the well-funded abortion lobby to dramatically mislead the public about the ballot initiative. Now the pro-abortion base in Kentucky is motivated, middle-of-the-road abortion sympathizers are more confident in their convictions, and the pro-life base is trying to recover from a serious setback.
The abortion lobby knows ballot measures are effective in advancing abortion laws. They know abortion referendums will drive voter turnout and have already shared their intent to run them in more states with pro-life laws: Arkansas, Arizona, Ohio, Missouri, North Dakota, and South Dakota.
The pro-life movement must develop a robust plan to effectively counter the abortion industry's ballot initiative efforts. If the pro-life movement fails to take these intentions seriously, it's all but certain they will lose the important gains they've already achieved.
Third, the pro-life movement must double down on its efforts to change hearts and minds on the issue of abortion. Ballot measures will continue to be a challenge for the pro-life movement if they fail to move the culture toward embracing the sanctity of human life.
The abortion lobby is winning on ballot measures because it can exploit the disconnect between what voters believe and what politicians believe. The pro-life movement needs a more robust plan for cultural and political engagement.
For the last 49 years, an entire generation has grown up thinking that abortion is a constitutional right, and therefore not a moral wrong. They've grown up thinking abortion is an acceptable form of birth control and that it's good for women. They need to know that abortion harms everything—the preborn, women, families, minorities, the poor, and much more—as it has for the last 49 years, and as it will continue to do.
Cultural change will demand thoughtful engagement and will take the longest to achieve, but it is absolutely essential for the pro-life movement to effect lasting change.
In order to do so, it's going to take a coordinated effort for the pro-life movement to start winning elections, and at the very least it's going to require competitive funding, a robust strategy, and thoughtful cultural engagement.
Nicole Hunt, J.D., is a mom who serves as a writer and spokesperson for Focus on the Family.
The views expressed in this article are the writer's own.