Why Putin Is Building a Bridge to Nowhere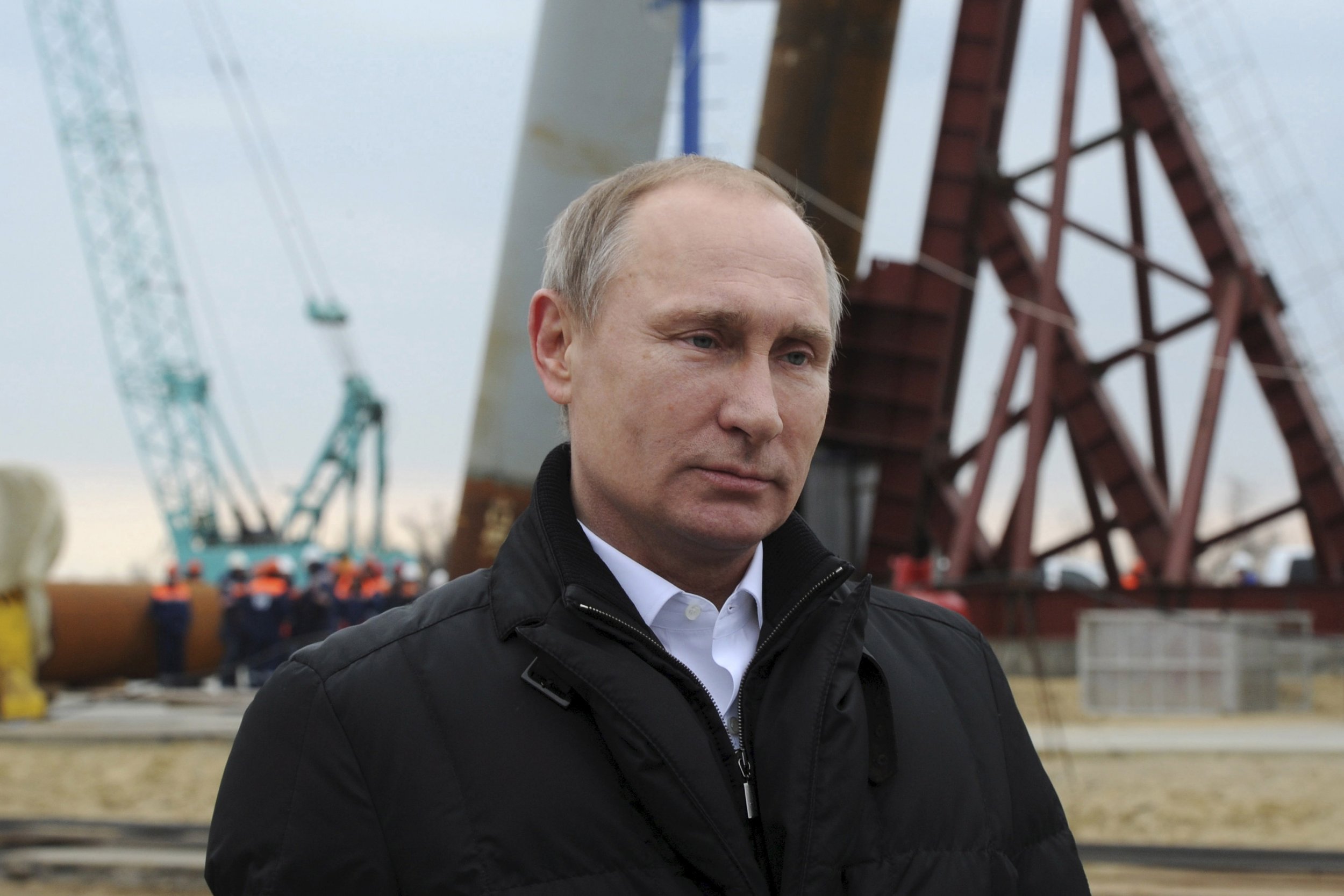 This article first appeared on the Kennan Institute site.
Russia is constantly constructing something. And when it's not constructing, it's busy preparing far-reaching plans for more building (or re-building) projects.
This may sound counterintuitive, given Russia's economic decline, but in some select fields Russia has done a lot of tinkering over the years and some of its projects truly have had a modernizing effect.
A multibillion-ruble rearmament program and major force restructuring helped usher in a newly agile Russian military. Palpable improvements have been achieved in infrastructure.
Select cities, mostly Moscow and Kazan, the capital of Tatarstan, have been going through massive, once-in-a-half-century, renovations. Some of the worst roads in Russia, including those in Western Siberia, were paved and repaired, some new school campuses and sports arenas were created and bridges were built.
The caveat for most of these improvements is the fact that they were part of the preparation for international events like the Vladivostok APEC summit of 2012, the Sochi Olympic Games of 2014 and the upcoming soccer World Cup of 2018.
Thus, the changes were arbitrarily selective, which is why not all of the real estate created was, or will be, put to good use. On the contrary, the fruits of the military reform, the only kind of improvement one would hesitate to start playing with, were actually put to use immediately: in Ukraine and in Syria.
The big question with this approach is how to select projects and make them real. Judging from what has been implemented so far, the main reasons for picking a project include furthering the country's prestige, fostering its leaders' international standing and eventually kick-starting economic activity.
Now, to what extent the actual summits, Olympics, or gigantic bridges actually serve these purposes is another question.
The implementation phase both follows and reinforces Russia's existing institutional framework. To make a project happen, one has to make sure it is supported not only by the higher-ups (the sponsors), but also by potential top-level implementers.
Taking up a big project is not just an asset, but a liability: the Kremlin will be watching, the people will be watching, guests will be coming if it is an international event. The budget might evanesce at some point, but the contractors will still be obliged to produce a result.
This is another reason why the Kremlin loves these kinds of projects: they can actually get things done. Some of the original sponsors and top-level contractors may initiate a project with personal gain in mind. But regardless of whether the construction money is stolen completely or in part, the thing in question will have to materialize.
Most of the projects are either useless or rendered inefficient by enormous cost overruns. VEB, a state corporation largely responsible for funding the Sochi Games, is expected to get back less than one-fourth of the 220 billion rubles it extended as credit to contractors. Eight out of 19 structures built for the Olympics were projected to lose money.
"All the investors involved in the Olympic projects understood that they were doing an important job for the nation," Andrei Elinson, a top manager of BasEl, one of the primary contractors, said at the time. "But it was not meant to be pro-bono work either."
This, in a nutshell, is the philosophy of the white elephant: top contractors are recruited for a project as if it were a war-time emergency, but they have enough muscle to make sure they are paid as if it were an orderly business transaction.
Lower-level and less powerful contractors are often not paid in full and sometimes go insolvent in the aftermath of a large construction undertaking. At least three major road-building companies involved in the Sochi project filed for bankruptcy after 2014.
Nowhere is this philosophy more evident than in the Crimean Bridge, a combined railway and motorway passage that is now being built between Russia's Krasnodar region and the Crimean city of Kerch. Its price tag of 228 billion rubles ($3.5 billion in today's U.S. dollars) is comparable to that of the Oresund bridge between Sweden and Denmark (about 4 billion euros or $4.5 billion in today's U.S. dollars).
While the Danish-Swedish bridge, in operation since 2000, was at the time of construction expected to recoup its cost by 2037 (it will likely take longer), the Russian-Crimean bridge did not even have a clear economic model behind it. It is simply being funded from the federal budget and is needed because, having annexed another country's territory, one apparently needs to secure a passage to it (as there is no land connection between Russia and Crimea).
The top contractor, Stroigazmontazh, owned by Arkady Rotenberg (a personal friend of Vladimir Putin), will likely be paid in full. Lesser ones, including the venerable Mostotrest, a Stalin-era bridge-constructing behemoth that is doing most of the actual work, are in peril.
In the meantime, it is already clear that the Crimean Bridge will eat up 70 percent of this year's funding for all roads and bridges in the entire Russian Federation.
The only explanation I have for this stark disregard of common sense is the Kremlin's irrational belief that this is the only way for Russia to develop.
In Russia, white elephants have special purpose and meaning. They are the tools with which the Kremlin can make things happen while keeping the top-level contractors, i.e. oligarchs and governors, in check.
In all likelihood, this is the approach the Kremlin will continue to use in future, despite all talk of reform. Large, state-sponsored projects are part of the controlled environment the Kremlin believes is necessary to make change in Russia evolutionarily, not revolutionarily. Creating a sound, but less controlled investment environment is thus seen as dangerous for regime security.
To me, Russia's white elephants are not funny. They are tragic. They persist because the Kremlin seems to think this outrageous economic insanity is the only peaceful path to progress.
Maxim Trudolyubov is a senior fellow at the Kennan Institute. The opinions expressed here are solely his.