Why Putin Will Not Be Put on Trial | Opinion
After weeks of gathering evidence, Secretary of State Antony Blinken announced on Wednesday that the U.S. government was formally accusing Russia of committing war crimes in Ukraine. The U.S. declaration follows the International Criminal Court (ICC), which opened an investigation, as well as the UN Human Rights Council, which created an international commission of inquiry, and the International Court of Justice (ICJ), which ordered Russia to suspend its military operations.
Sadly, these efforts are largely symbolic. Putin will not be held legally accountable.
And this despite the fact that Biden is correct that Vladimir Putin is a "war criminal." In the opening days of the war, Ukraine's Minister of Foreign Affairs said he was gathering evidence on attacks on kindergartens and orphanages that he would provide to the ICC, encouraging the court to intervene in the conflict. Following unprecedented referrals from 39 countries, which allowed him to fast track the process, ICC Chief Prosecutor Karim Ahmad Khan subsequently announced he would immediately proceed with an active investigation.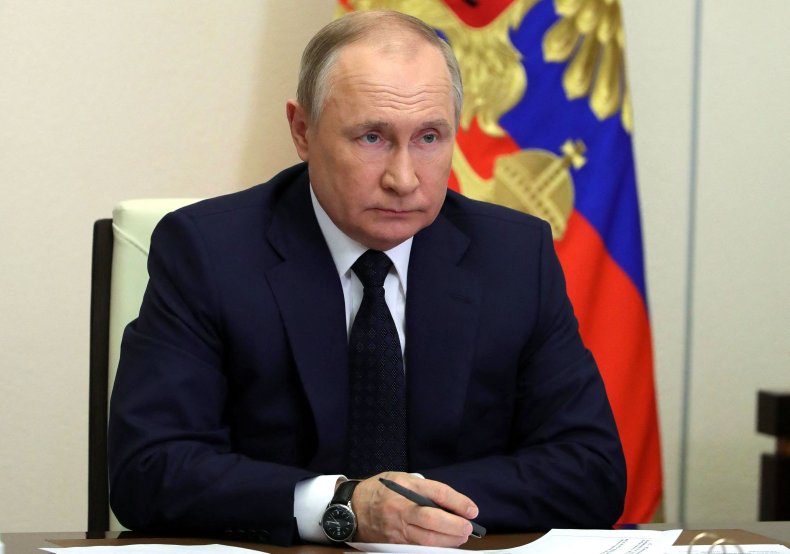 And yet, this does not mean Putin will face justice. The ICC's track record is, after all, a poor one; since it began operation in 2002, the Court has indicted just 45 people. And because it does not try individuals in absentia, it has only convicted 10. While the court issues arrest warrants and cooperates with INTERPOL, it relies on governments to apprehend fugitives, which they have too often been unwilling to do.
In 2009, the ICC issued an arrest warrant for Sudanese President Omar al-Bashir, charging him with committing genocide and other serious war crimes in the region of Darfur. In subsequent years, al-Bashir made over 80 trips to nearly two dozen countries, a number of whom were members of the Court and legally obligated to arrest and turn him over.
They never did.
So it's reasonable to believe that if an investigation leads to an indictment for Putin, he, too, will manage to travel much of the world unhindered. Then there's the fact that major powers with close ties to Russia—China, India, and Pakistan— as well as historical allies like Cuba and Nicaragua and most of the former Soviet Republics in Asia are not even members of the court and have no obligation to cooperate with it.
Even if Putin were to be ousted from office, a new government would almost certainly not hand over one of its nationals to an international court. While the Sudanese military removed al-Bashir from power in 2019, he remains in prison there on corruption charges. Saif al-Islam Gaddafi, son of former Libyan leader Muammar Gaddafi, has been wanted by the ICC since 2011, yet is a candidate in the country's upcoming presidential elections.
Putin will not spend a day in jail—unless it is a Russia one.
The Ukrainian government has also been aggressive in mounting legal challenges against Russia. Just two days after the invasion began, the Ukrainian government filed an application with the ICJ objecting to it. It did the same following Russia's annexation of Crimea in 2014, taking another case to the court, two separate cases to the Permanent Court of Arbitration, and an additional case to the International Tribunal for the Law of the Sea. The Ukrainian government is using U.S. law firm Covington & Burling, which includes former U.S. Attorney General Eric Holder on its staff, to help with some of these legal challenges.
While valiant efforts, these cases will not bring any accountability to Russia, either. The recent ICJ ruling against Russia is telling: Russian representatives did not even bother to attend and will certainly ignore the ruling.
China took this approach when the Philippines brought a case against it for its behavior in the South China Sea. The U.S. likewise quietly disregarded a 1986 judgment instructing China to cease mining Nicaragua's harbors and funding paramilitary groups during its civil war.
With no enforcement mechanisms, powerful states ignore international law when it suits them.
This does not mean Ukraine and the international community should not attempt to hold Russia and its leaders legally accountable for what are undeniably serious violations of international law. They should. Much like the UN General Assembly resolution against the invasion, these court cases will add to the growing moral condemnation of Russia, which will be further ostracized. We should not be deluded, however, into thinking that they will actually punish Putin.
The most important role that investigations and trials play is not punishing human rights violators anyway, but exposing them. This is precisely why the Russian government continues to cut access to international platforms and has criminalized spreading news that contrasts with its narrative of the war: It knows that if the Russian people become aware of the atrocities committed in their name, it could lose power.
The international community should focus on efforts on getting this information to the Russian people. The BBC's decision to revive its shortwave radio transmissions and the New York Times' launch of a Telegram Channel are important steps.
Because despite all the international uproar, the Russian people are the only ones with the ability to bring justice to Putin and his allies in power.
Andrew G. Reiter is associate professor of politics and international relations at Mount Holyoke College.
The views in this article are the writer's own.