Why Putin's Bridge Has Become Ukraine's Top Target
Ukraine has said a bridge connecting Russia and Russian-occupied Crimea will be dismantled, "voluntarily or not."
The Crimean Bridge, also called the Kerch Bridge, is a pair of two bridges, one road and the other rail, connecting the Kerch Peninsula in Crimea to mainland Russia.
Stretching 11.8 miles they are the longest bridges in Europe, and the longest bridges Russia has ever constructed.
Russia invaded and annexed Crimea, which Western powers still recognize as sovereign Ukrainian territory, in 2014.
Bridge construction began two years later, with the road bridge opening in 2018 and the rail bridge in 2019.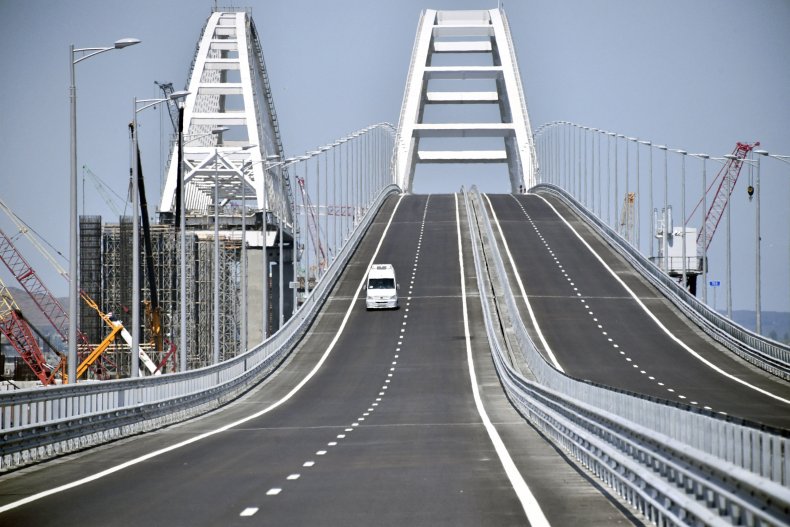 On Wednesday, Mikhail Podolyak, an advisor to Ukrainian President Volodymyr Zelenskyy, vowed the bridges will be destroyed.
He tweeted: "Regarding 'Kerchen bridge'. It is recorded in international law: Crimea is Ukraine. And that's why this bridge is a banal object of illegal construction, permission for the construction of which Ukraine did not give.
"It harms the ecology of the peninsula, and therefore must be dismantled. Voluntary or not is not important."
A number of major Russian military installations in Crimea have been rocked by explosions over the past couple of weeks.
On Tuesday a blast ripped through a Russian arms dump in the town of Mayskoye, situated in northern Crimea.
The Russian Defense Ministry blamed Ukrainian "sabotage" for the explosion, which left at least two injured.
A week earlier, on August 9, Russia's Saki airbase in Crimea was hit by a number of explosions which satellite images show caused extensive damage to the site, destroying a number of aircraft.
Whilst this hasn't been confirmed publicly, a senior Ukrainian official told the New York Times his country was behind the blasts.
Ben Wallace, the British Defense Secretary, told the BBC the presence of multiple explosion points indicates a deliberate attack.
He said: "It's absolutely legitimate for Ukraine to take lethal force, if necessary, in order to regain not only its territory, but also to push back its invader."
However, speaking to Newsweek, Dr Mike Martin, a visiting war studies fellow at King's College London, argued it would be a mistake for Ukraine to hit the Crimean bridge in the near future.
He said: "If I was the Ukrainians, I wouldn't hit that because you always want to leave an avenue for your enemies to escape over. You want to keep that bridge open as long as possible.
"We've seen everybody fleeing across it so the last thing you want to do is bottle up Russian forces in Crimea. You want to keep hitting them, and keep causing problems, so they head back across that bridge.
"I would keep it in the crosshairs so if you start seeing massive reinforcements coming across it then you can deal with it. So I don't think the Ukrainians are going to hit it."
Footage posted on social media after the Saki air base explosions showed long queues of Russian tourists leaving Crimea via the Crimean Bridge.
A recent poll by the International Republican Institute found 64 percent of Ukrainians think as a result of their war their country will restore its 1991 borders, including Crimea.