Why Putin's Warplanes Are Penetrating European Airspace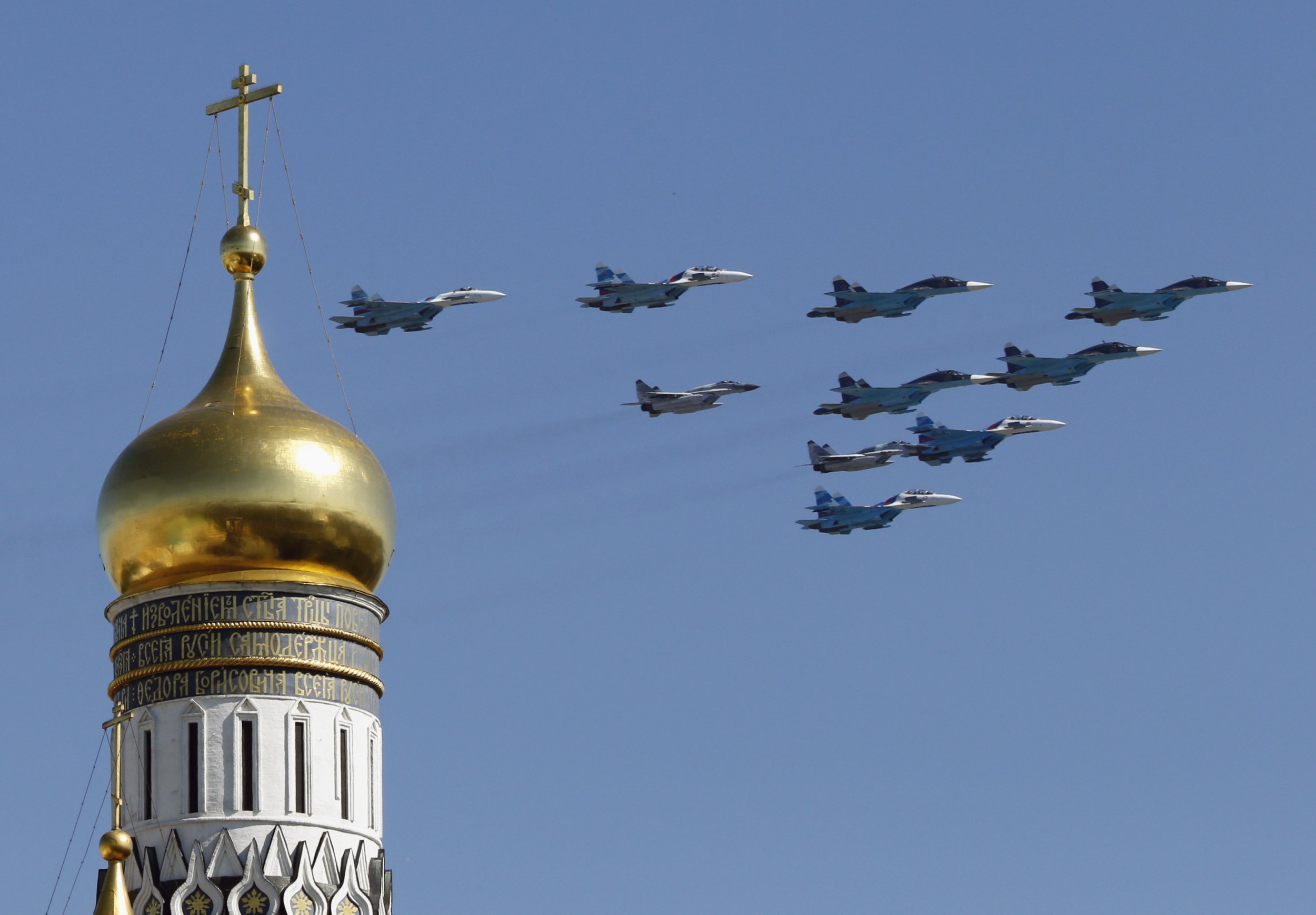 As a U.S. Army Stryker convoy crossed from Lithuania to Poland on March 24 —within about 12 miles of the Russian enclave of Kaliningrad—nearby NATO warplanes scrambled to intercept Russian bombers and fighters over the Baltic Sea.
While neither Washington nor Moscow has suggested the parallel timing of the Russian flyby with the U.S. convoy was anything more than a coincidence, the physical proximity of the two nearly simultaneous events highlights the back-and-forth posturing of Russian and NATO military forces in the region.
On Tuesday, U.S. Army soldiers from Iron Troop, 3rd Squadron, 2nd Cavalry Regiment were on the fourth day of a 1,100-mile trek from Estonia to Germany called Operation Dragoon Ride. The convoy comprises U.S. Army units throughout the region and is meant to show NATO's commitment to its eastern allies in the wake of the Ukraine conflict.
While Iron Troop was parked at a static display in the parking lot of a supermarket in Marijampolė, Lithuania, NATO quick reaction aircraft (QRA) were being scrambled from a Lithuanian air base to intercept Russian warplanes off neighboring Latvia's coast.
The two Russian Tu-22M Backfire bombers and two Su-27 Flanker fighter jets, which were in international airspace, were flying without their transponders on and were not talking with air traffic control, a military official told The Daily Signal. Additionally, the TU-22M bombers were moving at supersonic speed.
Though not technically illegal, these actions put other aircraft at risk and are considered by pilots and military officials to be unusual and provocative.
"I can't speculate as to why the Russian aircraft failed to follow proper procedures," said Lieutenant. Commander Frank Magallon, a spokesman for U.S. European Command, in an email to The Daily Signal. "[B]ut the QRA conducted a highly professional intercept."
The Russian Ministry of Foreign Affairs did not immediately respond to a request for comment.
According to Magallon, Danish and Italian fighter jets intercepted the four Russian warplanes around 8 a.m. on March 24, escorting them to Kaliningrad, which is nestled between Lithuania and Poland on the Baltic Sea.
As part of the intercept, Italian Eurofighters launched from Šiauliau Air Base, Lithuania—about 100 miles from where the Dragoon Ride convoy was located at the time.
"NATO remains vigilant," Magallon said, "and all the measures they are taking are defensive and in line with our international obligations."
Regional tensions between Russia and NATO have been steadily escalating in Europe, manifesting in a series of recent military exercises and weapons deployments by both sides.
"Russian heavy bombers flew more out-of-area patrols in 2014 than in any year since the Cold War," said Admiral William Gortney, commander of U.S. Northern Command, in testimony before the Senate Armed Services Committee on March 12. He added that the uptick was a political message to NATO.
"While these patrols serve a training function for Russian air crews, some are clearly intended to underscore Moscow's global reach and communicate its displeasure with Western policies, particularly with regard to Ukraine," Gortney said.
Last week, Russia launched snap military exercises in the Arctic and across Russia, which were meant to test the readiness of Russia's Northern Fleet, according to the Kremlin. The exercises also included the deployment of Iskander missiles to the Kaliningrad region, as well as Tu-22M bombers to the breakaway region of Crimea.
Both the Iskander missiles and the Tu-22M bombers are designed to carry nuclear weapons.
Adding to the tension, Russia's ambassador to Denmark, Mikhail Vanin, said in an interview published last Saturday that Danish warships would be targeted by Russian nuclear weapons if Denmark agreed to join NATO's missile defense shield.
Underscoring a pervasive worry throughout the Baltic countries, Estonian Prime Minister Taavi Rõivas warned last month that Russia's actions in Ukraine were a game-changer for European security.
"Russia's aggression in Ukraine has fundamentally changed the security situation in the whole of Europe, and NATO has responded to it with higher readiness," Rõivas said at a February 13 meeting with General Philip Breedlove, NATO's supreme allied commander in Europe, according to an Estonian government statement.
The U.S. and NATO say Russia is sending supplies, weapons and troops into Ukrainian territory to support pro-Russian separatists. The Kremlin denies assisting the separatists.
While the Ukraine cease-fire continues to hold despite daily fighting, a former NATO top official recently said the Russian security threat extends beyond Ukraine's borders.
"This is not about Ukraine. Putin wants to restore Russia to its former position as a great power," said Anders Fogh Rasmussen, a former NATO secretary-general, in a February 5 interview withThe Telegraph.
"There is a high probability that he will intervene in the Baltics to test NATO's Article V," he added.
Article V of NATO's charter directs the alliance to collectively retaliate against an attack on a member nation. The only time Article V has been invoked was in response to the September 11, 2001, terrorist attacks on the U.S.
Nolan Peterson, a former special operations pilot and a combat veteran of Iraq and Afghanistan, is The Daily Signal's foreign correspondent based in Ukraine. This article first appeared on the Daily Signal website.