Why Queen's Death Prompted Irish Twitter to Discuss Potato Famine
Queen Elizabeth II died on Thursday at the age of 96, the longest serving monarch in history, and while there has been a worldwide outpouring of grief, in some countries, people are celebrating.
One country where some are celebrating is Ireland, where to this day there is a lasting bitterness towards England.
Ireland remained under British rule for 800 years in a history that is marked by brutality and violent uprisings and the potato famine. The potato famine was a major event in modern Irish history. In Ireland, it is known officially as the Great Famine or An Gorta Mor, the Great Hunger.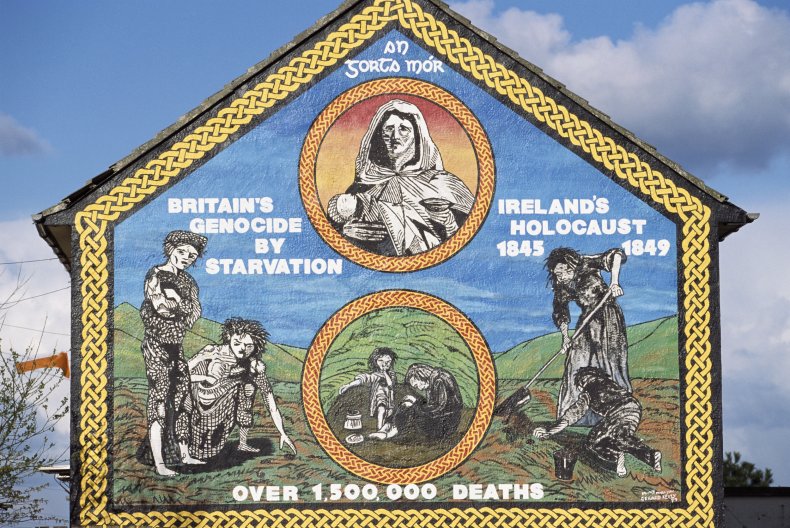 It lasted from 1845 to 1849 and the famine was caused by a potato blight that saw crops fail all over the country, which relied on the potato crops as their primary food source.
The queen's death sparked a discussion on Irish Twitter about the famine as part of a larger conversation about colonialism and imperialism and the late queen's role in it.
"Lots of Americans confused about Irish twitter because our Anglo-centric education taught us Ireland suffered a "famine" when it was really a British led genocide," read one tweet.
Another Twitter user added: "I'm not emotional about the queen one way or the other. But I'm shocked by how many people think the Potato Famine was due to crop failure and don't know the English EXPORTED food from Ireland to England during that time - enough food to feed all the Irish who died #irishtwitter."
Although the famine is a very well-known part of Irish history, many Irish people believe it is misleading to call it a "famine" at all, and today many are scrutinizing Britain's role in the crisis which saw the death of roughly one million Irish people from starvation and related causes and the emigration of approximately another one million people. Ireland's population has still not recovered from the potato famine.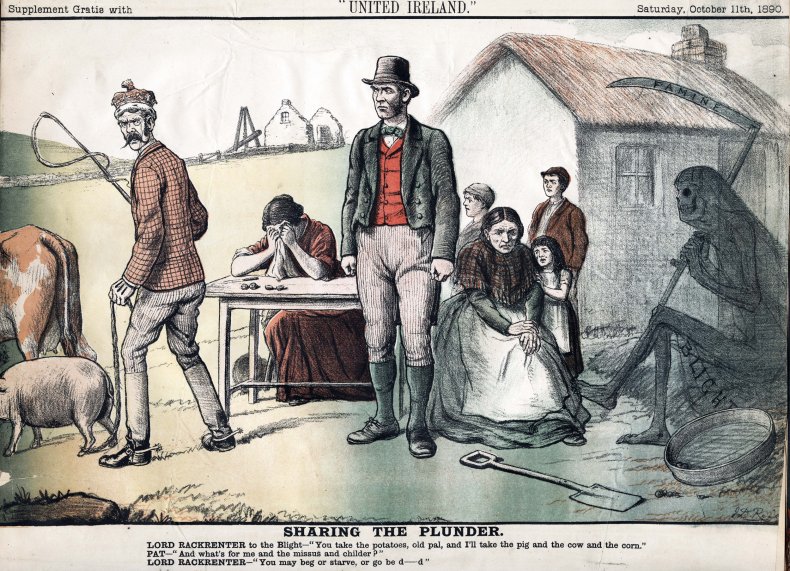 While the potato crops did indeed fail, other food sources were exported to Britain, which resulted in mass starvation.
Research published in The Washinton Post said that more than 26 million bushels of grain were exported from Ireland to England in 1845 and nearly 4,000 vessels carrying food left Ireland for ports in England in 1847—a year particularly deadly year of the famine famously known as "Black 47."
According to History.com, records show that food like peas, beans, rabbits, fish and honey continued to be exported from Ireland in 1947 as the famine ravaged the country.
Historians have also concluded that the British government's efforts to relieve the famine were inadequate and according to Britannica, the Conservative prime minister at the time, Sir Robert Peel, continued to allow the export of grain from Ireland to Great Britain.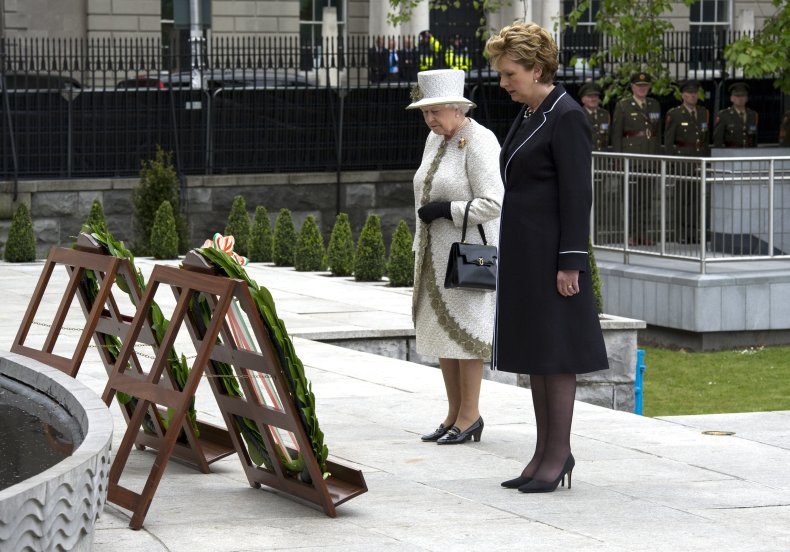 This all happened years before Queen Elizabeth II was born, but many Irish people still consider her to be a figurehead for a country that was brutal towards Ireland.
The late queen's great-grandmother Queen Victoria was on the throne at the time and according to a report from Irish Central, experts said she showed a lack of compassion towards the suffering that was taking place in Ireland.
Another tweet discussing the potato famine read: "The Irish Famine was not the result of a potato crop failure. It was a deliberate campaign by the British to deny the people of Ireland the food they needed to survive."
While another added: "An important note that Ireland has only recovered its population numbers THIS YEAR since the genocide that was the Irish famine in 1845. Took nearly 180 years...F*ck the monarchy and everyone that celebrates it."
Britain apologized to Ireland for its culpability in the famine in 1997 when then-Prime Minister Tony Blair said in a statement to the Irish: "Those who governed in London at the time failed their people through standing by while a crop failure turned into a massive human tragedy," he said at the time.
Following the Easter Rising of 1916, Ireland seceded from the United Kingdom in 1922 after the Irish War of Independence.
What is now the Republic of Ireland became the independent Irish Free State but under the Anglo-Irish Treaty, six counties in the north of the country remained, and still remain part of the United Kingdom as Northern Ireland.
This partition of Ireland is still a touchy subject and the reason for civil unrest in Northern Ireland, which was known as "the Troubles" and sectarian divides still exist between Catholics and Protestants in the country.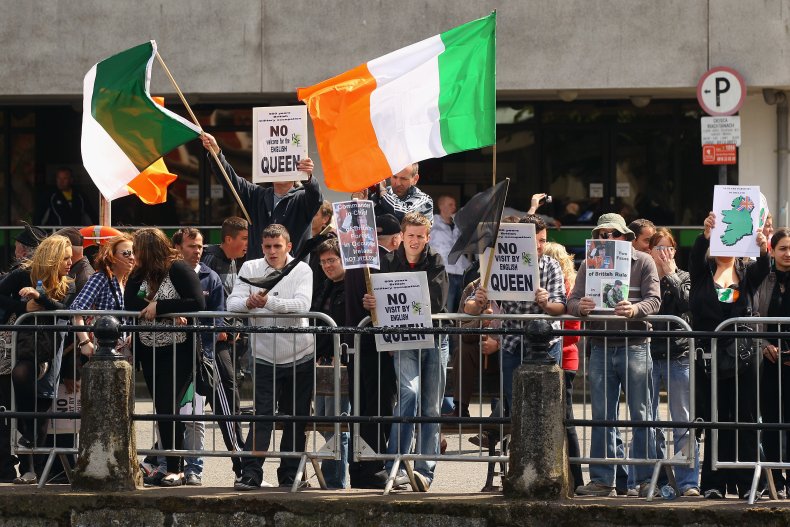 Despite ongoing tensions between these religious groups, Republican leaders in Northern Ireland yesterday paid tribute to the late monarch with Sinn Fein leader Michelle O'Neill offering her sympathies to the people of Britain.
"The British people will miss the leadership she gave throughout her 70 years as monarch," O'Neill said.
"I would like to offer my sincere sympathies and condolences to her children, and her extended family circle as they come to terms with their grief. I wish to especially acknowledge the profound sorrow of our neighbors from within the unionist community here who will feel her loss deeply," O'Neill continued.
"Personally, I am grateful for Queen Elizabeth's significant contribution and determined efforts to advancing peace and reconciliation between our two islands. Throughout the peace process she led by example in building relationships with those of us who are Irish, and who share a different political allegiance and aspirations to herself and her government."
"Having met Queen Elizabeth on a number of occasions alongside my colleague, the late Martin McGuinness, I appreciated both her warmth and courtesy," O'Neill continued.
People in Ireland were not alone in not being upset by the Queen's passing as people in other countries formerly controlled by Britain, such as India, Australia and Nigeria, all pointed out the monarchy's role in the subjugation of their countries.