Last night, during the Democratic National Convention, State Rep. Joseph McNamara stood next to a plate of fried squid rings while casting Rhode Island's votes to officially nominate Joe Biden as the party's presidential pick. But why is Rhode Island so obsessed with calamari?
McNamara alluded to the state's love of the food when he used his 30 seconds to honor Rhode Island's fishing industry, which has struggled since the outbreak of the coronavirus pandemic.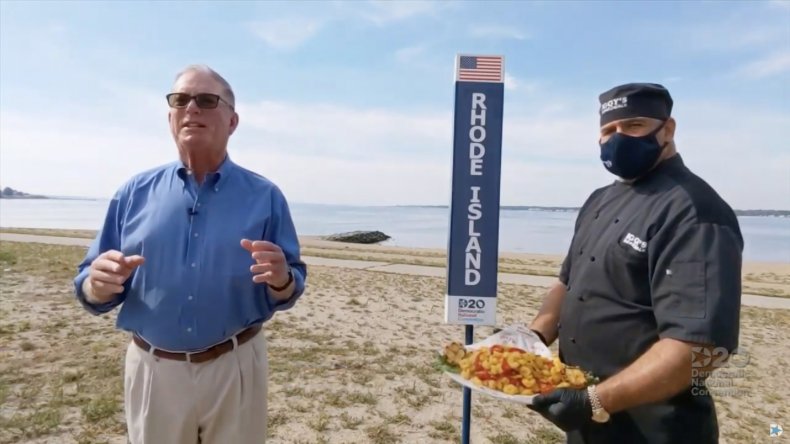 Standing next to the executive chef of Iggy's Boardwalk, John Bordieri, who held the calamari, McNamara said: "Rhode Island, the Ocean State, where our restaurant and fishing industry have been decimated by this pandemic, are lucky to have a governor, Gina Raimondo, whose program lets our fisherman sell their catches directly to the public and our state appetizer, calamari, is available in all 50 states."
McNamara then nominated Biden and said: "The calamari comeback state of Rhode Island casts one vote for Bernie Sanders and 34 votes for the next president, Joe Biden."
As McNamara said, Rhode Island is known as the Ocean State. Despite being the smallest state at 37 miles wide and 48 miles long, Rhode Island's shoreline on Narragansett Bay in the Atlantic Ocean runs for 400 miles. In fact, all Rhode Islanders live within a 30-minute drive to the Atlantic Ocean or Narragansett Bay.
Naturally, the fishing industry—and calamari—is a huge part of the state's culture and economy. As reported by the Providence Journal, McNamara said that the state's marketing of "Rhode Island-style calamari" has resulted in the dish being served in restaurants across the U.S. as an upscale appetizer, developing into a $60-million-a-year industry.
Rhode Island loves calamari so much that in 2014, then-Governor Lincoln Chafee signed a bill that honored calamari as Rhode Island's official state appetizer.
At the time, Chafee said the bill was lighthearted but highlights the dish's popularity and the importance of squid to Rhode Island's economy. Chafee said: "Squid is to Rhode Island what the potato is to Idaho. Get out there and catch some squid, and let's have some calamari."
While the plate of calamari at the DNC garnered lots of attention, last night was not McNamara's first time declaring his love for the fried squid rings. McNamara submitted a bill calling for calamari to be declared the official state appetizer in 2013, though it failed the first time around.
When making his case for the bill to be considered in 2014, before it was eventually passed, McNamara said: "One thing that hasn't changed since last year, is my belief that it is important for Rhode Island to boast about its strengths, to market its many positives and to use what's special about us to help grow our economy."
Clearly, calamari is one of Little Rhody's most special and beloved traditions.