Why Is Russia Flying Nuclear-Capable Bombers Near Alaska?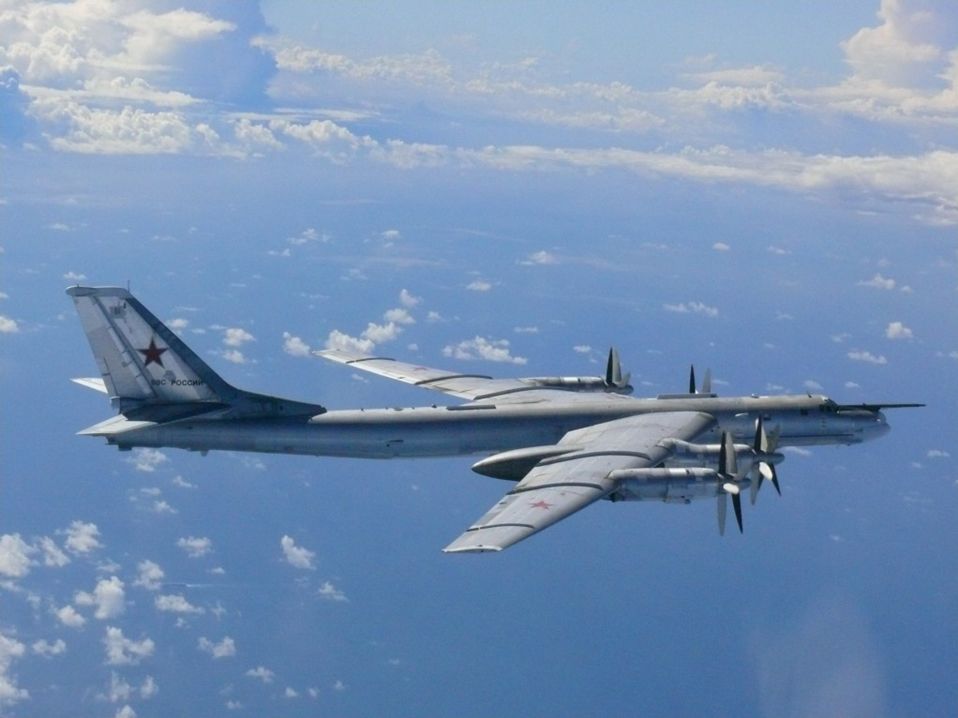 Russia's Ministry of Defense has confirmed two of its nuclear-capable bombers, flanked by two multi-role fighter jets, brushed near Alaskan airspace earlier this week.
The ministry confirmed the deployment on Facebook on Friday, posting video of the flight that took place on Wednesday.
The flight led to a U.S. intercept of the aircraft—something the Russian statement on Friday did not mention, but confirmed to Newsweek by a spokesman for North American Aerospace Defense Command (NORAD).
The Russian ministry's statement, issued in English, unlike the majority of the Facebook page's posts, highlighted that Russia's long range bombers " carry out flights over the Atlantics, Arctic, Black Sea, and Pacific Ocean," and are therefore not unusual.
"All flights are carried out in strict observance of the international law, " the brief statement added. It did not contradict U.S. reports that said the intercept happened as Russian planes were on the way to, but not within, U.S. sovereign airspace. The statement did say that the aircraft were flying unarmed.
Read More: Russia deploys its new cruise-missile frigate to the Mediterranean
Legal though it may be, the flight is part of an uptick of Russian air force activity around the Bering Strait, in the Pacific Ocean's high north.
The incident is the fifth in recent weeks, after four similar aerial forays in as many days in April caught the attention U.S. and Canadian monitors.
Then, John Cornelio, a NORAD spokesperson, said the command had not seen "this sort of level of activity for a couple of years."
Gareth Jennings, aviation desk editor at U.K.-based specialist military publication IHS Jane's, says that such flights have both military and political benefits for Russia. Long-range bomber pilots see "training value" in the activity he says. "Part of that training benefit will include real-world experience of encountering and dealing with NATO fighter aircraft," he says. However, as the largest country in the world, "Russia has plenty of airspace within its own borders for that," if training was the sole consideration.
The pattern of flight frequency also fits Russia's increased international ambitions too, Jennings notes. "After having effectively ended after the Cold War, Russian long-range aviation patrols, including bombers, tankers, airborne early warning aircraft, and long-range fighters, were resumed by Putin as far back as 2007, as a means of showing that Russia was back on the world stage," Jennings says.
Since increase in tensions around the Ukraine conflict in 2014 Russia's so-called "patrol flights" have increased on many fronts, especially near European allied airspace, particularly over the Baltic Sea.
"For a while they continued at a somewhat infrequent pace, until relations between the West and Russia broke down in 2014 over Putin's invasion and annexation of Crimea, and his continued interference in eastern Ukraine," Jennings says. "They are an easy and relatively safe way of Putin showing his resolve and flexing his military muscles to the West."
Tensions between Moscow and Washington have not relented since President Donald Trump came to power. If anything, relations have worsened, with Russian and U.S. disagreement over in the Syrian conflict—where Russia is now involved in an official capacity—and more recently the situation surrounding North Korea's nuclear posturing.
Jennings notes that Russia's flights have remained in international airspace and there is little chance of them overflying NATO territory—a move that could legitimately be considered aggressive if not sanctioned.
"That said, [the Russian flights] do pose a danger to commercial aviation given that they often do not fly with transponders that would allow air traffic control to locate and identify them—a lot of their aircraft are so old that they are not even equipped with them. There have been reports of their pilots flying too close to NATO jets that are shadowing them and in a dangerous fashion," says Jennings.
"It seems that so long as the current political situation between the West and Russia exists, these long-range Russian flights will continue," he concludes.