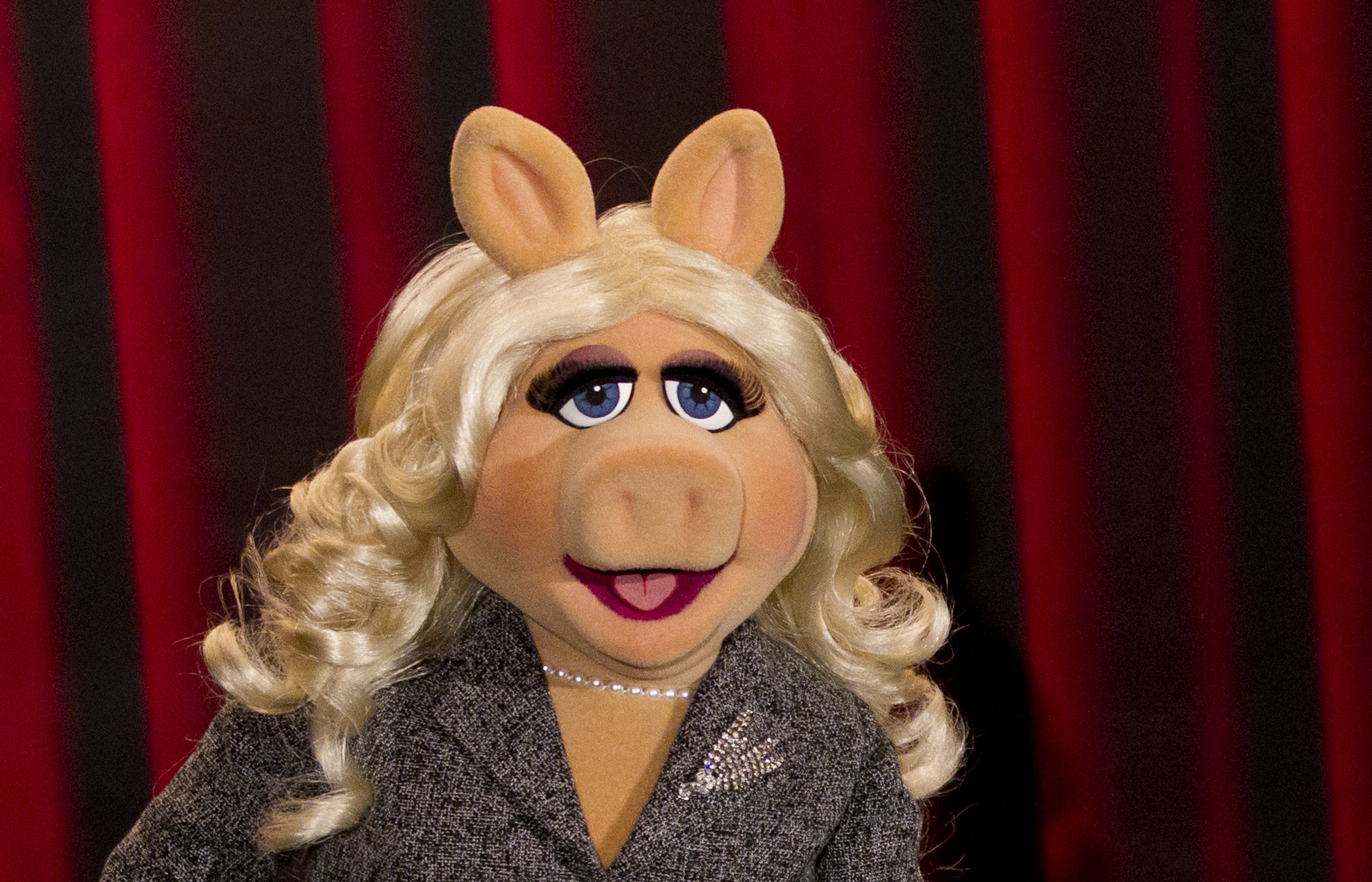 Miss Piggy joins the ranks of former Supreme Court Justice Sandra Day O'Connor, Tony Award-winning director Julie Taymor, attorney and professor Anita Hill and other extraordinary women who have been honored by the Elizabeth A. Sackler Center for Feminist Art as being first in their respective fields. The Center, which opened at the Brooklyn Museum in 2007, announced Tuesday that this year's First Award will be presented to the famous and feisty Muppet.
The recipients are "all symbols in addition to being extraordinary, intelligent leaders," says Elizabeth Sackler, who founded the Center and in 2014 became the first female board chair of the Brooklyn Museum in the cultural institution's 200-year history. "Anita Hill has become a symbol. Miss Piggy has, too, the same way Gloria Steinem has." Sackler identifies as "a public historian, social and arts activist, and American Indian advocate," according to the Center's website.
Miss Piggy, Sackler says, "overcomes obstacles; she's certainly first of her kind; she's got grit; she's tenacious; but she also has that soft spot—that love for Kermit." The character, who was introduced in the 1970s, "has all of the qualities that...women need to have to face the world as it is, and she gives us a good smile on top of it all."
Sackler also points out that while Miss Piggy's beloved Kermit the Frog has received several awards and is honored with a star on the Hollywood Walk of Fame, Miss Piggy has yet to garner an equivalent list of accolades.
"Kermit and Miss Piggy have been very much a part of my children's generation's lives and as a result, a part of mine," she says, explaining that her own children grew up with the Muppets on both television and movie screens. "I have always seen all of the Muppets as extraordinary examples and incredible characters that teach all people—including children, of course—about the different aspects of life: the great parts, the hard parts, the challenges, the beauties."
Sackler recalls a scene from The Muppet Movie, which came out when her son was a young boy: Kermit and Miss Piggy are being chased by some bad guys, she recalls, and they are about to put Kermit in a brain-scrambling contraption, when Miss Piggy breaks out of her rope bindings to come to his defense. She "grits her teeth, and I thought, 'My god, she has transcended. She has brought to life the kind of defense and survival mechanisms that human beings truly have,'" Sackler says. "I think part of what Miss Piggy brings is the essence of different aspects of humanness."
The announcement comes just a few weeks after the news that ABC might be bringing Kermit, Miss Piggy and their Muppet friends back to television for a revival.
Notified of the honor, Miss Piggy said, "Moi is thrilled—but frankly, not surprised—to be receiving this Sackler Center First Award. It is truly wonderful to be celebrated and share this honor with fellow legends, role models and pioneers of female fabulosity. We rock!" She'll receive her award at the Brooklyn Museum on June 4 and give a short acceptance speech. A 20-minute video retrospective of her career will follow, and then she and Steinem will take the stage together for a live conversation, all while Kermit the Frog looks on from the front row.
"I'm delighted to have them present in-person because I think that this will be inspiring to these younger generations," Sackler says.
The Muppets Studio is sponsoring seats at the event for children from the Ronald McDonald House New York, who are suffering from pediatric cancer, along with their families, as well as for Brooklyn-based Girl Scout Troops 2081 and 2158, Brooklyn-based Girls for Gender Equity and artists from Groundswell, a community mural project.
"In spite of what some people might perceive as obstacles—being a pig, being maybe a little overweight—[Miss Piggy] nonetheless has this extraordinary sense of self," Sackler says. "Her clear tenacious strength is very inspiring without it being hard; she's not a harsh strength, she's just a strong strength. I think that's very inspirational, especially to young girls who may feel a little bit on the outside of things."
The Sackler Center began giving out First Awards in 2012, for the fifth anniversary of the Center's opening at the Brooklyn Museum. The first year, the Center honored 15 women, including Connie Chung, Toni Morrison and Susan Stroman. In the intervening years between big anniversaries, they continue to honor one woman each year, with Julie Taymor receiving the prize in 2013 and Anita Hill in 2014.
The awardees are added as a sort of virtual fourth wing to The Dinner Party—the long-term art installation by Judy Chicago that serves as the centerpiece of the Sackler Center and recognizes 1,038 women in history with a triangular table that divides them into three chronological wings.
The First Awards recognize women in the 21st century whose names should be added to the installation. They provide "an opportunity to isolate and to honor women who have broken barriers and to hear them speak. These are really women who, in our lifetime, changed our world for us," Sackler says.
"Miss Piggy will go into the virtual dinner party wall with the other stellar women and become part of the museum forever."