Why Self-Financed Candidates Flop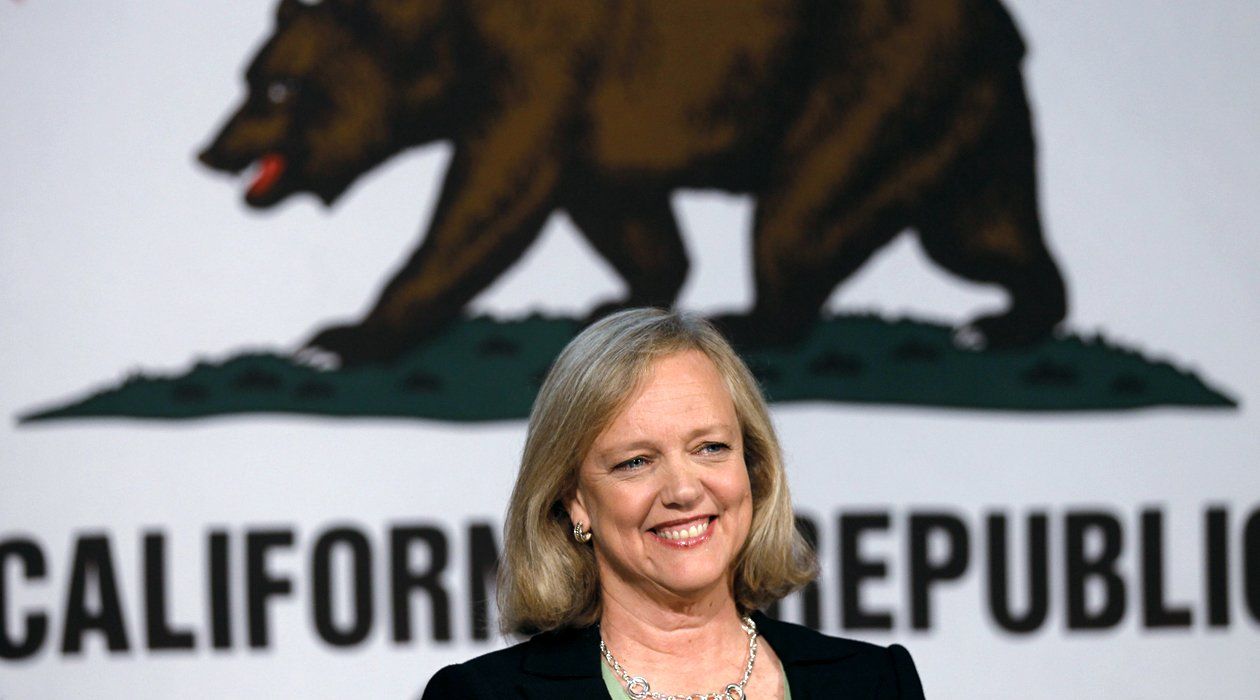 Given the personal fortune Linda McMahon has tapped to finance her Republican run for U.S. Senate in Connecticut, you'd think she'd hold a formidable edge against her Democratic opponent, state Attorney General Richard Blumenthal. She's pumped $22 million of her own money into the campaign, while Blumenthal has raised only $3.5 million. She's used that cash advantage to unload a barrage of ads that paint him as a career politician, clueless about how to create jobs and untrustworthy for having embellished his Vietnam War service. By contrast, she's depicted herself as exactly the sort of business-savvy outsider these grim economic times call for. With only two weeks to go until Election Day, however, polls show her trailing Blumenthal by about 10 points.
With a few exceptions, McMahon's fellow millionaires (and a couple of billionaires) aren't faring much better. Republican Meg Whitman, for example, has poured more than $120 million into her gubernatorial campaign in California—a record-breaking sum—but trails Democrat Jerry Brown by about 5 points. None of this should come as a surprise: self-financed candidates have an abysmal record. According to a June study by the National Institute on Money in State Politics, only 11 percent of self-funders won their races between 2000 and 2009. Yet that hasn't stopped a slew of wealthy aspirants from trying anyway. Perhaps smelling an opportunity given the anti-incumbent climate, more self-financers than usual are running—50 in congressional races alone, according to the Center for Responsive Politics. "They probably will do better this cycle," says Jennifer Steen, an Arizona State University professor and expert on the issue. "But I still think a lot of them are going to lose…Their lack of experience is usually devastating."
Many of these rich candidates work off a similar script. Since they don't have to worry about fundraising, McMahon and others argue, they can't be bought by special interests. And because their experience comes from the "real" world, they bring a more practical skill set to office. Yet these very characteristics often spell doom. "Raising money from donors is part of campaigning," says Ray La Raja, a political-science professor at the University of Massachusetts Amherst. It's "a test of whether people think you're viable." He also says that if you aren't beholden to anyone, that means no one is beholden to you. Self-funders typically lack the network of contributors, volunteers, and voters that traditional politicians build up through the years.
These candidates' lack of seasoning often shows on the campaign trail. They commit avoidable gaffes. They veer off message. They don't manage the media effectively. Carly Fiorina, who has injected $5.5 million into her GOP campaign for the U.S. Senate in California, made a catty comment about her opponent's hairdo on an open microphone the day after her primary victory, thereby dampening what could have been positive press. (Fiorina later expressed regret.) Another problem for self-financed candidates: often they don't prepare for the inevitable airing of controversial scraps from their past. "In an ideal campaign, you do a thorough scrub," says Kam Kuwata, a longtime Democratic political consultant based in Los Angeles. But the ultra-rich "don't necessarily look at themselves thoughtfully." Case in point: Rich Iott, an Ohio Republican running for a U.S. House seat who has contributed more than $1 million to his campaign. When photos of him wearing a Nazi uniform surfaced recently, he scrambled to explain he was a history buff who enjoyed participating in reenactments—and didn't mean "any disrespect."
Some self-financers do well, of course. New York Mayor Michael Bloomberg, for example, has leveraged his vast wealth into three consecutive victories. The successful ones, says Steen, tend to run balanced campaigns; they don't rely exclusively on ads, but focus on developing a ground game and building relationships with activists. This cycle, several self-funding candidates are performing strongly. Rick Scott, the GOP nominee for governor in Florida, has ridden the state's anti-Democratic mood to a dead heat with his opponent—despite Scott's checkered tenure as head of health-care conglomerate Columbia/HCA, which pleaded guilty to massive Medicare fraud. Ron Johnson, a Republican who made millions from a plastics company, stands a good chance of knocking off three-term Sen. Russ Feingold of Wisconsin. A key factor benefiting Johnson, says political-science professor Kenneth Mayer of the University of Wisconsin-Madison, is the presence of "an incumbent [toward] whom voters can laser-focus their anger."
These are the exceptions, though. Most self-funders flop—some spectacularly so. Topping the list this season is Jeff Greene, a Democrat who spent at least $14 million of his own money in the U.S. Senate primary in Florida. Nicknamed the "meltdown mogul," he became a billionaire betting against the housing market. Reporters gorged on what might delicately be called his colorful past: the acquaintances with Mike Tyson and Heidi Fleiss, the plane with gold seat-belt buckles, the yacht that allegedly ripped up a precious coral reef in Belize, and much, much more. (His campaign denied the yacht incident.) After an initial ad-fueled surge, Greene flatlined, and then got trounced. "It shows you that money isn't the only trick to winning elections," says La Raja. "You have to be a good campaigner." And that, unfortunately for these megamillionaires, has no price.
Why Self-Financed Candidates Flop | U.S.