Why Showtime's 'The Comey Rule' Is Airing Earlier Than Planned
For those who thought they had to wait until November 3 to see Showtime's miniseries The Comey Rule, we have good news. The political drama starring Brendan Gleeson and Jeff Daniels will now premiere on September 27. The original date set, which was after the upcoming presidential election, might have made the show seem more of a political footnote as opposed to a conversation starter ahead of the 2020 election.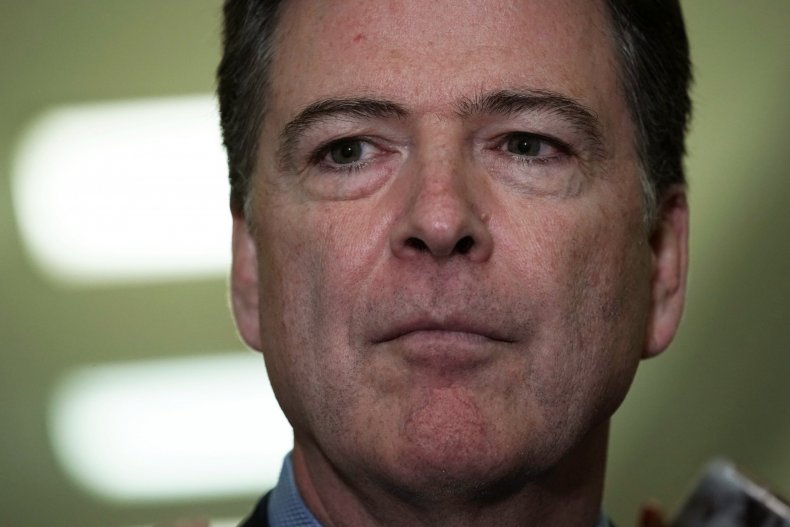 This decision comes after Oscar nominee Billy Ray (Captain Phillips), writer/director of The Comey Rule, expressed frustration about the show airing after the 2020 election. He shared a letter with the cast about the decision, and apologized for the previous outcome.
"We all were hoping to get this story in front of the American people months before the coming election," read the letter, according to Deadline. "And that was a reasonable expectation considering that we'd been given a mandate by the network to do whatever was necessary to deliver by May 15."
However, things changed in March or April, the letter continues. "Word started drifting back to me that a decision about our airdate had been made at the very highest levels of Viacom: all talk of our airing before the election was suddenly a 'non-starter.'" Ray and his fellow producers asked for an opportunity to plead their case about The Comey Rule's premiere date, and they were told "even the discussion itself was a 'non-starter.'
"The health of a media company depends on attracting audiences — and our movie, aired in August of an election year, would have been very big news," Ray continued. "Can you imagine the billboards? Comey Vs. Trump! A cast loaded with Emmy winners! Yet here we are...."
Ray concluded his letter by apologizing profusely to his cast. "I am deeply sorry that I didn't win this one. You trusted me with your time and your talent, and you deserved better than this. Your performances were spectacular. Please know that I won't give up; and that regardless of airdate I am thrilled at the prospect of showing the world your wonderful work."
Now, Showtime appeared to change its mind. The Comey Rule is set to air several weeks before the 2020 presidential election. As the upcoming election heats up between President Trump and the presumptive Democratic nominee Joe Biden, it's expected that The Comey Rule will be a hot topic for weeks instead of a historical footnote.
The Comey Rule is based on the high-profile book A Higher Loyalty: Truth, Lies and Leadership written by Comey. Daniels will play Comey, and Gleeson will portray President Donald Trump. The show will tell "the story of two powerful figures, Comey and Trump, whose strikingly different personalities, ethics and loyalties put them on a collision course," according to a press release. Their dispute will take place over four episodes. Comey served as the FBI director from 2013 until May 2017, when Trump abruptly fired him.
Joining Daniels and Gleeson is a star-studded cast, including Holly Hunter (Broadcast News), Michael Kelly (House of Cards), Jonathan Banks, (Better Call Saul), Jennifer Ehle (Zero Dark Thirty), Kingsley Ben-Adir (Peaky Blinders) and Peter Coyote (Erin Brockovich).
The Comey Rule premieres on Sunday, September 27 and Monday, September 28 on Showtime.