Why So Many Women Are Mean Girls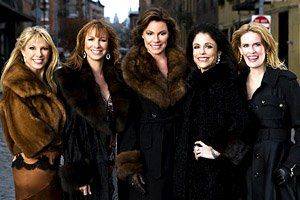 What happens to mean girls when they grow up? Judging by some recent examples, they become CEOs, politicians, or reality-TV-show stars.
Let's start with Carly Fiorina (the former head of Hewlett-Packard), a Republican running for the U.S. Senate in California, whose recent cattiness about the "sooo yesterday" hair of her opponent, Sen. Barbara Boxer, was picked up by a mike that was on when Fiorina clearly thought it was off. Fiorina has had to spend precious campaign time explaining and backtracking while stories focused on her gaffe rather than the issues.
A potentially more serious story concerns a "shoving incident" involving Meg Whitman, a Republican and former eBay CEO who is now running for governor of California. According to The New York Times, when she was eBay chief, Whitman became so angry at an employee that she "forcefully" pushed her. When the employee threatened to sue, the company countered with a reported settlement of about $200,000, and Whitman now praises the employee's "thorough professionalism." The story revived accounts of Whitman's tough behavior as a boss who, according to the Times, "would often express sharp bursts of anger toward employees whose work or preparation she found lacking."
Then we've got Bravo's Real Housewives of New York City, which could be renamed Real Mean Girls of New York City because the stars are more upfront than most of us about the mean girl within. In one pivotal moment this season, Alex McCord (previously the meek one) pounced on former queen bee Jill Zarin—who had mocked McCord's husband, child-rearing, and interior-design skills—with this zinger: "You are a mean girl and you are in high school. And while you are in high school, I am in Brooklyn trying to survive in this economy." (To see more of this exchange, click here. It's near the end.)
The fun and games so undid housewife Kelly Bensimon that, at one point, she appeared to have a breakdown and later accused the others of "systematic bullying." Bensimon tried to explain herself later at a ladies' lunch during which she said, "I just don't like to gossip." Housewife LuAnn de Lesseps (a.k.a. the Countess) replied, "That's probably why you don't have that many girlfriends."
The housewives' antics drew more than 2 million viewers per episode this season, according to Bravo, and the vast majority were women with an average age of 39—clearly, old enough to know better. But it's also clear that women are fascinated by bad behavior in other women. "It's like watching a train wreck," says Rosalind Wiseman, author of Queen Bees and Wannabes and an expert on teen and young-adult behavior. Wiseman's book was the basis for the 2004 movie Mean Girls, so she knows what she's talking about. Wiseman has a pretty persuasive theory about why grown women in the public eye often lash out like immature high schoolers. "In our culture," she says, "we get rewarded for mean-girl behavior, so we see adults behaving in ways that we typically assign to teens … Getting attention is the most important thing."
Wiseman says there's actually a biological reason why grown women aren't supposed to act this way. The part of the brain that controls the ability to recognize future consequences of your actions and to choose between good and bad behavior reaches maturity at about age 25. But that doesn't mean a switch flips at 25 and suddenly you are all grown up. In fact, Wiseman says that, as a teacher, she sees many girls who "start the process of understanding what choices they need to make with their friends" at 15 or 16 and, she adds, "some get there by 10th or 11th grade." On the other hand, we see lots of women in their 30s, 40s, and beyond acting more foolishly than their daughters. "It's not fair to say they are acting like a teenager," says Wiseman, "because some teenagers are very mature."
Bravo's Andy Cohen, the network's senior vice president of original programming and development, has a unique perspective on bad behavior with the five sets of Real Housewives (the others are in New Jersey, Atlanta, Orange County, Calif., and soon, Washington, D.C.). He agrees with Wiseman that cameras make a difference. In essence, he says, a persistent spotlight brings out the id—the unconscious desires that the women would ordinarily suppress in public. "I think the deeper we go every season with our wives, the more comfortable they are in front of a camera, the more heightened their relationships get," he says. "I think this season didn't necessarily bring out the best in everybody and I think it did become kind of like high school."
The key plot point was the bitter breakup of Zarin and her former BFF Bethenny Frankel. We'll spare you the details of the walk-up to the fight, but all women will recognize the basic elements: miscommunications, hurt feelings, angry voice mails, and ultimately, stony faces and perfunctory air kisses when Zarin and Frankel ran into each other on the charity circuit or at fashion shows. A high point in this story arc was what Zarin hoped would be a reconciliation lunch between the two at New York's famous Le Cirque, a restaurant most of us could only afford if someone else was paying.
By this point, Frankel had become pregnant, engaged, and the star of her own spinoff Bethenny Getting Married—all without the support of Zarin. And, as all women know, missing such key events in the lives of your friends pretty much wipes you off their emotional maps. At the lunch, Zarin told Frankel, "I feel like we were married and now we are separated, and I don't want to be separated." Frankel replied, "Well, divorce can be ugly." At the end, Zarin handed her a package of potato latkes, a traditional treat during the Jewish holiday Chanukah, which was around the time of this lunch. As the coauthor of Secrets of a Jewish Mother, Zarin knew she was bringing out the heavy artillery.
Cohen appears to be somewhat bemused by all the bad behavior. Referring to the Zarin-Frankel feud, he says, "It's like Laverne and Shirley broke up, so who are you going to be friends with?" Though the Housewives shows are designed as escapist fun, Cohen thinks they can serve a more elevated function. "I call it sociology of the rich, or cultural anthropology," he says. "I'm fascinated by psychology and human behavior … It certainly opens up conversations about friendships and parenting and relationships."
But Wiseman says that paying attention to bad behavior just reinforces the idea that even successful women are superficial. "When you are being entertained, your defenses go down," she says, and "you're absorbing the message that women are stupid and inconsequential." Not only does it "dumb us all down," she says, "but, more importantly, it makes us expect less from others and expect less from ourselves, and allows this kind of behavior to be normalized."
Women in the spotlight need to think before they speak—just like the rest of us. So, finally, a word to Zarin and Frankel: this hug was a great start.