Why Some People Are Upset About 'Friends: The Reunion'
The long-awaited Friends reunion has been met with backlash over a lack of diversity in the celebrity guest line-up.
Whilst the line-up for Friends: The Reunion does feature K-Pop superstars BTS and Pakistani activist Malala Yousafzai, it does not currently appear to include any Black celebrities.
Numerous fans of the show took to social media to share their disappointment over the news.
Twitter user @scottEmovienerd wrote: "The premise of the Friends reunion episode will be: the Friends still don't know any Black people."
"Friends has faced decades of criticism for being unrealistically white in the middle of New York. Then they plan a reunion with 0 Black guest stars. Okay," @traceyecorder commented.
Responding to one user who claimed the outrage was "ridiculous", @rogueAelfinn explained: "People feel that way not because they haven't made a Black friend but because the reunion will have 25 non-Black guest stars and Black people were virtually non-existent over 9 seasons."
"Friends reunion on May 27th... there's no black people in the show tho," @mtlpurps pointed out.
User @IAmTHREATacular posted: "Lol I got people upset because I said the cast of friends hadn't found any black friends in 17 years after seeing the special guest for the reunion show."
Another Twitter user suggested the reunion should be cancelled altogether as a result of the lack of Black guests.
@ccider3 wrote: "Friends is racist show idc not one black person in how many years @hbomax you might as well cancel the whole reunion because it's not needed.@FriendsTV"
Newsweek has contacted HBO Max for comment.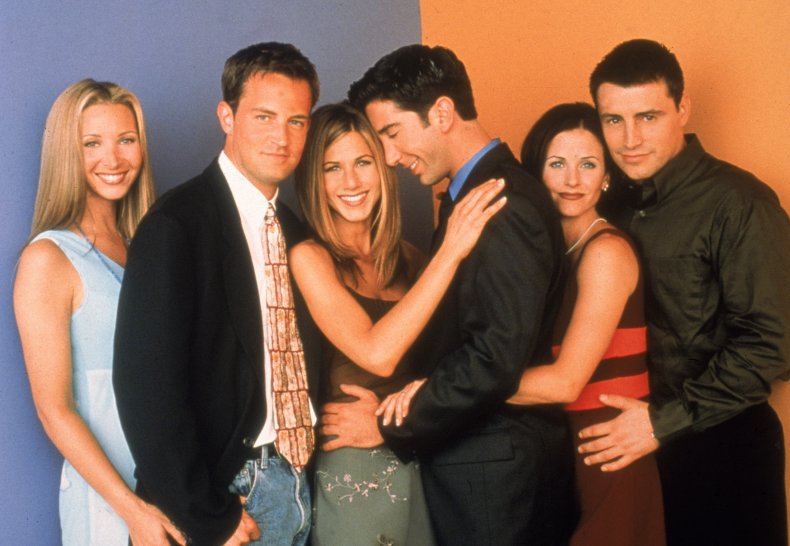 Meanwhile, other fans of the show were left disappointed over some of the celebrity guest choices.
The show will have a string of celebrity guests including Justin Bieber, Reese Witherspoon, James Corden, Cindy Crawford, Cara Delevingne, Lady Gaga and Tom Selleck.
Confused user @HabsGirlInTO wrote: "Can someone please explain what @justinbieber has to do with #FriendsReunion ??"
"Ive been waiting for this Reunion, but now that its really happening, Its a hard pass for me because, because @FriendsTV Justin Bieber ???? Justin Bieber as a guest ???? Why???? Why !!! America can have him," @HabsGirlInTO added.
A third user, with the handle @abluntfoy, posted: "What the f*** is kit harrington doing at the friends reunion fr wtf????"
"Nobody wants to see James Corden, Justin Bieber, or BTS on a Friends reunion. WTAF?," @Jetta_Jameson blasted.
@AbbyBry added: "Was so excited about the friends reunion but now see it's featuring Justin Bieber and James Corden so can never watch it."
The special one-off episode, which has simply been titled The One Where They Get Back Together, is set to see show stars Jennifer Aniston (Rachel Green), David Schwimmer (Ross Geller), Lisa Kudrow (Phoebe Buffay), Matthew Perry (Chandler Bing), Courteney Cox (Monica Geller) and Matt LeBlanc (Joey Tribbiani) all reunited as themselves rather than in character.
Friends: The Reunion will air on HBO Max on May 27.