Why South Korea's Election Matters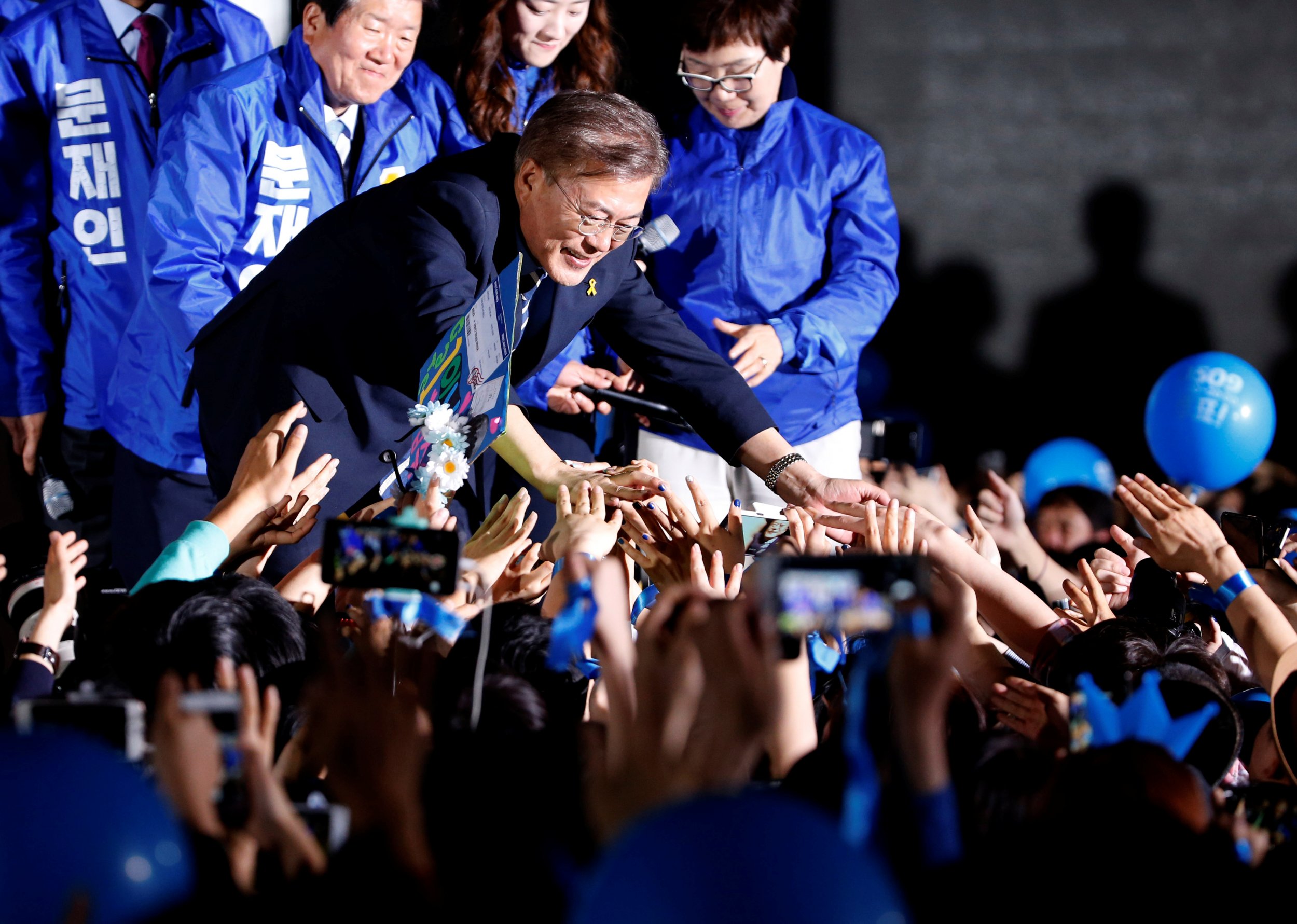 On May 9, South Koreans will have to choose between one of five candidates, who have all pledged to take South Korea forward into a new era. A record turnout is expected, fueled by a desire to reform the country after the national embarrassment caused by their former president.
This is not just important because it is a presidential election, but because it is an election to replace Park Geun-hye, South Korea's former leaders who was recently impeached and arrested after her involvement in a vast corruption and embezzlement scandal. (She is the daughter of Park Chung-hee, the dictator who took control of Korea in a coup in 1961.)
The scandal implicated several businesses and public figures, including the chief executive officer of Samsung. This election is about restoring confidence in the South Korean political system.
The election will dictate who will navigate South Korea through some of the stormiest waters with their northern neighbor in years, and will decide how much involvement the United States will have in the region.
According to the South Korean constitution, a vote must be held within 60 days of a presidential impeachment. Fifteen candidates began presidential campaigns, and 13 are now running—although only five have participated in the TV debates and are considered serious contenders.
Moon Jae-in, from the left-leaning Democratic Party of Korea has led the polls since the start of the election contest (with 42.2 percent in the latest May 3 polls). He is being challenged by Ahn Cheol-soo from the centrist People's Party, and Hong Joon-pyo from the conservative Liberty Korea Party, who are both at 18 percent in the latest polls.
Read more: Activity spotted at North Korea nuclear site as China bites back
South Koreans have been especially engaged in politics during recent months. Millions marched peacefully to protest against Park Geun-hye and demand her impeachment. At one point her approval rating sunk to 0 percent among South Koreans aged between 19-39. For five consecutive weekends in October and November, South Koreans were in the streets, and their persistence paid off. Korean news agency Yonhap news announced on March 27 that Park was indicted on charges of bribery, abuse of power, coercion, and leaking government secrets to her friend Choi Soon-sil who is currently in jail. Park Geun-hye is now in jail awaiting trial.
South Korea has a lot of " gray voters" —people over the age of 50 who account for 45 percent of the electorate—which means voting can be skewed against reformist candidates like Moon. Voters in their 20-30s make up just 35 percent of the electorate.
What are the main election issues?
The key focuses of the election are North Korea, THAAD (the missile defense system that the U.S. is installing on South Korea's border), national security, and a range of economic, educational, and social policies. South Korea's economy has also slowed, and youth unemployment is unusually high at 10 percent.
But in recent weeks, the focus of the election campaign for all candidates has shifted to how the country will deal with the United States and North Korea. This is especially important now Trump has surprised South Korea by telling them they would have to foot the $1 billion bill for the THAAD missile defense system.
North Korea and South Korea have been at war since the 1950s. The North is committed to the reunification of the peninsula, with Pyongyang as the capital. South Korea has often let the United States help deal with their errant neighbor.
Now, many South Koreans are concerned that THAAD has made them a direct target in the U.S-North Korea tensions. The rise in tensions on the Korean Peninsula has sparked protests against the system, which was launched ahead of schedule.
Who are the candidates?
Moon Jae-in
Moon Jae-in, a human rights lawyer and son of North Korean refugees who arrived in the South during the 1950-53 war, is likely to be the country's next president.
He is by far the most progressive candidate, and his key supporters are liberal and under 50. A lthough he currently leads the pack, the conservative establishment is concerned that Moon, who ran against Park in the 2012 elections and narrowly lost, will not be firm enough in dealings with North Korea. Some are skeptical at his enthusiasm for trying to reopen dialogue between Seoul and Pyongyang.
But this is exactly what younger voters want. He has promised to re-commence the "Sunshine Policy" that was kickstarted in 1998.
Moon is the candidate most likely to challenge Donald Trump's foreign policy in the region, and conservatives are concerned that electing Moon will upset the current global balance of power.
However, in a national televised speech in April, Moon said he would create a government " most feared by North Korea, most trusted by the United States and most reliable for China." Moon said South Korea needs to learn to say "no to the Americans" and he has openly opposed the deployment of THAAD, according to The New York Times .
Young-hae Chi, a lecturer in oriental studies at Oxford University, says the fear is that Moon won't play ball with Trump. If Moon were elected, conservatives fear that Trump could bypass South Korea when making decisions relating to North Korea, which could place South Korea in more danger from its neighbor.
It may be in Washington's interest for any candidate other than Moon to win, with Hong in particular promising to support THAAD and U.S. foreign policy.
Ahn Cheol-soo
A medical doctor turned software engineer, Ahn represents Korea's centrist People's Party that supports a liberal economic policy combined with sanctions and dialogue with North Korea.
Ahn was originally opposed to THAAD, but has now said it would be "irresponsible" to reverse an agreement with an ally. However, Ahn did poorly in the recently televised debates, and opinion polls suggest he lost much support.
Ahn backed Moon in the 2012 presidential race, and was a member of Korea's Democratic Party until he founded the People's Party in February 2016. His main voters are aged over 50 with a conservative bent, according to Channel News Asia.
Hong Joon-pyo
Hailing from South Korea's Liberty Korea Party, Hong's biggest obstacle is that he's from the same party as Park Geun-hye. Hong is ultra-conservative and employs Trump-style rhetoric in his speeches, to the extent that he's earned the nickname " Hong Trump." His goals include reintroducing capital punishment and he says he plans to boost the economy by cracking down on "aristocratic unionists." Hong sparked controversy recently when he said that "washing dishes is women's work" and he is also known for aggressively homophobic views.
Hong performed well during the TV debates, taking support away from Ahn. Hong's campaign features a hardline stance on North Korea and backs United States activity in the area.
Who else?
Sim Sang-jung is the other left-wing contender, but is further to the left than Moon. She has the backing of teachers unions and other trade unionists, but isn't expected to make much headway, despite doing well in the debates. Y oo Seung-min is the Bareun Party candidate and represents a breakaway faction of the conservatives. Yoo backed Park's impeachment, but his support has never really edged past single digits in the polls.