Why Southern States Are More Susceptible to December Tornadoes
Proximity to the Gulf of Mexico and jet stream winds are two of the factors that make some Southern U.S. states more vulnerable to tornadoes in the winter months.
Randy Adkins, a senior meteorologist at AccuWeather, told Newsweek the closer a region is to a warm moisture source like the Gulf of Mexico, the more likely it is to experience thunderstorms and, potentially, tornadoes.
"The Gulf of Mexico is a huge source of moisture that can be fuel for thunderstorms to develop in," Adkins said. "That goes a long way toward explaining why during the wintertime tornadoes are going to be more common across the southern U.S., that proximity to the Gulf of Mexico."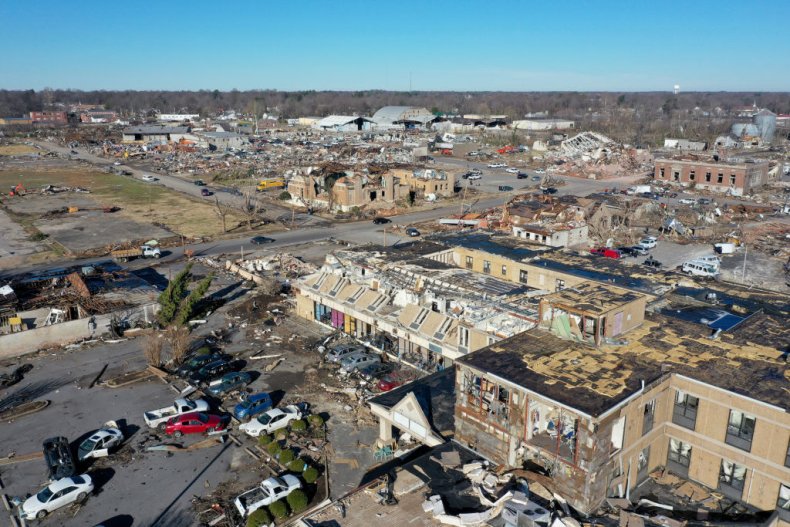 Newsweek spoke with Adkins on Monday, just days after a storm brought what weather experts call a "long track tornado" into four U.S. states. The tornado is believed to have started in northern Arkansas on the night of December 10 before traveling through the Missouri Bootheel and northern Tennessee. It finally culminated by tearing through western Kentucky.
The tornado is believed to have reached peak wind speeds of 158 to 206 miles per hour, according to the National Weather Service (NWS). Preliminary estimates suggested it was three-quarters of a mile in width, according to the NWS. Experts believe the tornado traveled more than 220 miles, which would set a record if verified, Adkins said.
Kentucky Governor Andy Beshear said it was "the worst tornado event" in his state's history, with at least 64 deaths confirmed as of Monday. In addition to the long track tornado, at least three others touched down in Kentucky over the weekend, Beshear said.
Long track tornadoes in December are "certainly not unheard of," Adkins said. Arkansas, Kentucky and Tennessee are three states in which December or January tornadoes are more common than summertime tornadoes, he said. These wintertime tornadoes occur when jet stream winds that typically blow through the Northern Plains in the summer move south in the fall, providing Southern states with the wind energy needed to create "rotating thunderstorms."
"Farther south, you're still holding on to some of that summertime moisture, and now you're introducing some stronger jet stream dynamics that come into play," Adkins said. These were the variables at play when the long track tornado struck late last week, he added.
Adkins told Newsweek wintertime tornadoes can be "particularly dangerous" because limited daylight hours means there is a greater chance a tornado will occur after dark. Arkansas, Kentucky and Tennessee also have the greatest percentages of tornadoes that occur at night, he said.
"I think more people should be aware that severe weather can occur during the wintertime, and for the reasons just mentioned, they can actually be more dangerous during the wintertime," he said.