Why the 'Sports Illustrated' Swimsuit Issue Still Matters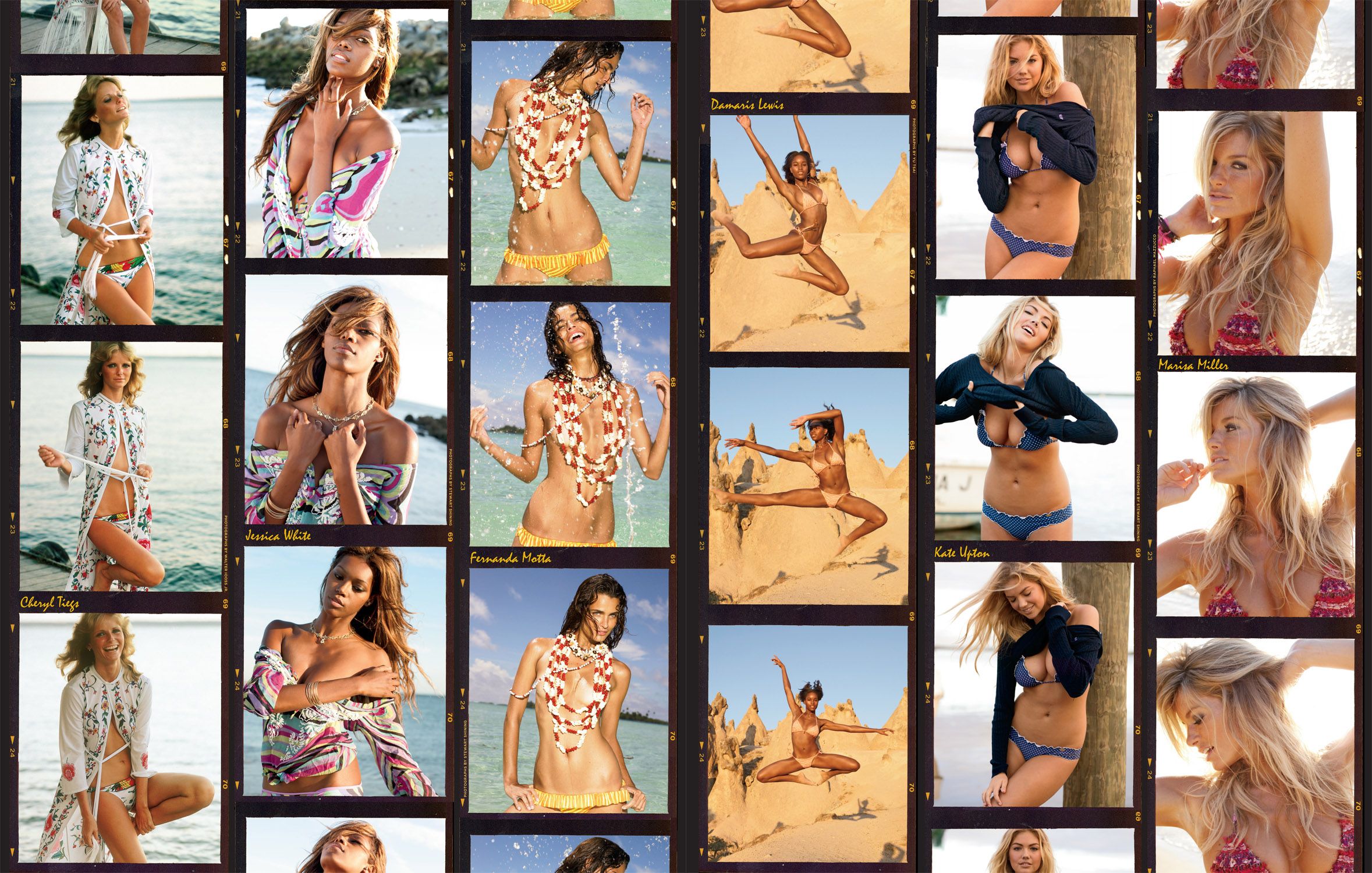 In a world flooded with celebrity crotch-shots and half-naked selfies, where pornography is not only readily available online but also serves as the linchpin for mainstream advertising campaigns (insert gratuitous American Apparel link here), does the Sports Illustrated Swimsuit Issue even matter anymore?
If you're Time Inc., the answer is YES!!!!!! The iconic compendium of sexy models lounging on yachts and booty tooching on exotic beaches generates around seven percent of SI's annual revenue, according to Forbes. It's also one of Time Inc.'s most profitable ventures, raking in more than $1 billion over the years and reaching a global audience of more than 70 million. The photos from beyond-beautiful locales are shot by leading photographers such as Walter Iooss Jr. and Raphael Mazzucco and published like works of (modestly erotic) art. Sex has always sold and always will, even if looking at barely-there-bikini-clad beauties now seems a little last-century.
Still, there is something different about the Swimsuit Issue, and that je ne sais quoi can be gleaned in Sports Illustrated Swimsuit: 50 Years of Beautiful, a coffee-table book celebrating the 50th anniversary of the issue. Serving as an invaluable visual thesaurus for the word "bikini," it bubbles over with photos of swimsuit-clad bombshells. The book, which took over two years to create, includes amusing outtakes, stories from editors, sections dedicated to athletes and, of course, body-painting, SI's answer to the new-new bikini (you know, the one that isn't there).
The Swimsuit Issue has been called everything from the librarian's worst nightmare to every teenage boy's best friend. It has launched the careers of famous household first names, from Heidi, Christy and Tyra to Brooklyn and Kate. And it's always had a female editor-in-chief.
Its humble beginnings were rooted in a simple quest: to pique readers' interests during the winter sports doldrums. The first Swimsuit Issue arrived on January 20, 1964, with a specific purpose. "Andre Laguerre, the longtime managing editor of SI, wanted something completely offbeat from the hurly-burly of pro football – the playoffs and all of the hard sports. He thought it would be nice to look at a pretty woman down on the beach. And that's how it began," longtime SI writer and editor Walter Bingham tells Newsweek. "It was never intended to be what it has become."
Bingham, 83, covered baseball, golf, college football and tennis during his tenure at the magazine, from 1955 until 2000. He was already an SI veteran when the Swimsuit Issue launched, and though he was not directly involved in its production, he did pen a few titles, including 1988's "Thailand Fling" and 1977's "Zowie, it's Maui!"
"I was kidding!" he said of the Maui title. "But by god, it ran. I couldn't believe it."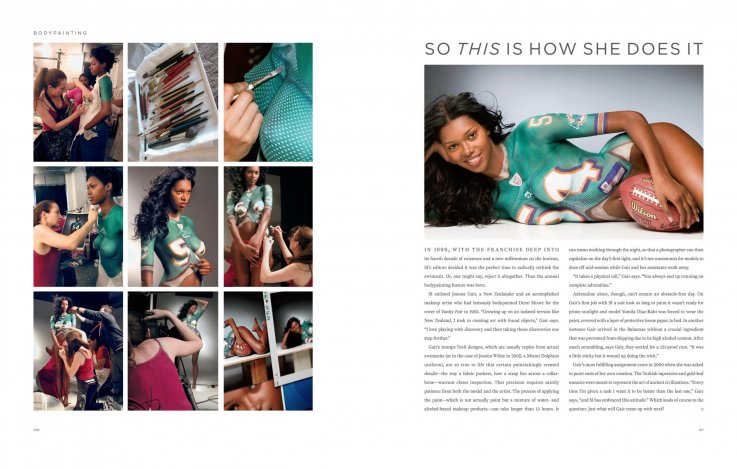 The first installment of the Swimsuit Issue was an eight-page supplement featuring Babette March looking like America's prettiest girl next door in a conservative white two-piece, posed in the surf, water up to her knees and messy brown hair soaked through. The next year, the cover projected a similarly tame aesthetic, with Sue Peterson admirably filling out a black one-piece with red straps and cutouts at the waist. Things got a little more suggestive in 1966, when Sunny Bippus wore a low-cut red floral bikini. Reclining in the water with her face in profile, eyes closed and arm raised above her head, she smiled as if she was having all of the fun anyone has ever had at the beach.
Covers continued in this way – quietly sexual and cleavage-less – until 1975, when Cheryl Tiegs posed in a skintight bikini. Kneeling in the water, she tossed her head to the right and shut her eyes as she splashed herself. The photo, taken by Iooss, was all about Tiegs's body – the suit was just an inconvenient truth.
Over time, "the suits got skimpier and skimpier, the models' attributes bigger and bigger," Bingham wrote in 2010 in the Cape Cod Times.
In 1997, the swimsuit edition, which had always been part of the weekly edition of the magazine, became its own stand-alone issue; Tyra Banks was on the cover in a teeny, tiny polka-dot bikini, one year after becoming the publication's first black cover girl. The 2005 issue, with Carolyn Murphy holding up (or taking off) the straps of her red bikini top, raked in $35 million in ad sales, according to Forbes. And while athletes have graced many of its pages – including tennis greats Steffi Graf, Serena Williams and Anna Kournikova; NFL cheerleaders, and race-car driver Danica Patrick – the Swimsuit Issue has always been a place where fantasy meets sexuality meets models pretending all that sand isn't starting to chafe. Elle Macpherson has claimed the most covers (five) and Kathy Ireland appeared in its pages a record 12 times (her 1989 cover remains the best-selling issue).
SI's 50th anniversary book joins a crowded market. ESPN's Body Issue, which features athletes posing nude and launched as a special section in 2009, was a direct response to declining advertising sales for ESPN, The Magazine; in the six months prior to its publication, ad pages had decreased 24 percent. Men's magazine FHM has its 100 Sexiest Women in the World issue and Victoria's Secret now televises its runway show. The venerable and now-creaky Playboy remains the arbiter of hot girls taking off their clothes.
"I hear that a lot of people would like to do away with [the Swimsuit Issue], but it makes so much money, plus the offshoots – the calendars, all sorts of things – that they couldn't possibly afford to. It's the biggest moneymaker of all," Bingham says.
Asked if he has seen the new book, or even the latest Swimsuit Issue, he replies, "I haven't given it a thought. I don't think it's something any of us – the 15 to 20 people I still email or see occasionally who all have left the magazine – have even mentioned. No one says, 'Did you hear what's happened to the Swimsuit Issue? Do you know who's in charge?' I have no idea. But as long as it keeps making money.…"
Why the 'Sports Illustrated' Swimsuit Issue Still Matters | Culture