Why Was Peter Strzok Fired? Former FBI Agent's Lawyer Says 'Normal Process' Not Followed Amid Trump Attacks
The FBI fired embattled agent Peter Strzok this past Friday reportedly amid accusations of improper conduct by Strzok and repeated attacks by President Donald Trump on the bureau and the Justice Department over the handling of the Russia investigation.
It was recommended that Strzok be demoted and subjected to a 60-day suspension, but FBI Deputy Director David Bowdich dismissed Strzok instead, The Washington Post reported Monday.
"This isn't the normal process in any way more than name," Strzok's attorney, Aitan Goelman, told the Post.
With the exception of the agency's director, FBI agents do not usually become household names. But Strzok became a national figure for his role in the probes of Russia election meddling and Hillary Clinton's private email server, and for becoming a target of the president's criticism.
Strzok's missteps in both investigations were part of the Justice Department inspector general's report about the Clinton and Russia investigations, released in June. The report included text messages Strzok exchanged with former FBI lawyer Lisa Page and their expressions of dislike for then-candidate Trump.
Strzok and Page were having an affair, and in response to Page's expressed worry about Trump getting elected in 2016, Strzok said, "We'll stop" it. He has since claimed that the text was taken out of context and that his political views did not affect his work on either investigation.
Strzok was also part of special counsel Robert Mueller's investigation of Russia's election interference, but Mueller removed Strzok from the investigation after learning about the texts.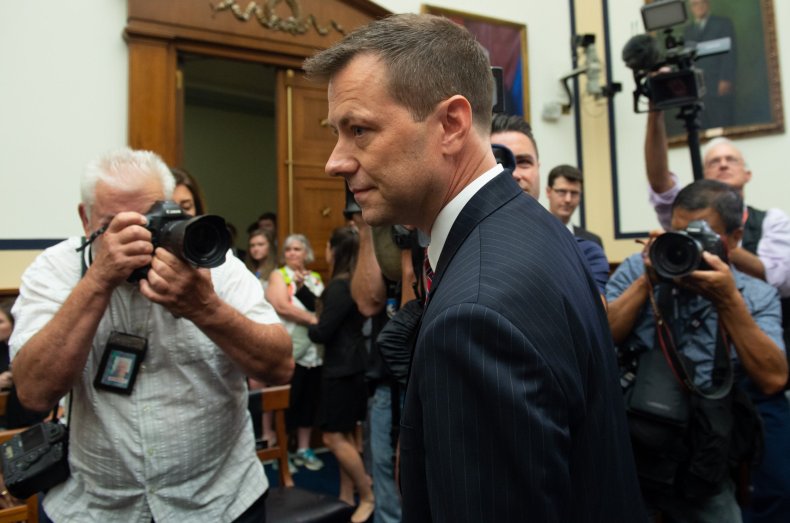 The inspector general's report ultimately concluded that there was no "political bias" in the investigations, but it criticized former FBI Director James Comey's actions, such as announcing that Clinton would not be charged when the attorney general would not normally make such pronouncements.
In July, Strzok testified before the House Judiciary and Oversight committees and was pilloried by House Republicans who were enraged by Strzok's text messages.
Trump and his supporters have often pointed to Strzok and Page as a reason to believe that the so-called "deep state" was still is out to destroy his administration.
The president took to Twitter Saturday to blast Strzok, Comey and former FBI Deputy Director Andrew McCabe.
"Will the FBI ever recover it's [sic] once stellar reputation, so badly damaged by Comey, McCabe, Peter S and his lover, the lovely Lisa Page, and other top officials now dismissed or fired? So many of the great men and women of the FBI have been hurt by these clowns and losers! " the president said.