Why Texas Is Able to Ban Abortion Pills for Entire U.S. 
A Texas lawsuit could determine the fate of abortion pill access nationwide.
Trump-appointed U.S. District Judge Matthew Kacsmaryk will decide on whether to reverse a Food and Drug Administration (FDA) approval of mifepristone, a pill used, in part, to end pregnancies.
This reproductive rights case comes after the Supreme Court overturned Roe v. Wade last year, cutting federal protections for abortion access and opening the door for states to pass legislation to completely ban or severely limit abortions.
What Is Mifepristone?
In 2000, the FDA approved the drug, making it available by mail, telemedicine and pharmacy pickup. Mifepristone is one of two medications used to medically induce abortion and manage miscarriages. Mifepristone is taken first, followed by misoprostol, a drug also used to treat stomach ulcers, 24 to 48 hours later.
According to the Associated Press, this combination has been shown to be more than 95 percent effective in ending pregnancies up to 10 weeks.
A congressional oversight review found that the FDA has "routinely conducted reviews of adverse event reports to monitor for safety concerns" and has communicated safety information to consumers and healthcare providers.
Jenny Ma, the senior counsel at the Center for Reproductive Rights, told Newsweek that medication abortion is "incredibly safe and has been used in the U.S. for more than 20 years."
"More than half of abortions in the U.S. are done using medication abortion," she said. "The science and evidence is indisputable."
Who Filed The Lawsuit?
The Alliance for Defending Freedom, a conservative Christian legal advocacy group, filed a lawsuit on November 18 in an Amarillo, Texas, federal court on behalf of the Alliance for Hippocratic Medicine, a coalition of physicians who oppose abortion, against the FDA.
Julie Marie Blake, senior counsel for the ADF, said their lawsuit is fighting for patients who have been harmed by chemical abortion drugs.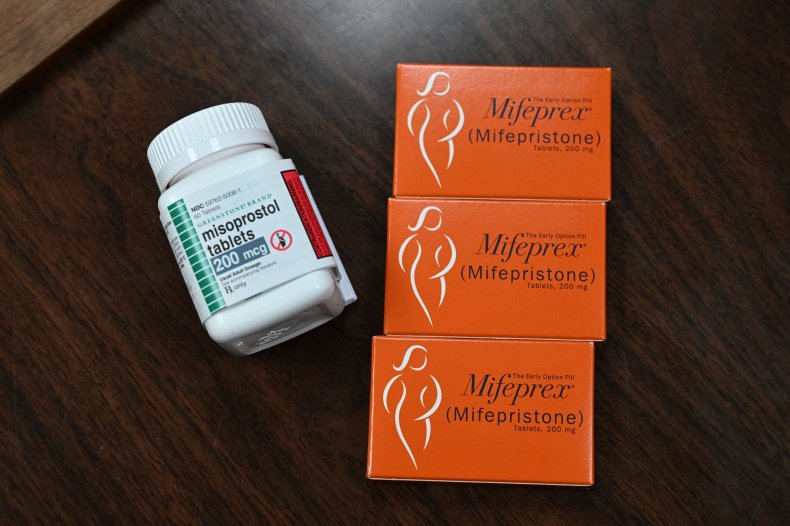 "The FDA has failed its responsibility to protect women and girls from chemical abortion drugs—it never had the authority or the studies to approve chemical abortion drugs in the first place," she said in a statement to Newsweek.
The ADF said the FDA "failed to abide by its legal obligations" by not studying "the safety of the drugs under the labeled conditions of use, ignoring the potential impacts of the hormone-blocking regimen on the developing bodies of adolescent girls, disregarding the substantial evidence that chemical abortion drugs cause more complications than surgical abortions and eliminating necessary safeguards for pregnant girls and women who undergo this dangerous drug regimen."
Blake said the FDA policy allowing the drug to be mailed to patients without an in-person doctor's appointment makes the safety risk "even greater."
"If the FDA withdraws these drugs or puts back safeguards on their use, it will only help improve the health and safety of women and girls," she added.
The FDA has called the lawsuit "extraordinary and unprecedented."
"The public interest would be dramatically harmed by effectively withdrawing from the marketplace a safe and effective drug that has lawfully been on the market for twenty-two years," the FDA said in a response to the lawsuit.
What Are The Concerns?
If Judge Kacsmaryk rules in favor of the plaintiffs, he could grant an emergency injunction that would revoke the FDA's approval of mifepristone nationwide.
This would force the drug to be taken off shelves at hospitals and clinics across the country.
"In this post-Roe world in which every state is actively deliberation and pushing for laws that either protect or restrict abortion right the Supreme Court essentially said abortion is now something left to the states," ACLU Texas Legal Director Adriana Piñon told Newsweek. "This lawsuit, however, is seeking to go well beyond just the will of the people in the state it seeks to essentially eliminate access to medication abortion throughout the entire country.
The consequences, she said, would be "staggering."
"Removal of this drug from the market will effectively make abortion care inaccessible for millions of women," Piñon said, adding that the drug is also essential for miscarriage treatment.
Lack of abortion care most impacts Black women and other women of color, as well as people "struggling to make ends meet," and exacerbates economic and health issues, like high maternal mortality rates, according to Piñon.
Post-Roe, many people have been forced to travel across state lines in order to receive abortion care. Piñon told Newsweek that without medication abortions as an option, providers will not be able to cover the abortion demand with just procedural abortions alone.
Why Texas?
Piñon also added that the plaintiff in this case specifically chose this Texas court for their lawsuit because they wanted Judge Kacsmaryk to rule on the lawsuit.
"But by filing in Amarillo, the plaintiff knew that they would get this particular judge who was a Trump-appointed judge who has already shown a willingness to overlook specious claims to hold it to rule in a way that undermines fundamental rights and access not just to abortion care but to contraceptives," she said.
"The organization that is representing the plaintiffs their anti-abortion extremist groups, this is part of a larger agenda to eliminate abortion nationwide," she said. "There has been study after study after study that have proven how safe and effective it is. It's staggering. The lawsuit is arguing otherwise."
Pro-Choice non-profit National Abortion Rights Action League (NARAL) said in a statement that if FDA approval of mifepristone is revoked, "64.5 million women of reproductive age in the U.S. would lose access to medication abortion care, an exponential increase in harm overnight."
If mifepristone is banned, abortion providers may turn to just prescribing misoprostol alone instead. This has been proven to be less effective than the combo of drugs and would shift healthcare practices and increase wait times at clinics, the AP reported.
Since the overturning of Roe v. Wade, 12 states have enacted near-total abortion bans and 17 states restrict access to medication abortion, according to the Guttmacher Institute.
Jesse Philbin, Senior Research Associate at Guttmacher, told Newsweek that the ban on mifepristone is "another senseless, politically motivated attack on people's reproductive health and autonomy," a burden she said would fall hardest on marginalized populations that already struggle to access timely and affordable abortion care.
Mississippi Attorney General Lynn Fitch filed an amicus brief last week, along with 21 other state AGs, accusing the FDA and the Biden administration of not respecting the Constitution nor the Supreme Court.
"Even if the FDA's approval of mifepristone harmonized with the agency's own regulations and federal criminal law, those actions would not simply displace state laws regulating abortion," she wrote. "The FDA—and the broader Administration—is encouraging lawbreaking on a mass scale."
New York Attorney General Letitia James wrote an opposing amicus brief, along with 21 other state AGs.
"Blocking access to this safe and effective medication is a dangerous attack on reproductive freedom and public health," she said in a statement.
Doctors for America's FDA Task Force also filed an amicus brief in support of the FDA's approval of mifepristone, saying the drug has be "proven safe and effective."
The DFA called the lawsuit a "political effort" to eliminate access to medication that has been safely utilized by patients for over two decades.
Dr. Meghana Rao, Obstetrician-Gynecologist and Board Chair for Doctors for America, said clinicians should be able to "discuss and prescribe all safe and effective treatment options with their patients based on what is best for their individual scenario, not based on politics."
Judge Kacsmaryk extended the deadline in Alliance for Hippocratic Medicine v FDA and is expected to make his decision on February 24.
Update 2/13/23, 5:24 p.m. ET: This story was updated with comment from experts.