Why Is There a Lumber Shortage in the U.S.?
Lumber supplies in the U.S. are facing a big shortage as a result of the coronavirus pandemic, presenting issues for the housing and construction market.
Several major lumber mills cut back on their production when COVID-19 arrived in the U.S. earlier this year, Millionacres reported. Mill officials cited concerns of a worsening economy and the health and safety of their employees, but didn't foresee demand rebounding as quickly as it did.
"Lumber producers both in the U.S. and Canada...curtailed operations to a great extent in March and early April, both because there were lockdown orders and they forecasted that plunge in demand," David Logan, the director of tax, trade and policy analysis for National Association of Home Builders (NAHB) told Newsweek.
But months-long quarantines enacted throughout the country caused a spike in do-it-yourself projects, with Americans heading in droves to their local home improvement store to purchase construction supplies.
Lumber producers didn't anticipate the resurgence of the housing sector being as strong as it has been, and the massive increase in this do-it-yourself demand, Logan said.
Both softwood lumber and treated lumber are difficult to find right now, and producers have been able to hike up the prices because the wood is in such high demand. Treated and untreated framing lumber have risen in cost by at least 50 percent since the beginning of the year, according to Millionacres.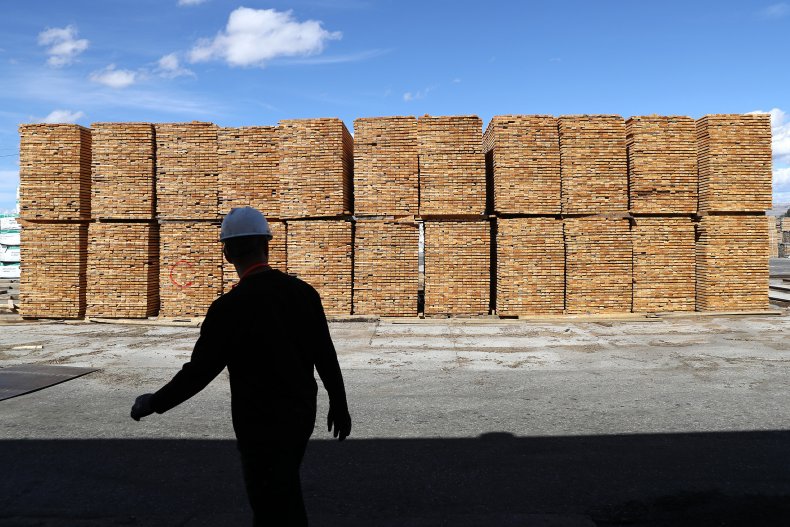 Moxham Lumber Vice President Brad Gordon told The Tribune-Democrat that he believed the shortage would last until the winter months, when construction projects typically drop off around the country as the weather gets colder.
"It's a strange disaster," said Gordon, who helps oversee the building materials store in Johnstown, Pennsylvania.
The shortage among big lumber suppliers has trickled down to local shops like Moxham, as well as independent contractors.
Dave Dickson, president of Quaker State Construction in Carnegie, Pennsylvania, told the Pittsburgh Post-Gazette that he was facing an increased number of customers but limited amount of materials.
"It's an ongoing fight for lumber every day," Dickson said, whose company is booked through November for deck construction orders. "We use a lot of treated lumber. The prices have escalated by 30 percent and more."
Real estate developers have also been affected by the wood shortage, as they've had to pause big construction projects while also shelling out more in capital to fund them, due to the increased lumber costs.
NAHB wrote in an August 6 blog post that the price of lumber in the U.S. has risen around 80 percent since mid-April, adding thousands of dollars to the cost of construction projects. That number has since grown to more than 120 percent since mid-April, which will ultimately decrease home affordability, Logan told Newsweek.
This is despite the fact that demand for new single-family homes remains high, as sales rose 14 percent in June per census estimates. Even with the economic recession caused by the coronavirus pandemic, new home sales are up 3 percent when compared to the first half of 2019, according to the NAHB.
Update (08/20/20, 5:55 p.m.): This article has been updated to include comments from the NAHB.