Why They Fear Women of Color at the Polls | Opinion
While the president continues to weave false narratives around mysterious ballots found in unnamed rivers, let's talk about what's really going on. Women of color are going the distance, standing in long lines and navigating a system intentionally made challenging for one reason: to suppress our votes. Why? Women of color are primed to play a decisive role in this year's election. States like Florida, Texas, Georgia and Arizona are in play because of the formidable women of color vote.
A She the People analysis based on the 2016 census information reveals the power of women of color to decide the election. In 2016, Trump won by 113,000 votes in Florida, where 883,000 eligible women of color did not vote. He won by 807,000 in Texas, where more than 2 million eligible women of color did not vote. And he won by 91,000 in Arizona, where 342,000 eligible women of color did not vote. Higher turnout will win these battleground states for Joe Biden and Kamala Harris.
Yet these numbers tell only part of the story. In 2016, voter suppression played a major role in voting results. For example, in Michigan, more than 75,000 votes, mostly in the Detroit area, were tossed out. In Wisconsin, voter ID laws prevented women of color, particularly in Milwaukee, from casting their votes and threw the election for Trump by 23,000.
Voter suppression in 2020 continues to attempt to blunt the voting power of women of color. These are criminal acts. The perpetrators need to be punished and called out for what they really are: anti-democratic forces who seek to rob us of our voices and our power.
But here's the thing: We're ready for it, and we're not going away.
Women of color, particularly Black women, have a long history of standing in long lines. It's the unfortunate norm in states like Georgia, where there are too few voting machines for the population. Generation after generation, those who seek to silence us find ways to make it harder to vote. But we do anyway.
This year, early voter turnout among women of color is through the roof in key states, according to new data collected and analyzed by Catalist.
In Georgia, women of color turnout is almost double what it was at this time in 2016; more than 348,000 women of color have already voted, compared with 177,000 around this time in 2016. Among Black women in the state, turnout is up 9 points. This, despite voter suppression tactics that directly impact Black women.
Of course, attempts to thwart votes do not target only Black women. In Pennsylvania, a state Supreme Court decision this year not to extend the state's vote-by-mail deadline directly impacted 400,000 low-income Asian American and Pacific Islander voters with limited English who required assistance requesting and translating ballots. Both the voter registration and ballot request forms in Pennsylvania are available only in English and Spanish.
Still, in Pennsylvania, about 100,000 more women of color have voted today than around this time in 2016, when Trump won the state by only 44,000.
In Texas, Republican Governor Greg Abbott has not only refused to expand mail-in voting for those concerned about or especially vulnerable to COVID-19, but earlier this month he announced the closure of satellite locations for Texans allowed to vote by mail, leaving only one drop-off box per county. This is a voter suppression tactic found in Black and Latinx communities, which often have fewer polling places per capita than other areas. This is why we see mostly people of color standing in long lines at the polls. On average, Black and Latinx voters wait approximately 45 percent longer than white voters.
In one of the many lawsuits Texas Republicans have filed to prevent places like Harris County (where Houston is and where many voters are women of color) from expanding voter access, they acknowledged: "As Texas goes, so too will the rest of the country. As Harris County goes, so too will Texas." To date, women of color turnout in Texas is up by four times over 2016; over 650,000 more Texas women of color have voted compared with around this time in the last presidential election.
Among the most egregious and overlooked communities that suffer from blatant, historical voter suppression is the Indigenous population. In Jackson County, South Dakota, for example, the county council voted to close the legally mandated early voting site on the Pine Ridge Reservation, citing concerns about COVID-19. The voting site in Kadoka, where white people vote, however, remained open. Voting by mail is also a challenge in the Indigenous community, as most reservations don't have mail delivered to their homes.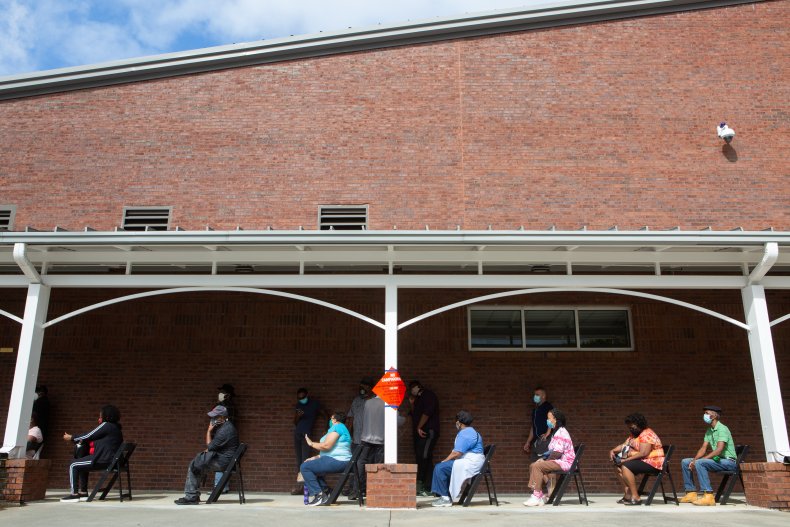 We've seen this all before—only now we have a president who is calling for voter intimidation under the guise of protecting a fair election. White supremacists have come out in the open, shielded and empowered by an administration that refuses to denounce them. We have an ongoing pandemic that has claimed more than 225,000 lives and has been used as an excuse to shut down voting sites that predominantly serve communities of color. And we have unsubstantiated accusations of voter fraud being used to raise doubt about the outcome of the election and incite violence.
Yes, it's easy to get discouraged, especially when we've been fighting the fight for so long. But never before in history have women of color had so much power to influence an election. Never have so many women of color ran in races up and down the ballot. That's the difference. We are ready to govern. We are ready to lift up the fearless women who represent us and champion the issues that impact our communities.
And try as they might to stop us, we're not going anywhere. In the last week alone, our volunteers across the country texted 303,000 Texas women of color voters who have rarely voted in the past and 116,000 in Pennsylvania. We will push until the last hour of the election. This is our year, and ain't nobody gonna turn us around.
Aimee Allison is founder and president of She the People, a national network of women of color in politics. She is a columnist for Newsweek.
The views expressed in this article are the author's own.