Why This Handmade Knit Sweater is a Fall Must Have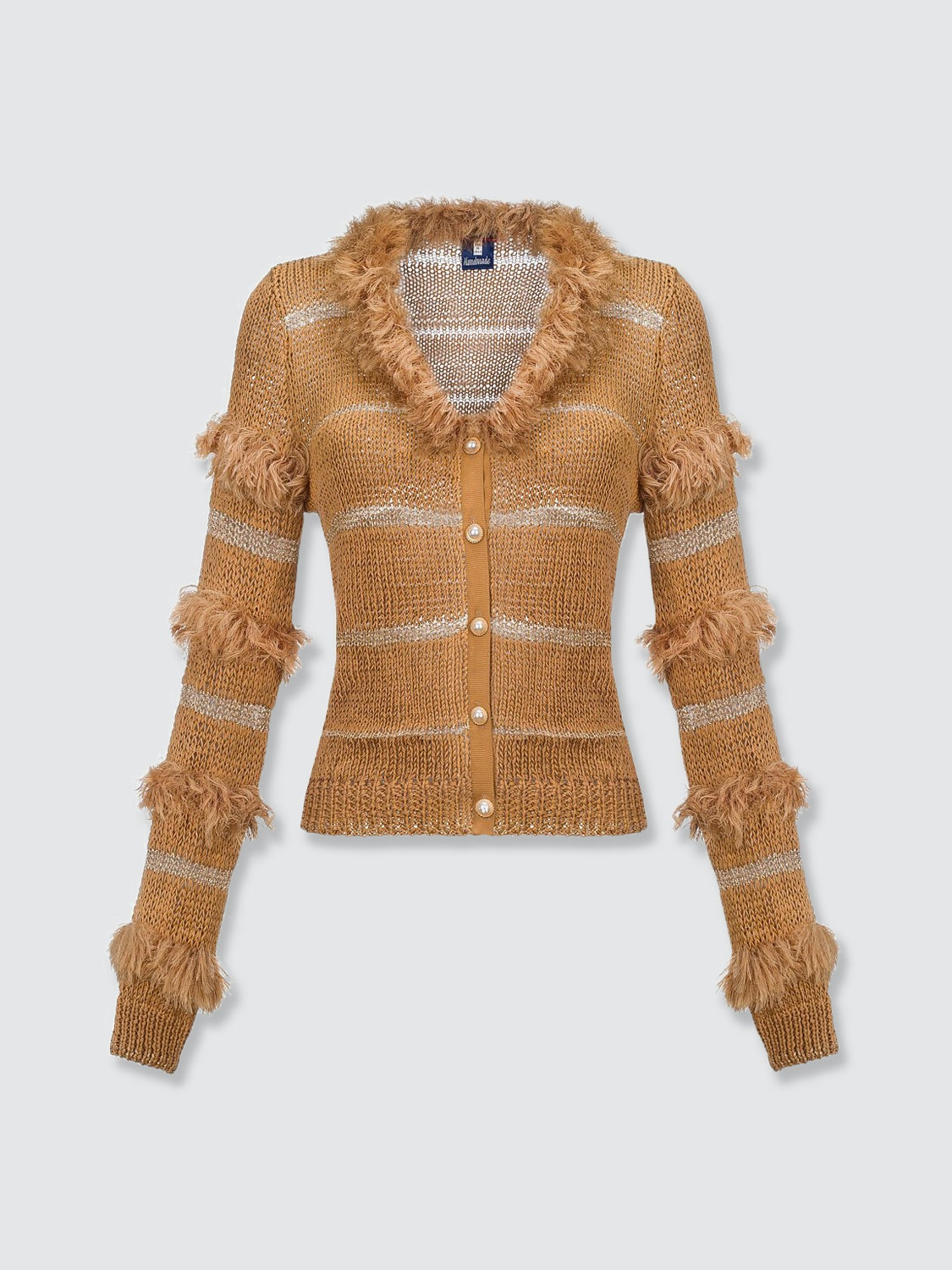 The Sundown Handmade Knit Sweater with Pearl Buttons by Andreeva may actually make many sun lovers look forward to cold weather.
The fall season also gives you a chance to spice up your wardrobe, especially if you add this unique, elegant sweater to your fashion choices.
One top feature of this sweater is its slim style. Anyone who has worn a bulky sweater, especially under a coat, knows how extra material can restrict movements and exaggerate the wearer's body width.
This long-sleeve sweater is as stylish as it is comfy. It's hand knit in your choice of brown with white stripes around the arms and body, or white with gold stripes around the body (but not arms). The brown sweater has a brown yarn fringe, which Andreeva likens to "ruffles," around the collar and arms. The white sweater has a white fringe accent on the body and arms (but not the collar). Both sweaters have pearl button closures.
The sweater's overall look is arguably as close to one-of-a-kind sophistication as one can find off the rack. It looks just as suitable when paired with a flouncy skirt as it does with your favorite jeans. And it is perfect to wear over your favorite camisole, T-shirt, bralette or summer top you're not quite ready to relegate to the closet until warm weather returns.
This sweater is handmade in Ukraine from 35 percent viscose, 30 percent silk and 35 percent polyamide, so you will want to hand wash or dry clean it.
It's available for women in sizes extra small, small, medium, large and extra large—and designed to flatter just about any figure. Don't forget to check the size chart—and heed the seller's advice to size down when you order.
Newsweek may earn a commission from links on this page, but we only recommend products we back. We participate in various affiliate marketing programs, which means we get paid commissions on editorially chosen products purchased through our links to retailer sites.