Why Trump, Like Biden, Should Not Expect a Post-Convention Polling Bounce | Opinion
For decades, conventions have gradually become made-for-TV coronation spectacles, judged by whether they produce for the nominee a temporary post-convention "bounce" for their nominee in the polls. That era is over, and not because of the pandemic or the convention formats of the two major parties.
The first post-DNC polls, from CBS News/YouGov and Morning Consult, show that Joe Biden did not bounce to a wider lead over Donald Trump. Republicans may take this as a hopeful sign, but the president will probably not receive a bounce either. We have officially entered the era of the post-convention "blip."
The classic post-convention bounce is a sharp but temporary spike in a candidate's support following his or her party convention. In the old days, a chaotic convention with mixed messages would produce a bad bounce. According to Gallup polling, Hubert Humphrey gained only 2 points after the violent 1968 Democratic Convention in Chicago. In fact, history shows that a divisive primary battle, followed by a harmonious convention actually tended to create a larger bounce. Bill Clinton in 1992 managed to make peace with his rivals at the DNC, and after independent candidate Ross Perot dropped out during the convention, Clinton ended up with a 16-point monster bounce in the Gallup poll.
1992 was really the last of the large bounces. Since then, conventions have gradually shown they are less capable of delivering a solid polling bounce. When I analyze Gallup's polls, the average bounce between 1964 and 1992 was 6.3 percent. Since 1996, they have averaged 3.6 percent, which hardly registers outside of the margin for error in most polls.
As the electorate and the parties became increasingly polarized after 2000, it also pulled more independents into making up their minds prior to the conventions. Between 1972 and 2000, the average percentage of undecided voters 100 days before the election was 16 percent. Between 2004 and 2012, it was 9 percent. In 2020, the July 15 Quinnipiac poll of registered voters showed only 6 percent were still undecided. The RealClearPolitics pre-convention polling average showed just 7 percent of voters still uncommitted. CNN's August 16 poll found 89 percent of voters saying there is "no way" they will change their vote.
The exception was 2016. RealClearPolitics' pre-convention poll average showed 14 percent uncommitted, which in a different era would have been the raw material for a significant bounce for either party. Yet the conventions in 2016 only produced a small bounce for Hillary Clinton. Trump and Clinton were tied at 40 percent, with 20 percent of voters stating no preference between them. Clinton bounced to 46 percent to Trump's 39 percent. But both started and ended their conventions with horrendous negatives with independents. A July 31 post-convention CBS/New York Times poll showed Clinton's support from independents improved, but nevertheless, more independents saw her unfavorably than favorably, by 35 percent.
2020 is a very different election from 2016. Yes, Trump had the advantage of a 15-point base enthusiasm gap over Biden in the ABC/Washington Post pre-convention poll. But Biden entered the convention with a 54 to 44 percent lead among likely voters, according to the August 17 poll, leaving very few voters available for Trump to flip.
Indeed, the July 15 Quinnipiac University poll showed Biden entering his convention with a large lead among independents, a plurality of whom view him favorably, and another 12 percent who are willing to hear more before they decide if they like him. Those independents were the main audience for the Biden-Harris ticket, and the first post-convention polling shows that the Democrats did connect with them. Although the CBS/YouGov survey shows no general bounce, and no vote shift among independents, the percentage of independent Biden voters who say they "like" him rose from 16 percent pre-convention to 30 percent now.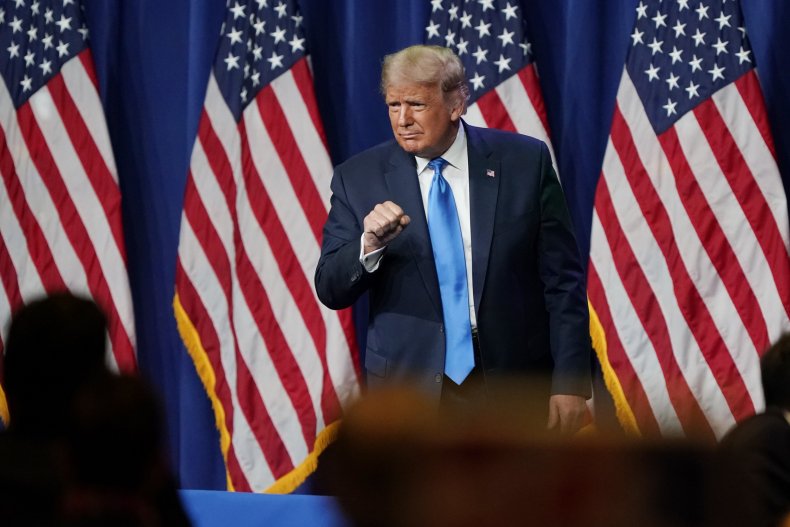 Biden does not have an adoring legion of partisans like Trump enjoys, and he won't gain one by November. He doesn't need one. Biden will have to not only make a case against Trump but start a kind of conversation with the independents who are willing to listen, and with the Democrats who are now starting to like him more. Biden will need them to stay in his corner when the presidential contest moves into an even more aggressive phase.
The Republican speakers list and the first night of the Republican Convention suggest the Trump campaign is determined to recreate the feel of a thunderous partisan rally that will yield a big bounce in the polls. The president doesn't do subtle. The base will love and be entertained by the blunt-force negative attacks on Biden and Kamala Harris. It might even generate a bigger audience of independents than the DNC did. But the historical trends, and the current polls, say broad attacks in the convention are unlikely to bounce Trump into a reset the race.
I loved the old-time national party conventions. I miss the balloon drops, the silly hats, the rousing speeches and the roaring crowds. And there is still some of the old spectacle remaining, even in the pandemic conventions of 2020. But spectacle and the big bounce is no longer be the measure of a "winning convention." If conventions now can only muster a polling blip, then make sure you blip the right target.
Scott McLean is professor of political science at Quinnipiac University.
The views expressed in this article are the author's own.