Why Trump Is Both Right and Wrong About U.S. Coronavirus Testing Numbers
President Donald Trump claimed on Sunday that the United States' coronavirus testing capacity was "much greater" than other countries—but the data paints a different picture.
Posting on social media last night, the commander-in-chief was trying to explain away the high number of confirmed COVID-19 cases reported in America, claiming that the "advanced" nature of U.S. coronavirus testing inflated the country's case numbers.
"Our Coronavirus testing is so much greater (25 million tests) and so much more advanced, that it makes us look like we have more cases, especially proportionally, than other countries," Trump tweeted. "My message on that is very clear!"
According to the latest data, the president's claim that the U.S. has "much greater" testing capacity than other countries would appear to be both right in some respects and wrong in others.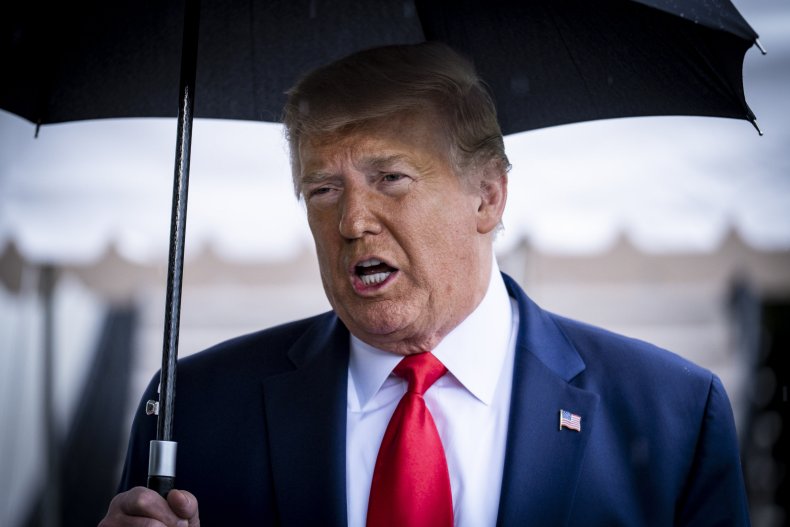 Statistics compiled by Our World in Data, a project run by the University of Oxford and Global Change Data Lab, show the U.S. has conducted more COVID-19 tests (26.5 million) than any other country.
But when the number of tests carried out is adjusted as a proportion of the population, the U.S. falls further down the charts.
An all-time average of the daily number of tests carried out per 100,000 population, published by Johns Hopkins University, puts the U.S.' rate of testing behind those of several other countries—including Russia, Spain and Germany.
Our World in Data numbers on COVID-19 tests carried out per 1,000 people also showed the U.S. trailing behind Russia and Portugal on Monday morning, with America carrying out a little more than 80 tests per 1,000 people compared to Russia's 116 tests per thousand.
However, it is worth noting that the usefulness of such testing rankings has been questioned by experts.
Johns Hopkins University's Coronavirus Research Center notes that there is "no expert consensus" on coronavirus testing targets, and adds that both raw testing data and tests-per-capita statistics can be "misleading" as a measure of how well a country is combating COVID-19.
"Looking at the positivity rate (ie, out of all tests conducted, how many came back positive for COVID-19) is the most reliable way to determine if a government is testing enough," Johns Hopkins University writes.
The U.K. fact checking charity Full Fact also noted earlier this month that data on testing is not always like-for-like between different countries, meaning comparisons don't always stack up.
President Trump claimed U.S. coronavirus testing was "much greater" and "more advanced" than in other nations a day after he admitted to telling officials to slow down coronavirus testing.
"When you're doing testing to that extent, you're going to find more people, you're going to find more cases," Trump told supporters at his Tulsa rally. "So I said to my people, slow the testing down please."
The Washington Post also reported on Monday morning that the Trump administration had not yet distributed almost a third of the coronavirus testing funds provided in a congressional pandemic relief package passed in April.
In a letter to the Department of Health and Human Services written by Senate Minority Leader Chuck Schumer (D-NY) and Sen. Patty Murray (D-WA), the pair claimed the administration had yet to spend $8 billion from the $25 billion fund.
A spokesperson for the department told the Post that the agency had not been given "clear direction in law" on how to spend the money, adding that the agency was still "committed to working with Congress to ensure the healthcare delivery system gets the support needed at this time."