Trump's Rollback of Obama's Transgender Bathroom Rules May Actually Help Democrats Win Future Battles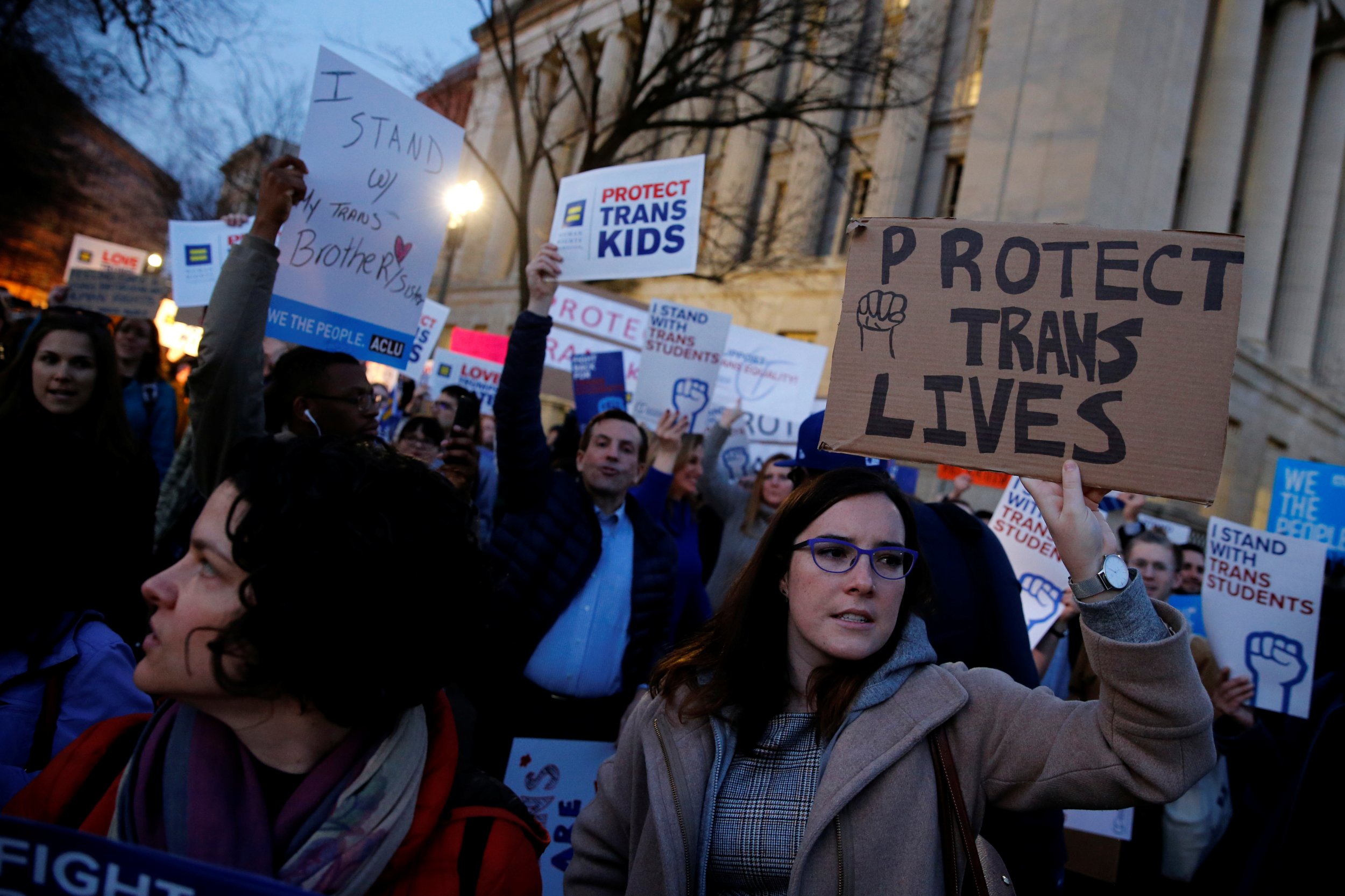 On Wednesday, the Trump administration decided to rescind protections offered to transgender youth by President Obama. The move was expected, yet painful. Obama's interpretation of Title IX, the 1972 equity law, would have allowed trans students to use bathrooms and locker rooms "consistent with their gender identity," as the May 2016 guidance said. Eleven states sued, stifling the new rule. Trump provided the coup de grâce.
But in doing so, he may have also given inadvertently left-leaning states a potent weapon in future battles against the White House.
Sean Spicer, the White House press secretary, was asked about the policy reversal at Wednesday's press briefing. This is how he justified the shift: "The president has maintained for a long time that this is a states' rights issue and not one for the federal government," he said, reiterating a little later that it was Trump's conviction that "this is not something the federal government should be involved in, that this is a states' rights issue."
Read more: Trump overturns landmark guidelines defending transgender student rights
States' rights, of course, is a beloved Republican retort whenever Washington's federal powers creep too close. Frequently, the rights of states are invoked when a liberal White House tries to impose policy on conservative states. At issue are often divisive social issues like gun rights and abortion. Shortly after the Sandy Hook school massacre, for example, in which 20 children were killed by an AR-15-toting gunman, it seemed that Obama would impose Second Amendment restrictions.
Red states responded with restrictions of their own, regarding federal encroachment on gun ownership laws. Said a state legislator from Montana: "[The federal government] is diving off into areas unchecked that they're not supposed to be involved in. Not only is it our right in state legislatures to do this, it's our obligation to do it. Somebody's got to put a 'whoa' on it."
Now the 'whoa' might come from the other side. In 2017, it is Democratic states that find themselves under assault from a hostile Capitol Hill. By deploying the very same states' rights argument used by the White House in the trans youth fight, they might be able to win future battles in which Washington seeks to impose its own new order.
The most important of these will likely involve vehicular emissions. California has long enjoyed a waiver on the Clean Air Act, which has allowed it to set more stringent emissions standards that have effectively become a national guideline for automakers. The new head of the Environmental Protection Agency, former Oklahoma attorney general Scott Pruitt, doesn't seem to have much zeal for environmental protection. Pressed at a confirmation hearing on whether he'd rescind California's pacesetting waiver, he did as politicians do and refused to answer the question.
But even his evasion was telling. Ed Markey, the liberal senator from Massachusetts, noted that Pruitt had frequently championed his own state's economic interests in skirmishes with the EPA. "It's troublesome because obviously what we've heard all day is how much you support states' rights when it comes to these issues," Markey said at the hearing. "But, now when it comes to the right of California or Massachusetts or other states' right to be able to reduce carbon pollution, you say you are going to review that."
In other words, states' rights was a convenient tool for red states seeking to escape Washington's rule. But now that Republicans rule Washington, they are likely to face the very same argument from blue states. That argument might involve environmental regulations, but also immigration, the Affordable Care Act and the legalization of marijuana. As the Republicans showed during the Obama years, any issue can be made into an issue of states' rights. And when Democrats do resort to that argument, they will have a sound answer to enraged Republicans: You did it first.