Ahmet Davutoğlu Resigns: Why the Turkish Prime Minister Had to Go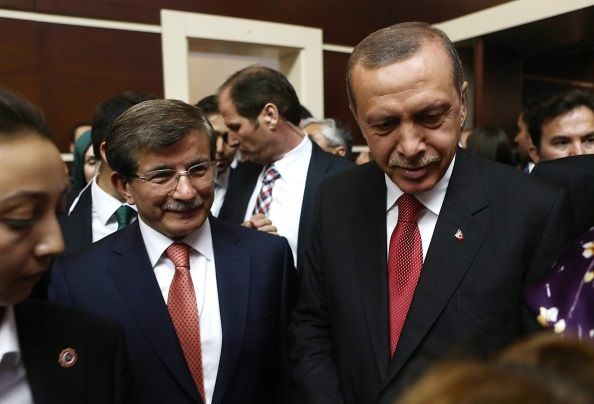 Ahmet Davutoğlu, Turkey's outgoing prime minister who was dismissed by President Recep Tayyip Erdoğan on Wednesday evening, was in a meek mood on Thursday morning as he told party MPs that he would be going. "I have been leading you from the front, but now I am among you," he told them, indicating that though he had been forced "by necessity" to step down, he would remain loyal to the ruling AKP (Justice and Development Party) and President Erdoğan.
Davutoğlu's ultra-moderate response to being sacked may have been a surprise but his listeners already knew of his departure because the news had been leaked by the Erdoğan camp to world news agencies on Wednesday evening despite Davutoğlu's initial attempt, after the meeting with the president, to keep a dignified silence.
What was more, when the prime minister did break the news to the AKP central executive committee the following morning, many of his parliamentary party were not even present in the National Assembly to hear him speak. They were at the 1,100 room presidential palace (referred to in Turkish as a külliye or complex of pious buildings around a mosque) listening to the president outlining his views on current issues, including the stripping of parliamentary immunity from prosecution from the leaders of the pro-Kurdish HDP (Peoples Democracy Party) against whom the government intends to bring terrorism charges.
As Davutoğlu implicitly recognizes, President Erdoğan effectively has all the reins of power in his hand, even though on paper he is still only a non-executive neutral head of state. The rest of the world seems to recognize this too and even to go along with it. One minor surprise in the Davutoğlu resignation crisis was that the London Financial Times has run the news on two successive days that Davutoğlu "left President Erdoğan out of the loop" on the European refugee negotiations: something which in Ankara would be viewed as grave disloyalty. No details were given of exactly how this had happened, but the unnamed senior official in Brussels who gave the story to the paper—and apparently repeated it for publication again a day later—was undoubtedly making a contribution, possibly inadvertent, to the prime minister's downfall in Ankara.
Turkey's European and North American allies now have to work out how they will work with a strong presidential system in Ankara, one without any significant checks and balances and only the flimsiest of parliamentary oppositions. Whereas Davutoğlu, though himself also an Islamist and supporter of the project of making Turkey a world power (he first attracted attention with a book around 2002 outlining how this could be done: the Syrian civil war seems to have been an attempt to put it into practice) ran his cabinet in a conventional pragmatic fashion, Turkish policy from now on is likely to be much more mercurial and to contain a distinct anti-Western streak as it seeks to integrate Turkey more deeply into the international Islamic community. President Erdoğan and his close supporters believe that since 2013 if not earlier, parts of the Western world have been seeking to isolate and undermine his rule. The president's unpopularity with Western public in several countries is deeply resented.
Turkey's foreign policy outlook would be much bleaker if the European Union, which for many years quibbled over every apparent human rights and political shortcoming in Turkey, had not shifted ground and did not now display what amounts in practice to a willingness to turn a complete blind eye to the increasingly authoritarian mood in Ankara in exchange for Turkish cooperation on the issue of controlling the flight of refugees into the Union. As preparations were being made on Wednesday to remove Davutoğlu from office, the European Union Commission was giving its blessing to visa liberalization for Turks inside the Schengen area—something which should probably have happened long before, but which is being granted today because of the threat by Ankara not to cooperate over controlling refugees. Human rights and freedom of expression concerns, voiced by some officials, seem to have been quietly forgotten. Time will tell whether this is a wise decision, but it is a glaring contrast to the idealism of the EU in earlier decades.
The biggest test for Turkey however remains the future of its economy, the only genuine industrial economy in a Muslim country and by far the largest in Eastern Europe and the Middle East. So far, despite the political turmoil of the last few years and the struggle against terrorist foes in ISIS and the PKK, and the near-collapse of tourism, Turkey's economy has stood up reasonably well to the pressures it faces and GDP could grow by more than 3.5 percent this year. But much of the growth reflects borrowing and domestic consumption. Straying away from orthodox ways of doing things in economics might invite some of the risks that the country seems to have avoided so far on the political front.