Days after President Donald Trump's promise to withdraw troops from Syria "very soon," the U.S.-led coalition vowed Tuesday to continue its mission in Syria after fresh casualties and threats from a partner nation.
The coalition declined to speculate on how the commander-in-chief's comments could affect its presence in Syria, but it said it remained committed to defeating the Islamic State militant group (ISIS) even as fellow NATO Western military alliance member Turkey threatened to storm the northern Syrian town of Manbij, where U.S. Special Forces operate and one was recently killed. Regional reports and photographs also suggested U.S. and allied reinforcements were headed to Manbij.​
Related: Is U.S. leaving Syria? Russia hopes Trump keeps his promise to bring troops home
"Coalition presence in Manbij will ultimately be determined through political dialogue. Coalition forces are establishing a joint coordination mechanism for operations there," the coalition said in a statement sent to Newsweek.
"While we do not comment on specifics for operational security, Turkey is a member of the Coalition, and our operations are planned and conducted in conjunction and consultation with all partner nations and organizations," it added. "The Coalition is focused on ensuring the lasting defeat of Daesh [the Arabic acronym for the Islamic State group] in Iraq and Syria."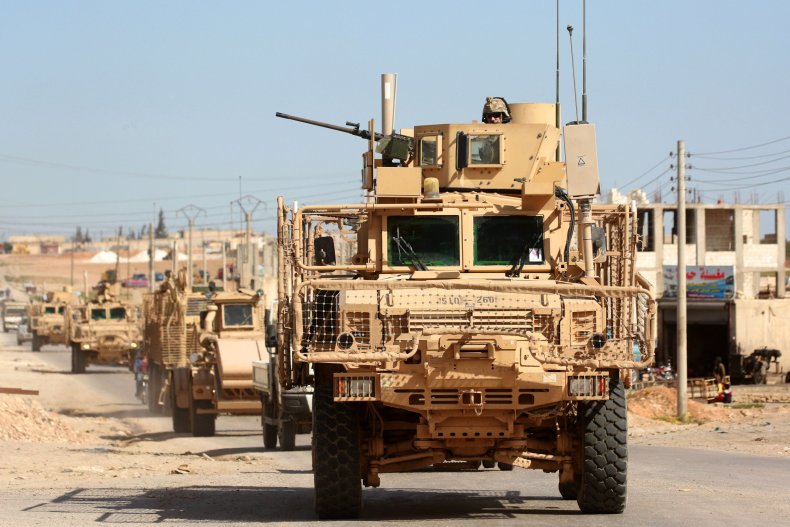 The diverse city of Manbij was seized by local rebels in July 2012, about a year after an uprising threatening the government of Syrian President Bashar al-Assad turned into civil war. Amid tensions between Syrian Arabs and Kurds, ISIS overtook Manbij in early 2014. In August 2016, a mostly Kurdish, U.S.-backed group known as the Syrian Democratic Forces took control of the city, catching Turkey's ire.
Turkey, a U.S. ally, considers many of these Kurdish militias, including the People's Protection Units, to be linked to the militant Kurdistan Workers' Party in Turkey and has targeted them despite their U.S. support. Ankara has also taken in the once-CIA backed majority-Arab Free Syrian Army and assisted them in clashes with Kurdish fighters in the region.
As ISIS lost land across northern Syria, both Russian and U.S troops set up positions in Manbij in March 2017, blocking a potential Turkey-backed Free Syrian Army attack. Turkey renewed and intensified its northern Syrian offensive in January, taking the northwestern Kurdish enclave of Afrin last month and once again setting its sights on Manbij. Turkey and the U.S. have offered conflicting statements on whether the two allied nations have reached a deal on the fate of Manbij.
U.S. Special Operations Master Sergeant Jonathan Dunbar and U.K. Sergeant Matt Tonroe were killed Thursday outside of Manbij. The pair were "conducting a mission to kill or capture a known ISIS member when they were struck by an improvised explosive device," Pentagon spokesman Major Adrian Rankine-Galloway said in a statement, according to The Hill.
In response to these deaths, Turkey's official Anadolu Agency reported Tuesday that the U.S. was setting up two new bases in the area—an extension to an observatory in Dadat village and another installation 2.4 miles from the front line south of Dadat. The report said the U.S. also sent reinforcements Sunday to block a potential Turkish advance against Kurdish groups in the region.
Neither the U.S. nor Turkey have directly threatened to attack one another's forces, but Turkish Deputy Prime Minister Bekir Bozdag warned Friday that those "who enter into cooperation and solidarity against Turkey" would "become the target of Turkey, just like the terrorists."
The feud between Turkey and Kurdish groups has deeply hindered the U.S.-led coalition's operations against ISIS. Kurdish fighters have fled these front lines to relocate to the battle against Turkey in northern Syria, where they have teamed up with pro-Syrian government forces. As a result, the U.S.-led coalition last month suspended anti-ISIS ground operations in eastern Syria, the only part of the country where the jihadis held any significant territory.
The Pentagon has insisted that Special Forces remain committed to supporting its local allies in the battle against ISIS. The militants have been largely defeated by the Syrian military and Syrian Democratic forces, but pockets and cells remained active throughout the country.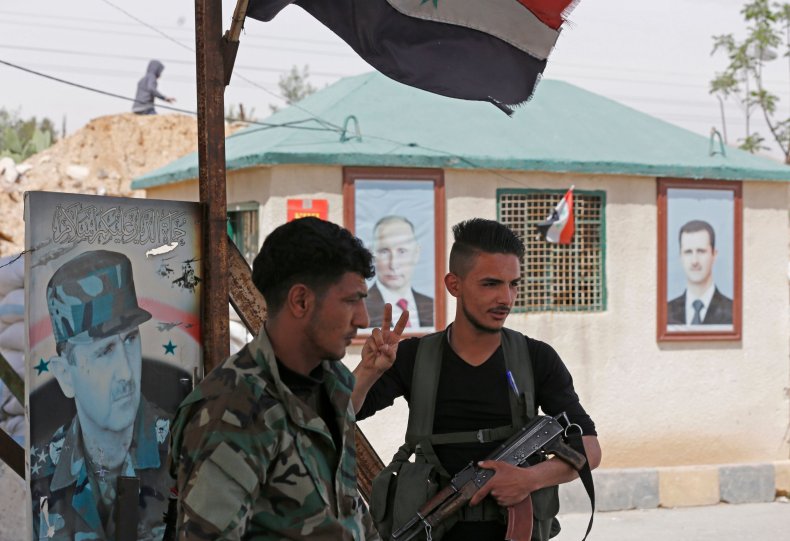 Russia has helped the Syrian military and its allies, including Iran-backed and mostly Shiite Muslim militias, retake much of the country previously held by various insurgent groups. As the Syrian government reclaims control over the Damascus suburbs of eastern Ghouta and continues to battle what remained of the opposition and ISIS elsewhere, Damascus has called on the U.S. and Turkey to withdraw immediately, calling their presence illegal under international law.